ToTAL/OPEN Programs "Realize what you want to do"
We are happy to announce "Call for Entries" to the subject class. Any of Tokyo Tech students, who are belonging to the categories below, are being encouraged to apply the workshop.
1.

Any Graduate students who applied ToTAL courses; Fundamental Group Work for Leadership I/II, (master's/Doctoral) Essential Group Work for Leadership (S)

2.

Any students (both Graduates and Under Graduate students) who are interested in the class on ad-hoc basis (no credit and GA will be given)

3.

Any Doctoral students who are member of "Cross the border! Tokyo-Tech pioneering doctoral research program"
Outline of the class
Professionals who are creating leading edge of values (innovations) in various fields including enterprises, start-ups, NPO/NGO, journalism, government and academic present the leading edge of information about their business, development, vision of their activities, and problems to be overcome to the students. Then, try to have in-depth discussions among participants. Students are being requested to engage in preparation work; to research outline of the organization the professionals are belonging and to clarify aims for having communication with them, in advance.
Class
Date & Time
Monday, July 25, 2022 6:15 p.m. - 8:15 p.m.
Venue
Room S422, South Bldg. 4, Ookayama Campus (or online)
Guest Speaker
T. Matsubara/R&D Strategy Department, MIRAI Technology Institute, SHISEIDO Co., LTD.
An introduction to the guest speaker
Shiseido was founded in 1872 in Ginza, Tokyo, as Japan's first private Western-style dispensing pharmacy. Currently, Shiseido aims to become a global beauty company originating in Japan, creating products and new value that have never been before, not just in the cosmetics business, and realizing "beauty innovation" that makes customers around the world happy through beauty. Dr. Matsubara was a graduate of Tokyo Tech and was also a student of the Education Academy of Computational Life Sciences (ACLS), one of the predecessors of ToTAL, when he was a student. In addition, he has had a slightly different career from many students, such as doing research at NASA when he was a Ph.D. candidate. Dr. Matsubara belongs to the R&D Strategy Department at the Shiseido Global Innovation Center in Minatomirai, Yokohama, and is conducting research to create new technologies. In addition, he has experienced a wide range of tasks such as research and development of new products, intellectual property, and R&D strategy. At the class, while touching on Shiseido's business content, he will focus on themes that do not necessarily have one answer, such as what kind of motivation and thoughts Dr. Matsubara has been active in, what is beauty, etc.
How to apply to the workshop
Please select "Attend" in the column of the schedule (and Attending Plan) to be downloaded as below and send it back to total.tokunin@total.titech.ac.jp by email.
Whether nor not the applicant can actually join the workshop will be informed later to the applicants.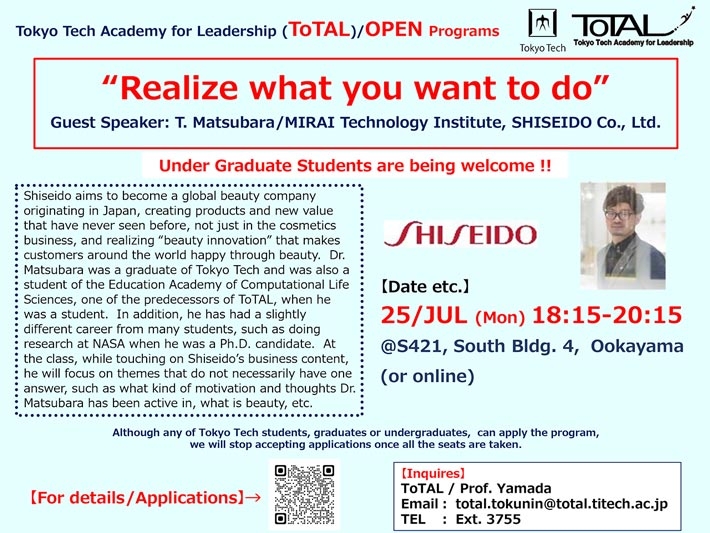 ToTAL / OPEN Programs
ToTAL/OPEN Programs are courses that graduate students outside of ToTAL may apply (credits and Gas can be given) and are workshops, the contents of ToTAL courses, to which both graduate and undergraduate students may join on ad-hoc basis (no credits/GAs will not be given). The most of ToTAL/OPEN Programs are a part of "Entrepreneurship Development Programs" of Tokyo Tech and are also "events" listed in "Cross the border! Tokyo-Tech pioneering doctoral research program".
Schedule (and Attending Plan) and outline of ToTAL courses and workshops, as contents of the courses (and if the workshop are part of "Events" designated by "Cross the border! Tokyo-Tech pioneering doctoral research program") can be downloaded from URL below.
If you want to join any workshop(s) of ToTAL/OPEN Programs, please select "Attend" in the column of the schedule (and Attending Plan) to be downloaded as above and send it back to followings;
Applications and Inquires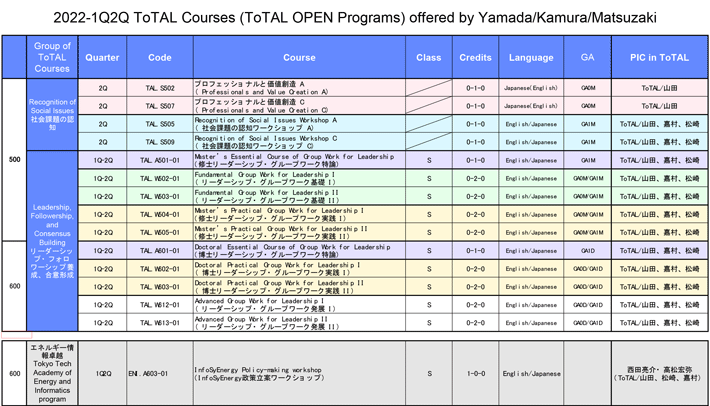 Contact
Assoc. Prof. Kamura, Assoc. Prof. Matsuzaki and Prof. Yamada
Tokyo Tech Academy for Leadership (ToTAL)
Email total.tokunin@total.titech.ac.jp
Tel 03-5734-3755