Tokyo Tech Academy for Convergence of Materials and Informatics (TAC-MI) AY2020 Spring Semester Student Recruitment Briefing
Published: October 9, 2019
In order to foster outstanding individuals, the Institute established the Tokyo Tech Academy for Convergence of Materials and Informatics (TAC-MI) in April 2019 under the auspices of MEXT's WISE Program, and will begin recruiting students starting in the spring of 2020. While in their graduate studies, students pursuing a doctoral degree can take this additional program, which will enable them to connect information with materials by using information science and multifaceted thinking, as well as by taking a broad perspective. The program aims, in addition to the top-level research, to cultivate multi-talented human resources to become leaders in this "space in multi-axes" that is our continually advancing society.
Students are encouraged to come to one of the briefing sessions listed below.
Call for participants (students of the master's program and undergraduate).
Students of all Schools are welcome to register to join the Academy.
(No advance reservation required)
Schedule
Each day, it will be conducted remotely at Ookayama and Suzukakedai.
1st
| Date and Time | Venue |
| --- | --- |
| Monday, October 28, 2019 17:00-18:00 | |
2nd
| Date and Time | Venue |
| --- | --- |
| Friday, November 15, 2019 17:00-18:00 | |
3rd
| Date and Time | Venue |
| --- | --- |
| Monday, November 25, 2019 17:00-18:00 | |
Recruitment of AY2020 Spring Enrolled Students
Application Eligibility
Students of all Schools who fall under the following are eligible to apply.
1.

Those who are enrolled in a master's degree program at Tokyo Institute of Technology as of April 2020.

2.

Those who wish to go on to a doctoral degree program.
Please visit TAC-MI web site
for details.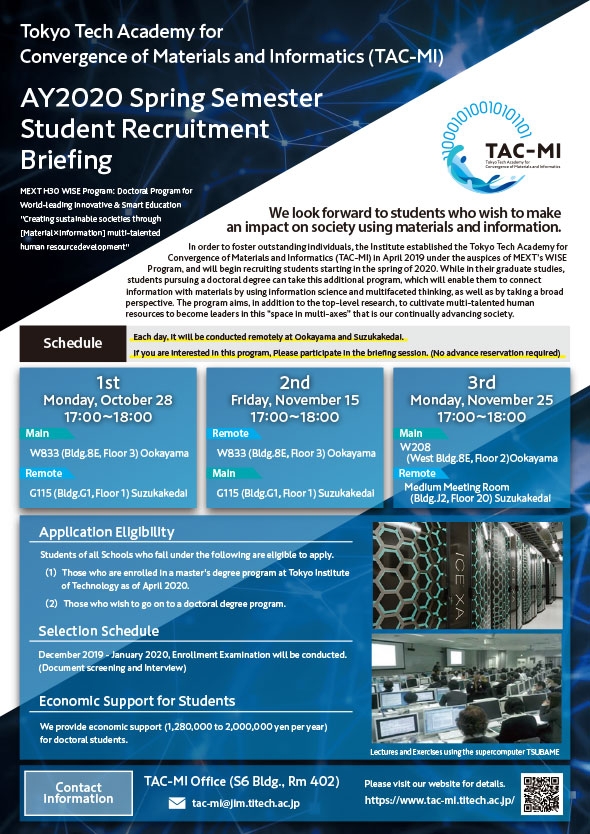 Contact
Office of Tokyo Tech Academy for Convergence of Materials and Informatics
Email tac-mi@jim.titech.ac.jp
Tel +81-3-5734-2943
Update : October 10, 2019