[postponement]Tokyo Tech Grand Prix II <2020/7/1(Wed), 2020/7/8(Wed)>
"Tokyo Tech Grand Prix II" has been postponed due to COVID-19 and is scheduled to be held in October 2020.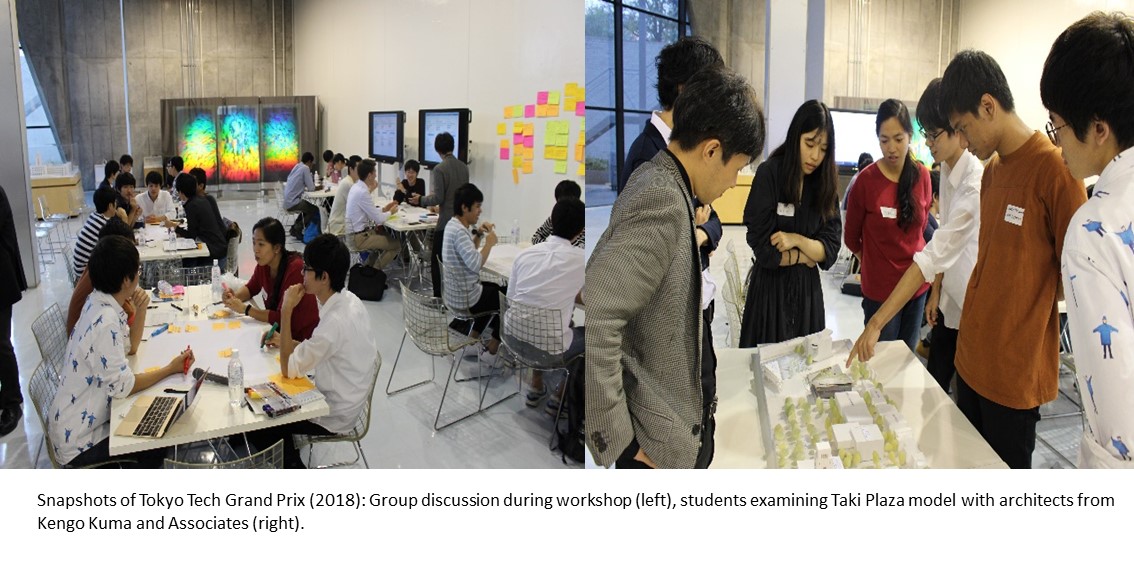 In late 2020, a brand-new landmark exchange hub will open in the heart of Ookayama Campus. Hisao & Hiroko Taki Plaza (known as "Taki Plaza") is a 4-floor landmark designed by Kengo Kuma and Associates. Taki Plaza will be a new platform for Tokyo Tech students to materialize their ideas, regardless of their backgrounds. The building's concept of "openness" embraces the seamless connection between Japanese and international students, and the facility welcomes all — especially those from under-represented groups.
Tokyo Tech Grand Prix is a two-day-event that serves mainly as a platform for students to be more involved in shaping our campus and its newest feature — Taki Plaza. Groups will be decided by the organizer, Tokyo Tech Grand Prix, and ideas involving the management or utilization of Taki Plaza are expected from each group. Ideas will be assessed and those who meet the standards will be rewarded by each judge. Despite its competition-like format, this event is an opportunity for students to exchange (React), pitch, and materialize (Act) their ideas. Hence, the "React, Pitch, Act" concept is the main theme of Tokyo Tech Grand Prix II.
Event Details
Date and time

Day1: July 1, 2020 (wed) 13:30 - 17:00
Day2: July 8, 2020 (wed) 13:30 - 18:00(Banquet from 18:00)

Venue

Ookayama Campus, Centennial Hall, Floor 1(Banquet:First Cafeteria)

Language

English and Japanese

Eligibility

Students enrolled at Tokyo Tech who can attend both days

Number of participants

40 participants(first-come, first-served basis)

Participation Fee

Free(Banquet is included)

Application period

June 1, 2020 - June 22, 2020

How to apply

Registration will be opened from June 1, 2020 by E-mail.

Judges

Gurunavi, Inc.
Kengo Kuma and Associates
Tokyo Tech Fuculty members
Taki Plaza Gardener (Taki Plaza student working group)

Prizes

Gurunavi Prize
Kengo Kuma and Associates Prize
Tokyo Tech Prize
Taki Plaza Gardener Prize

Organizer

Taki Plaza Gardener
Program : Day1 - July 1, 2020 (Wed)
13:00

Reception

13:30

Opening remarks, keynote speaker:
President Kazuya Masu
Executive vice president for education, Tetsuya Mizumoto
CEO of Gurunavi, Inc., Hisao Taki
Kengo Kuma and Associates representatives
Taki Plaza Gardener members

14:50

Introduction of participants

15:00

Brief explanation of the themes and group discussion

16:50

Brief explanation of the Slack app used during the event

17:00

Closing
Day2 - July 8 , 2020 (Wed)
| | |
| --- | --- |
| 13:00 | Reception |
| 13:30 | Group discussion and workshop |
| 16:00 | Group presentation |
| 17:00 | Break |
| 17:10 | Peer Review |
| 17:30 | Award announcement |
| 18:00 | Banquet(free of charge) |
| 19:00 | Closing |