Request for participation in Student Survey 2020 for THE Japan University Rankings
Published: September 3, 2020
In order for Tokyo Tech to effectively participate in the THE Japan University Rankings 2021, we kindly ask for your participation in the Student Survey.* The purpose of this survey is to collect opinions on learning and other activities from students so as to improve the quality of the university experience. Please note that all your responses remain confidential and are used for analytical purposes only. Your responses and time are greatly appreciated.
*

Student Survey 2020 is organized by Times Higher Education and Benesse Corporation, and conducted by Benesse Corporation
What personal information is being asked in the survey?
In this survey, you will be asked for your university-issued email address (e.g., @***.ac.jp). Please make sure the email address is correct as you will receive a verification email to confirm you are eligible to take part in the survey.
How do I participate in the survey?
Provide us with your honest feedback now by clicking / reading the link
Student Survey 2020
. You can answer the survey through your PC, smartphone, and tablet (limited to devices which can receive emails to your university-issued email address). It takes about 7 minutes to complete the survey questions.
Important notes:
You have to enter all data in one sitting. Should you leave halfway through the survey, you need to enter the data again from the outset.
Once you submit your data, you will NOT be able to make any revisions.
Once you submit your data, you will receive a verification email via your university-issued email account. Please make sure to complete the survey by following the instructions given in the email. Note that the survey will NOT be completed just because you answered the questions.
If you do not complete this process, your data will NOT be accepted as valid. Many responses were discarded as invalid in the past because the process was not completed. *Please make sure to configure your spam filter settings for your university-issued email in order to receive the verification email from the domain "@mail.benesse.co.jp"
You are allowed to respond once to the survey. Using the same email address to make multiple responses is not an option.
Effective Date: From September 1, 2020 (Tuesday) 10:00 to November 13, 2020 (Friday) 23:59
Inquiries:
Benesse Corporation THE Japan University Rankings Support Team (Japanese)
(On the page, click "お問い合わせ" on the upper right of the page)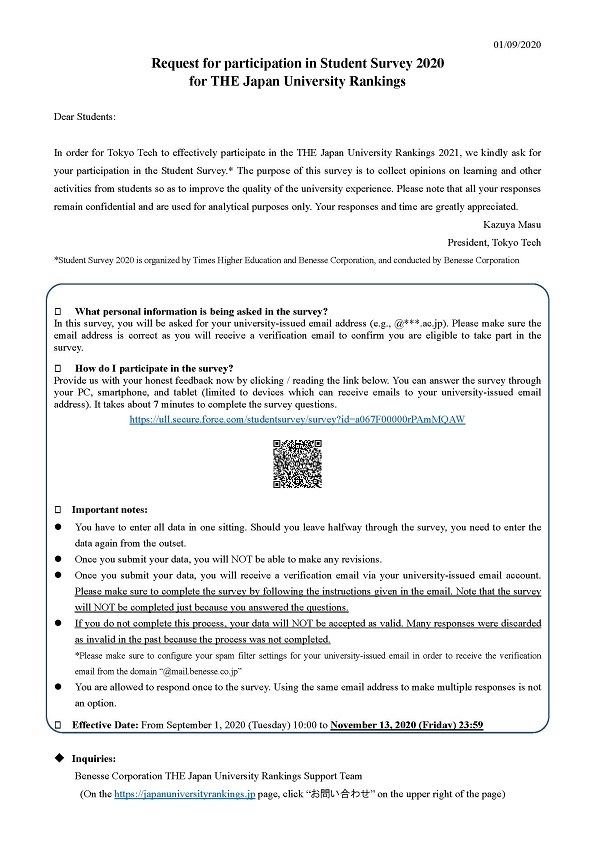 Update : September 3, 2020