ToTAL/OPEN Program "Driving Innovation through Entrepreneurship"
Published: October 26, 2020
This is an announcement of the subject ToTAL/OPEN program* "Driving Innovation through Entrepreneurship" that is a part of "Professionals and value creation Ⅱ" of ToTAL course.
Professionals who are creating leading edge of values (innovations) in various fields including enterprises, start-ups, NPO/NGO, journalism, government and academic present the leading edge of information about their business, development, vision of their activities, and problems to be overcome to the students. Then, try to have in-depth discussions among participants.
Students are being requested to engage in preparation work; to research outline of the organization the professionals are belonging and to clarify aims for having communication with them, in advance.
*

ToTAL/OPEN Program

"ToTAL/OPEN Programs" are programs which are originally designed for ToTAL students that are also open to non-ToTAL students. Non-ToTAL students can: (1) apply to these courses (credits and GA will be granted), or (2) join each program on ad-hoc basis (credits will be not granted).

Outline of 2020 3Q4Q ToTAL/OPEN Programs and Schedule (and Application Sheet) & Online Open Office
Driving Innovation through Entrepreneurship
Guest Speakers: A. Kurabayashi / Managing Director, DNX Ventures
Mr. Kurabayashi is acting as a Managing Partner / head of Japan at DNX Ventures, one of leading Japan-US VC fund to be specialized in investing B2B start-ups. This will be the 7th facilitation in Tokyo Tech since he was belong to salesforce.com. This time, he is going to focus on the reasons of requiring "innovations" and natures and skills to be required for "entrepreneurs". In addition, he will explain the difference about environment for establishing new business and about the role of venture capitals between US and Japan. He is going to introduce how US enterprises materialize "OPEN INNOVATION" based on strategic investment activities. He is also present outline of investment activities DNX Ventures which he is now belonging.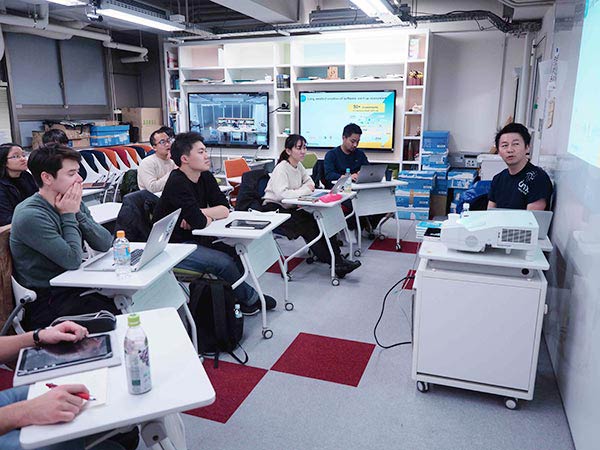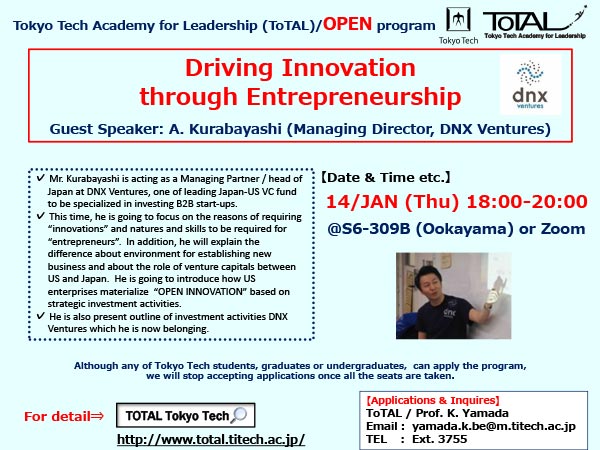 Update : October 27, 2020