Tokyo Tech Research Festival 2020 online
Published: November 13, 2020
TTRF is a research exchange event that promotes interdisciplinary exchanges and the establishment of integrated research among Tokyo Tech researchers with the aim of forming a place for generating new fields that will lead the next generation at Tokyo Tech. A new feature this time will be that researchers will not all gather together; rather, they will give "ultra-real" presentations from their daily lives and respective research sites. Our goal is to realize the integration of different fields through the power of technology without letting various restrictions arising from COVID-19 get the better of us.
This year's fourth year, TTRF, will be held online for three days. The first day will focus on COVID-19 and New Normal.
We look forward to the participation of professors who are interested in research exchanges and team formation within Tokyo Tech. Students can also attend.
Date

Tuesday, Dec. 8, 2020 - Thursday, Dec. 10, 2020

Time

Dec. 8

3:30 p.m. - 6:00 p.m.

Dec. 9

3:30 p.m. - 6:00 p.m.

Dec. 10

3:15 p.m. - 5:30 p.m.

Venue

Online

Registration

Please register from the following page.

How to join Tokyo Tech Research Festival 2020 | Tokyo Tech URA

Registration deadline

Monday, Dec. 7, 2020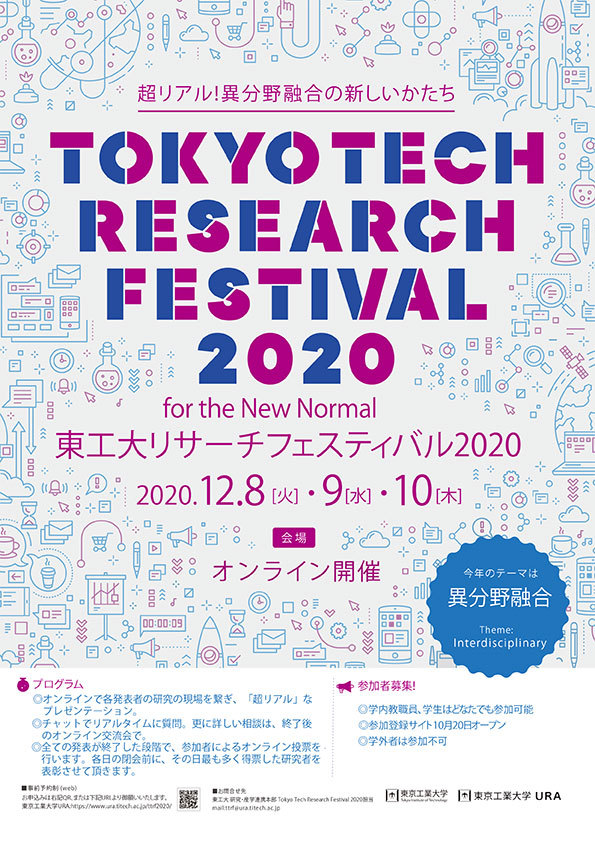 Update : November 13, 2020