ToTAL/OPEN Program "Systems Thinking & Leadership (Series of 2 classes)"
Published: January 19, 2021
This is an announcement of the subject ToTAL/OPEN program* "Systems Thinking & Leadership (Series of 2 classes)" that is a part of "Fundamental Group Work for Leadership I/II (F)" of ToTAL course.
Systems Thinking is a broader concept than the word "system" used in IT and institutions. It's the interdependence of mutual influence.
In the society we live in, cause and effect are not always close to each other. Our usual thinking about consequences that occur physically and temporally distant from our actions may not work well, resulting in a reality that "no one wants". For example, if we use insecticides to try to prevent a malaria epidemic, another epidemic will spread. If you build a construction project to alleviate road congestion, you find that the road is badly clogged with more cars than before. You're running promotions to meet your sales budget, but the same problems keep recurring every quarter. How can we solve the challenges of the interconnectedness that surround us? Systems Thinking is a way of thinking that delves into the "connections" between the complex events we experience in reality, and improves our insight to create the results we really want from a deeper level than simply dealing with problems. In this session, we will focus on Systems Thinking, touching on ideas such as "learning organizations" and "mental models", and we will also explore the nature of leadership in this complex society.
*

ToTAL/OPEN Program

"ToTAL/OPEN Programs" are programs which are originally designed for ToTAL students that are also open to non-ToTAL students. Non-ToTAL students can: (1) apply to these courses (credits and GA will be granted), or (2) join each program on ad-hoc basis (credits will be not granted).

For more detail:

Outline of 2020 3Q4Q ToTAL/OPEN Programs and Schedule (and Application Sheet) & Online Open Office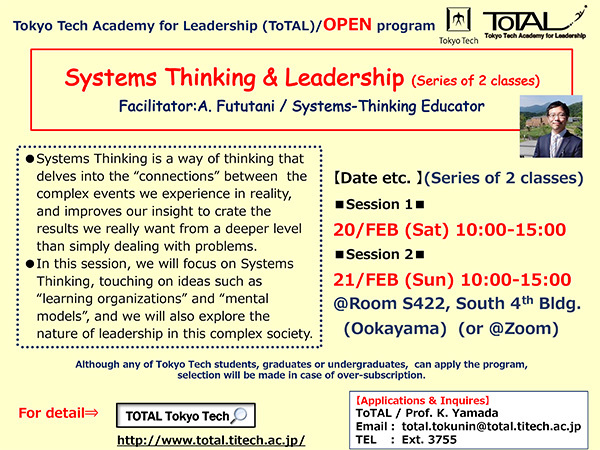 Update : January 19, 2021