[ Student Support Center ] Doing Art with the Artist (Thu. May 9, 2019)
Published: April 16, 2019
One of the outstanding and most formative artists for the Modern Art of 20th century is the legendary Dutch painter VINCENT VAN GOGH (1853-90). What is the secret of Van Gogh's intensity and power, especially in the last two years of his short life? We will follow his biography and works, with a focus on his landscapes, producing drawing and paintings. The purpose of this workshop is to gain new knowledge and inspiration through the arts, and to find one's own individual creative ways of expression. Teaching language: Japanese and English.
As a lecturer, we will welcome Ms. Zuse Meyer, who is graduated from Berlin State University of Art and currently has Berlin and Tokyo as creative base.
We are looking forward to the active participation of Tokyo Tech students who are interested in art and creation.
Summary
Time and date

Thu. May 9, 2019 17:30-20:30

Venue

80th Anniversary Hall(Ookayama Campus), 2nd Floor

Lecturer

Painter and Poet Ms. Zuse Meyer

Target

Tokyo Tech Students , Faculty and Staff members

How to apply

The number of participants is limited to 25. Please register your attendance as soon as possible. Please inform us by e-mail

concierge.info@jim.titech.ac.jp

with your name, student-id and school year and the title of the subject: Art Seminar Registration. Last day of registration will be Mon. 6th of May.

Contact

Remarks

It is also possible to participate only in lecture or workshop.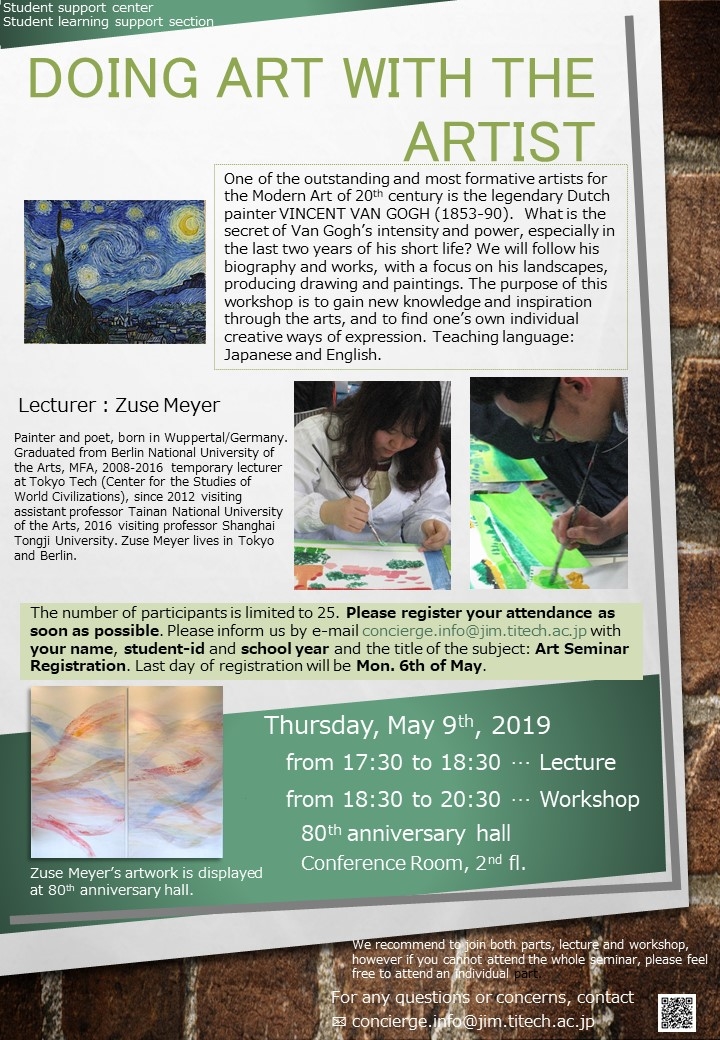 Related Information
Contact
Student Learning Support Section,Student Support Center
Email :concierge.info@jim.titech.ac.jp