[Call for Applicants] ToTAL OPEN Program "Lean Launchpad program; Fostering your leadership and entrepreneurship" to be held in 2020 1Q2Q
Published: February 12, 2020
We are pleased to inform you that we have started accepting applications for the Lean Launchpad Program to be held in April - June 2020.
About the Lean Launchpad Program
Lean Launchpad Program was originated by Steve Blank, a serial entrepreneur in Silicon Valley/US, and is widely accepted in US Universities including Stanford University as the program to foster entrepreneurs and leaders. Tokyo Tech started this program since 2013 and adopted it as one of the contents of ToTAL courses of "Practical Group Work for Leadership" and "Advanced Group Work for Leadership"
This program is suitable for people who:
-

want to understand the core of "leadership" regardless of business/research field

-

want to start a business

-

have already started a business and want to expand it (want utilize this program as startup acceleration program)

-

want to utilize this program for job hunting
This program is a 2-month program (starting from the middle of April until the end of June) that consists of 6 classes held almost every 2 weeks, made for participants to study and practice on how they could increase probability of materializing business ideas which deliver new values to society.
2 venture capitalists, who have lots of experiences in incubating and investing in startups, will support you throughout the program.
Applicants make a 5-minutes presentation on their business theme at the pitch on Tuesday, March 17 for selection.
Students

Under Graduate and Graduate Students

How to apply

If you want to join the program, please download the Application form from

ToTAL's HP

and send it to Prof. Yamada/ToTAL (

yamada.k.be@m.titech.ac.jp

) after filling out the application form.

Due for Application

Tuesday, March 10, 2020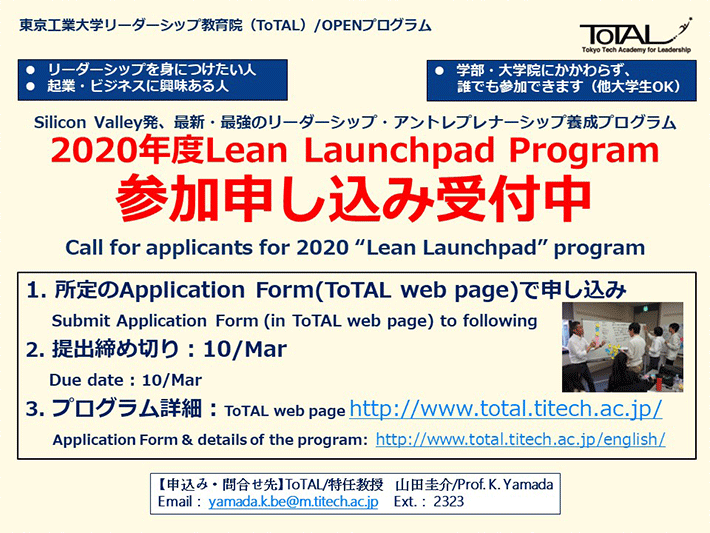 Update : February 12, 2020