[ Student Support Center ] Doing Art with the Artist ~Online~ (Wed. June 10, 2020)
The topic will be FAMOUS STILL LIVES - PICASSO AND ALIKE. You can gain essential knowledge about the most popular genre of Western Art throughout the centuries. After the introduction, you will build up a still life in your home, using everyday items as cups, glasses, bottles, fruits etc and following several approaches you will create pictures of your own still-life. We will share the results. No special skills or materials are required.
As a lecturer, we will welcome Ms. Zuse Meyer, who is graduated from Berlin State University of Art and currently has Berlin and Tokyo as creative base.
We are looking forward to the active participation of Tokyo Tech students who are interested in art and creation.
Summary
Time and date

Wed. June 10, 2020 17:30-19:30

Lecturer

Painter and Poet Ms. Zuse Meyer

Target

Tokyo Tech Students

How to apply

The number of participants is limited to 12. Please register your attendance as soon as possible. Please inform us by e-mail

concierge.info@jim.titech.ac.jp

with your name, student-id and school year and the title of the subject: Art Seminar Registration. Last day of registration will be Tue. 2th of June.

Contact

Remarks

No special skills or materials are required.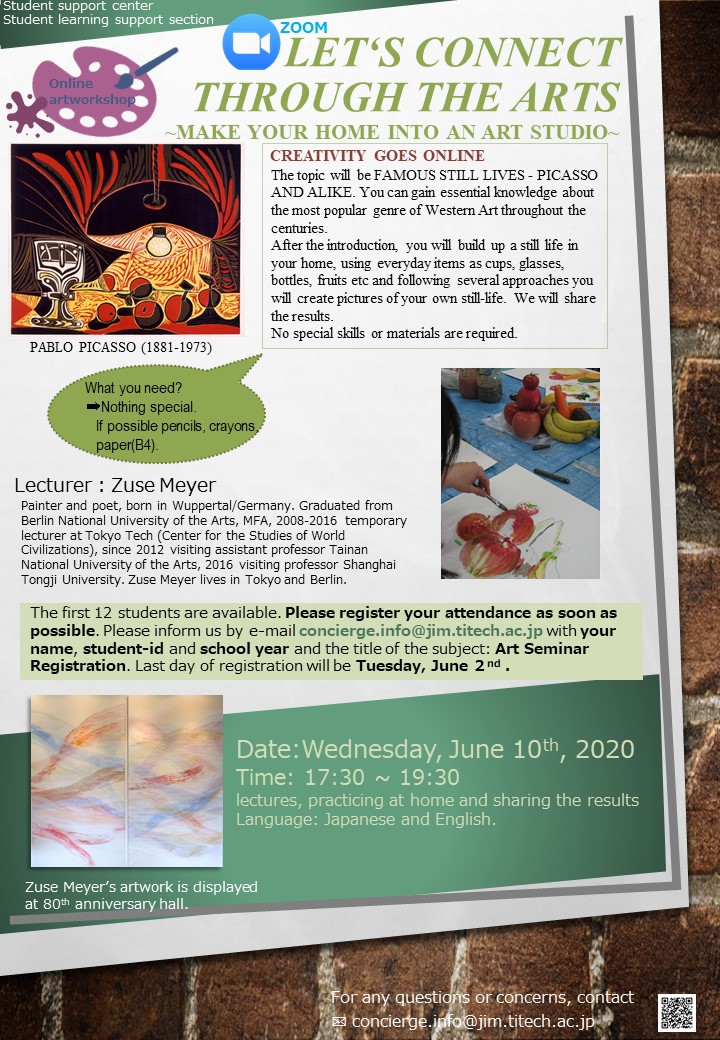 Related Information
Contact
Student Learning Support Section,Student Support Center
Email :concierge.info@jim.titech.ac.jp