【Student Support Center】Doing Art with the Artist (Wed. Nov. 4th,2020)
Published: September 30, 2020
Twice a year, Tokyo Tech offers students the opportunity to draw inspiration from its Art with an Artist seminars under the guidance of painter and poet Zuse Mayer.
The topic will be Human being & Space/Edward Hopper &others. Wherever we are, inside a room or out of doors, we are surrounded by space. This fundamental relationship between human being and space, how is it expressed in the arts? After an inspiring introduction with examples of Western Art, focusing on the works of the American painter Edward Hopper, the students will produce drawings and paintings. The purpose of this workshop is to gain new knowledge and inspiration through the arts, and to find one's own individual creative ways of expression. Teaching language: Japanese and English.
As a lecturer, we will welcome Ms. Zuse Meyer, who is graduated from Berlin State University of Art and currently has Berlin and Tokyo as creative base.
We are looking forward to the active participation of Tokyo Tech students who are interested in art and creation.
Summary
Time and date

Wed. November 4, 2020 17:30-20:30

Venue

Lecturer

Painter and Poet Ms. Zuse Meyer

Target

Tokyo Tech Students , Faculty and Staff members

How to apply

The number of participants is limited to 10. Please register from the link as follwed. https://forms.gle/WSxsYeBUwEfj5uNL9.
Last day of registration will be Fri. 30th of Oct.

Contact

Remarks

It is also possible to participate only in lecture or workshop.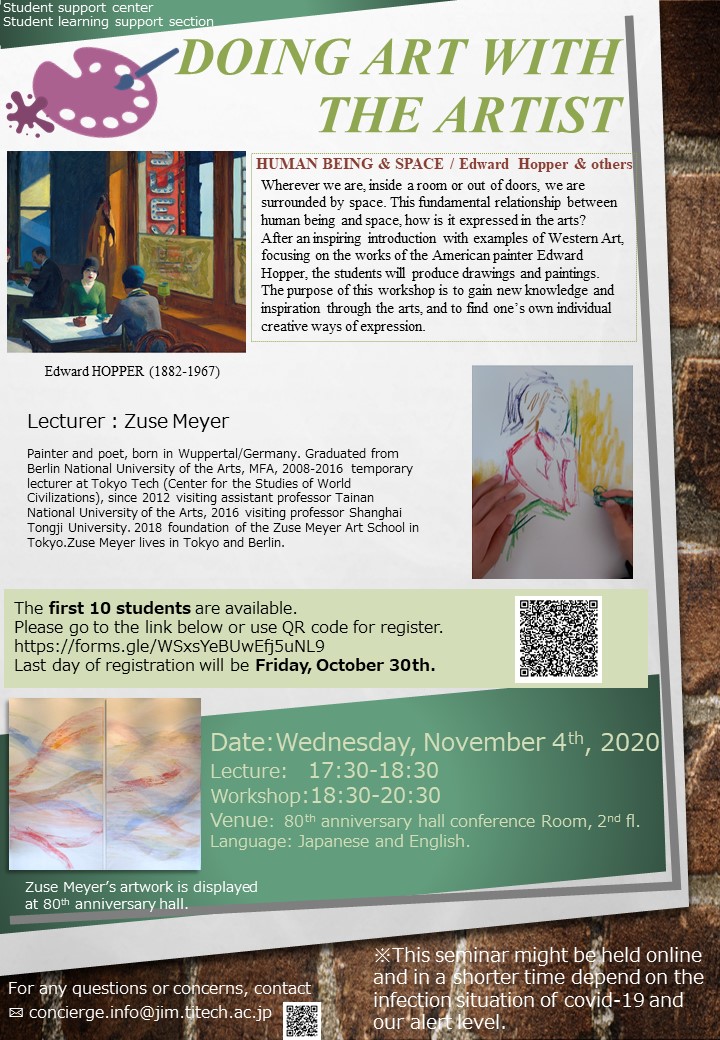 Related Information
Contact
Student Learning Support Section,Student Support Center
Email :concierge.info@jim.titech.ac.jp