ToTAL/OPEN Program "Aging and Value of life from the viewpoint of terminal care"
Published: October 26, 2020
This is an announcement of the subject ToTAL/OPEN program* "Aging and Value of life from the viewpoint of terminal care" that is a part of "Professionals and value creation II" of ToTAL course.
Professionals who are creating leading edge of values (innovations) in various fields including enterprises, start-ups, NPO/NGO, journalism, government and academic present the leading edge of information about their business, development, vision of their activities, and problems to be overcome to the students. Then, try to have in-depth discussions among participants.
Students are being requested to engage in preparation work; to research outline of the organization the professionals are belonging and to clarify aims for having communication with them, in advance.
*

ToTAL/OPEN Program

"ToTAL/OPEN Programs" are programs which are originally designed for ToTAL students that are also open to non-ToTAL students. Non-ToTAL students can: (1) apply to these courses (credits and GA will be granted), or (2) join each program on ad-hoc basis (credits will be not granted).

Outline of 2020 3Q4Q ToTAL/OPEN Programs and Schedule (and Application Sheet) & Online Open Office
Changing society by expansion of renewable energy
Guest Speakers: Dr. T. Hosoda / Kunugiyama Family Clinic
Modern medicine approaching new historical turning point. Western medicine has been progressed and developed by scientific analysis by segmentalizing human body; level of cells and genes. We have, however, reached over-imagined aging society as the result of such exploring and developed human health and long life. While the medicine has got over various diseases, it has not yet overcome aging. The goal of healthcare was forced to change its direction. People started to talk about "Quality of Life" rather than extending life, and process for considering about more important issues than life has been emphasized in terminal care stage. Among such turning point of modern medicine, it would be worthwhile for all of us to think (1) how "science" can approach such "aging" in the phase of turning point of modern medicine and (2) "value of life" which may direct future science.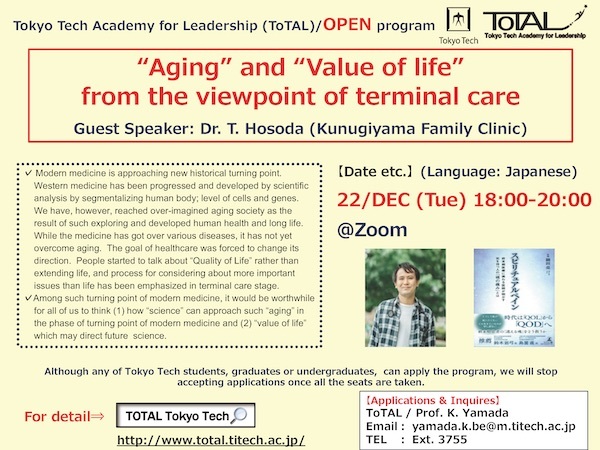 Update : October 26, 2020