Announcement of Student Survey 2022 (June 22 - July 22)
All Tokyo Tech Students:
FROM: Student Support Center, Tokyo Institute of Technology
and Student Staff Members of Student Survey 2022
The "Tokyo Tech Student Survey" is an online questionnaire regarding topics like "Lifestyle" and "Studies" that aims to contribute to making improvements in various areas at Tokyo Tech by listening to the voices of its students.
Student staff members will analyze the results, formulate proposals, and submit them to Tokyo Tech management.
The results and final proposals will be sent to the president and related offices, and Tokyo Tech will publish the information both internally and externally. Each office is expected to continue taking action according to proposals received.
The following link shows the proposals and the improvements achieved through the student surveys conducted in the past:http://www.siengp.titech.ac.jp/gakuseichousa/(in Japanese)
Thus, the voices of the students have contributed to tremendous change at Tokyo Tech.
Please make your voice heard to improve our Institute!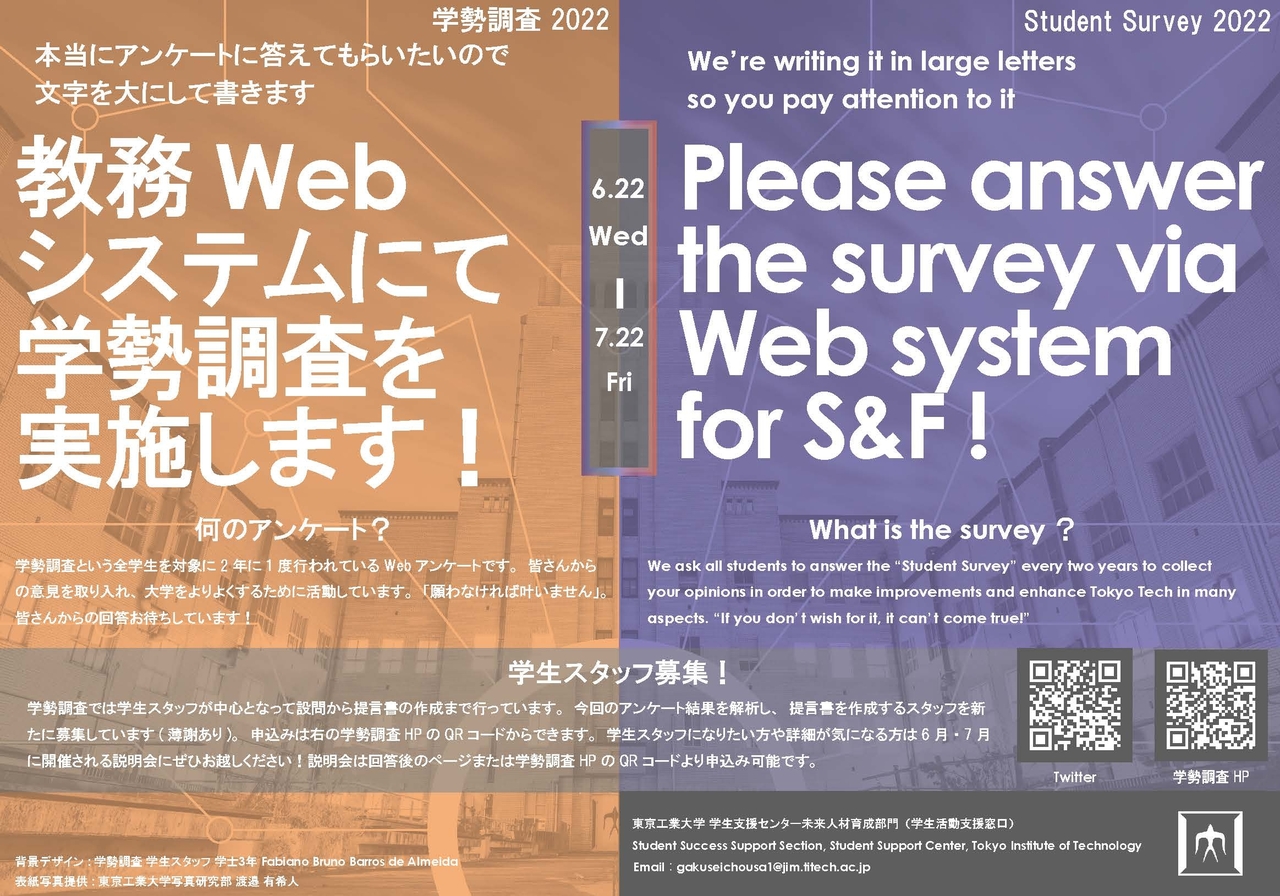 To answer the survey, log in to Tokyo Tech Portal and access the Web System for Students and Faculty.
The survey should take approximately 20 minutes. You may skip difficult questions. We ask for your frank answers.
Currently, we are recruiting students to collect and analyze survey data in order to form proposals for Tokyo Tech. (The project starts in July 2022, and students will receive compensation.)
To apply to become a student staff member, please first fill in the information on the following Google form . After you submit this successfully, you will receive a confirmation email along with the link to the student staff website which you can download the application form. Complete this form with all of the required information and submit it to the student staff office (Email: gakuseichousa1@jim.titech.ac.jp). Those selected will be asked to come in for an interview with the faculty member in charge before officially becoming a member.
A briefing session on student staff activities will be held on June 29, July 16, and July 27 via Zoom in Japanese. To participate, please register your Tokyo Tech email address (xxx@m.titech.ac.jp) at one of the links below. Note: You can choose to disable your webcam and use a nickname when using Zoom.
Related Links
Contact
Student Success Support Section, Student Support Center