AEARU Student Summer Camp 2018, University of Science and Technology of China
| | |
| --- | --- |
| Year of Study: | B2 |
| School: | Department of Transdisciplinary Science and Engineering, School of Environment and Society |
| Country / Region: | China |
| University / Institution: | University of Science and Technology of China |
| Program Duration: | 12-19 August,2018 |
| Program Name: | |
Detailed Report of AEARU Student Summer Camp 2018
The program I attended is a yearly program held by the AEARU association. From Tokyo Tech, there are two students including myself and another student, Genki Unagami. This year, the program was organized by University of Science and Technology of China located in Hefei City, Anhui Province, in the eastern part of China. A total of 12 students from various countries and universities participated is this summer camp. The table below shows the program schedule.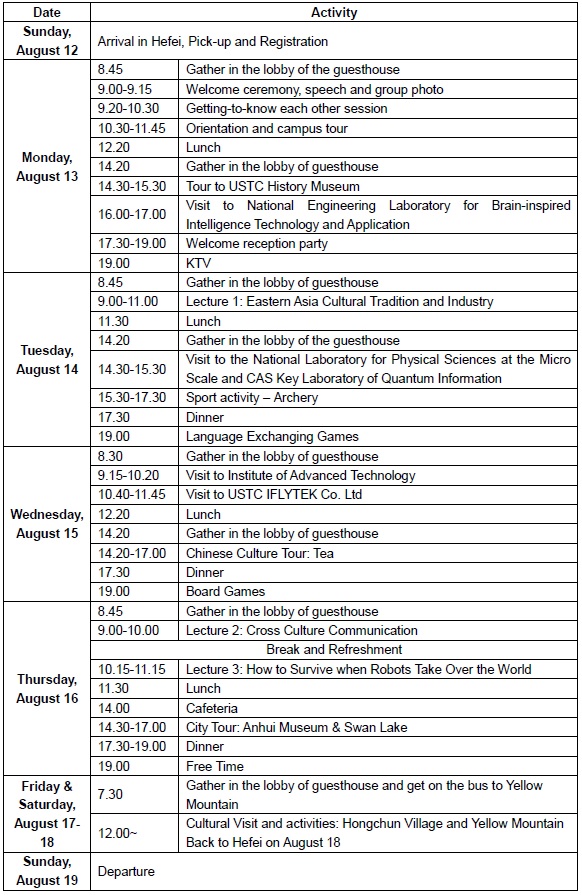 Preparations before study abroad
The registration for the program was fairly easy. Documents that were required were clearly written in the Tokyo Tech website. For essays, I had to do a bit of research about the program, the host university and China before which was fairly easy since USTC also provided details of the program plan and rundown in their website.
The hard part was mostly obtaining the Visa. A special kind of Invitation Letter from USTC was needed for me to apply and this took a significant amount of time. After getting notice from Tokyo Tech about their approval of my participation, I wanted to take of care these things immediately but nevertheless had to wait 1 month of more because of the delay. An important thing to be noted is that, the Visa application is not to be done in the embassy, but to a Chinese Visa Application Centre (outside the embassy). The place can be easily accessed through online Maps by keyword search.
Not to mention, the plane tickets are definitely necessary. This time, purchase was done through the airline's official website but it would of great help to have Chinese friends who know some travel agents or special websites they use to book plane tickets.
Preparations for what to bring for the summer camp was not hard. Seeing the schedule given, we can estimate everything and guess what clothes to wear at different occasions. For example, for climbing Yellow Mountain, I prepared some sport wear.
Cost of studying abroad
It seems that a high price for plane tickets is inevitable for students in Japan. The departure date to participate in the program falls between those where most people take a holiday. Though I used the cheapest, low-cost airline I could get, Peach Airlines, it still cost around ¥82,000. Moreover, unless you are a Japanese, a Visa is needed. The price of the Visa to China can be considered quite expensive,which is ¥9,400 for a single visit (F-type Visa).

In total, I spent around ¥80,000 for the whole trip, everything included. Costs for living expenses were waived 100% by USTC. During the program, participants either stayed in the USTC Guesthouse (a university hotel) or a hotel outside (during the visit to Hongchun Village/Yellow Mountain). My roommate was also a Tokyo Tech student and we stayed in a double room every night.
Impressions of activities during your study abroad
With a participation fee of just $150 for a week in China, I certainly did not expect anything special. We started to realize how specially we were going to be treated upon arrival to Hefei railway station on the first day. At that time, we were greeted with a volunteer from USTC, and he guided us to a personal car which took us the university Guesthouse. Before the start of the program, I though this was definitely like a dormitory with very limited service and care. In contrast, everyday our bedsheets were change and new towels were given. But, this was just the beginning.
Starting from the next day, I can say that the best breakfast, lunch, and dinner had been given to us. During activities inside of the campus, we ate in the school cafeteria. Even so, we ate at the staff cafeteria (for teachers, faculty members, etc.) which is more expensive than the cafeteria where students normally eat. Whenever we are outside of the campus, we always ate at restaurants which would normally cost around ¥2,000 - ¥3,000 for one person.
Though some people might say, having lectures during a summer program should be boring, it was definitely the opposite. The topics brought up were definitely interesting, with the contents and materials being carefully chosen. I learnt how a country's culture can significantly affect economic growth and obtained good tips for doing cross-cultural communication.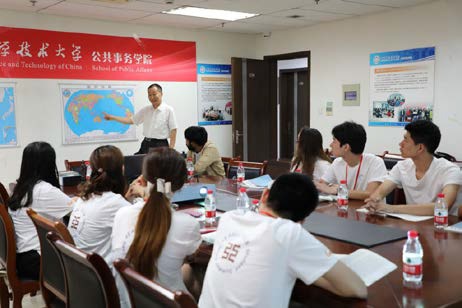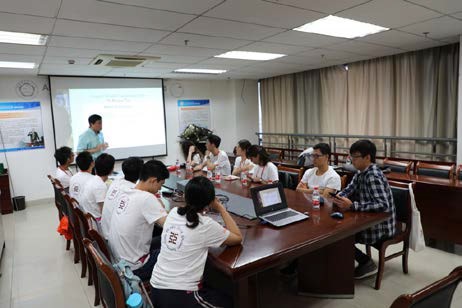 More from inside class activities, there was also a Language Exchange class we did on the second day into the program. In this class, not only did we learn the basics of Chinese but it also allowed those unfamiliar to Japanese to learn some basic Japanese words through mini-games.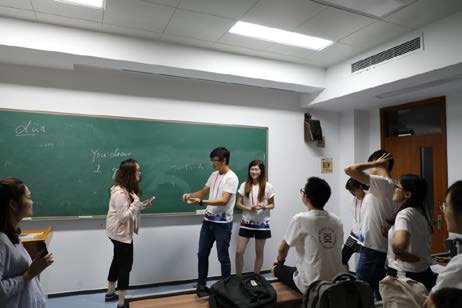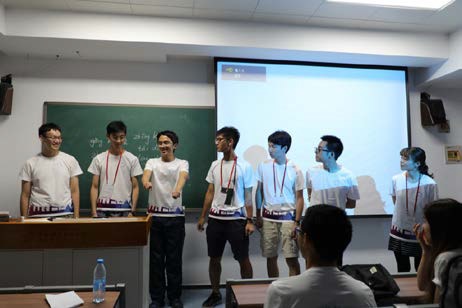 Other special activities we did included learning tea culture, and also did some sport activities like archery which balances everything out. We got to learn a lot, see a lot, but have fun at the same time.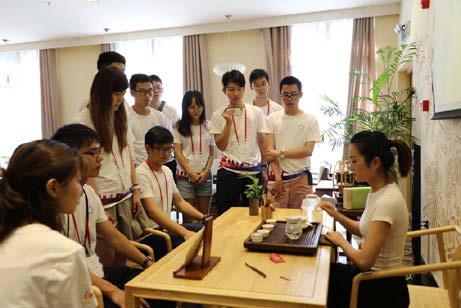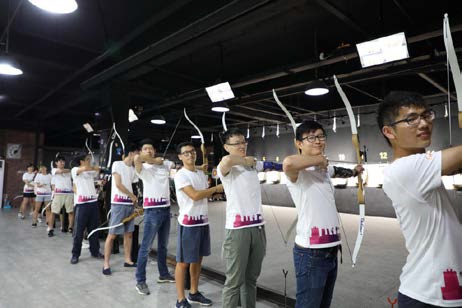 A personal moment
It was very tiring of course, our shanks hurt very much the day after, but it was very unforgettable. First, we used a cable car to go up to the mountain, and then started most of our climb there. Seeing the view from the top, I realized how small I was compared to anything in this world, and Huangshan was just a small part of it. It motivated me to discover more about the world.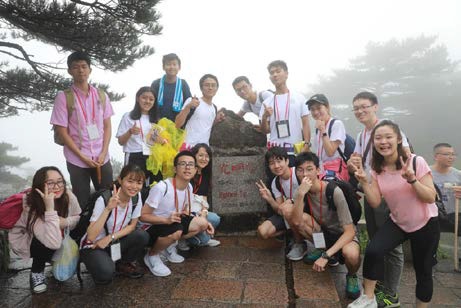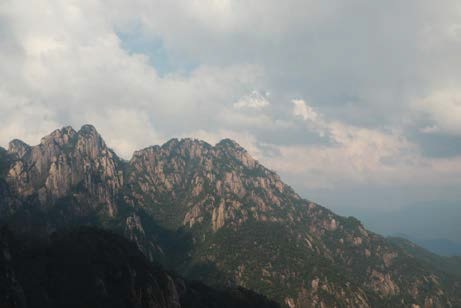 That day also marked the final moment of the trip. Seeing how close everyone had gotten together, of course it was sad knowing that the next day, but everyone still kept it inside and promised to always keep in contact with each other. Also, I really felt how my Chinese speaking has improved and the friends in the summer program actually said that to me. I feel that I know more about the various cultures, which actually does not make feel satisfied, but more motivated to keep learning.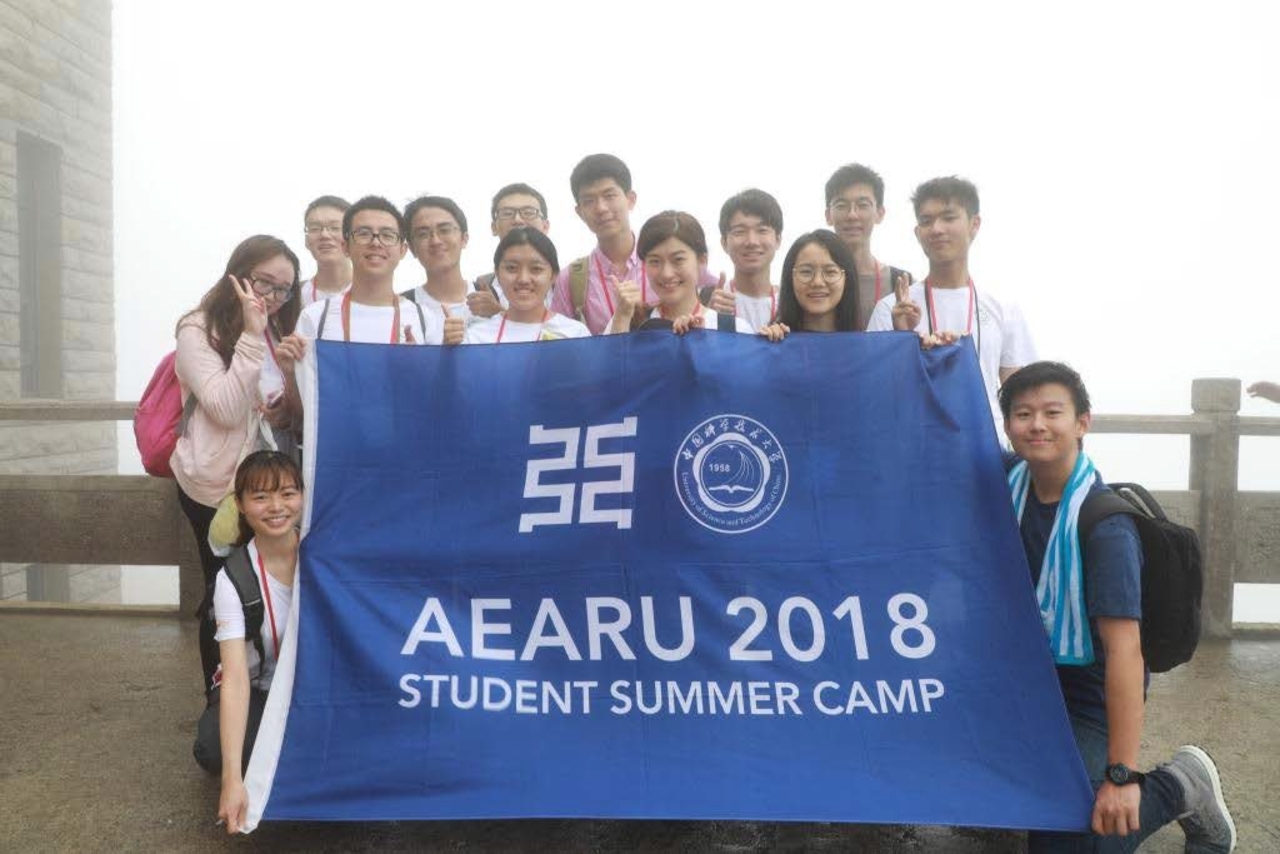 How you want to utilize the experience(s) from now on
Certainly, I am highly motivated to learn Chinese. I realize how there are a lot of Chinese and they are spread around the world. I am sure that even though the effect can not be seen clearly, it will be of use to me one day.
Moreover, I realize communication skills across culture is very important. Although I have been highly exposed to various cultures in my one and a half year in Japan, but it was my first time being exposed to original Chinese culture directly. I want to utilize this chance and knowledge to further motivate myself in learning about China.
Any trouble or issues you faced abroad and how you solved the problem
I am glad that my knowledge of Chinese language was really useful in the trip. The first challenge we faced was getting to Hefei. Since we arrived in Shanghai Pudong, we needed to take a subway to Shanghai Hongqiao Station which was 2 hours away, and then transfer to a bullet train towards Hefei. Along the way, we encountered many troubles like how to exchange our online-booked tickets, where to do them and how to get to the train platforms. However, this was easily solved by properly looking at the signs and asking people.
Any advice for students who wish to study abroad
Ask anyone who is from that country what you need to prepare, and certainly learn a bit of the country's language before departure.
Student 2: G.U.Undergraduate 4th year
Department of Mechano Aerospace Engineering
School of Engineering
Information about the Study Abroad Program / International Experience referenced in this Report