Educational Programs with Study Abroad Opportunities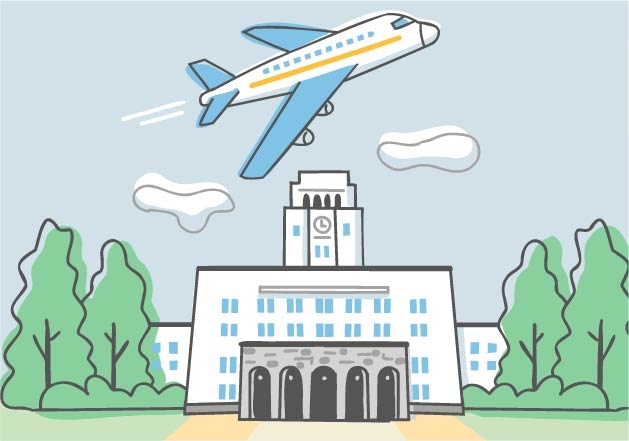 Tokyo Tech offers an educational program with study abroad opportunities.
Global Scientists and Engineers Course (GSEC)
The Global Scientists and Engineers Course (GSEC) provides a systematic curriculum that enables bachelor's and master's degree students to develop the necessary competencies to excel in the global arena. Through GSEC's step-by-step approach, participating students will be able to develop a global mindset, practical skills to work in global environment, and soft skills necessary for international collaboration.
The GSEC curriculum comprises three levels.
Through the Global Scientists and Engineers Course, students augment expertise in their major with global competence, thereby acquiring the skills and expertise necessary to become globally competitive scientists and engineers. In order to complete each level, students must obtain credits in the designated courses and satisfy requirements, including study abroad or the acquisition of "study abroad experience."
Tokyo Tech provides various programs through which students can obtain "international experience." These programs include short-term study abroad and faculty-led programs, as well as exchange programs to Tokyo Tech's partner universities, internships at international organizations, workshops with international students, and online programs offered by Tokyo Tech partner universities.
Tokyo Tech Academy for Leadership: integrated master's and doctoral education program
The Tokyo Tech Academy for Leadership (ToTAL) brings together students from master's to doctoral programs from all Schools in Tokyo Tech to study together and learn leadership skills. Completion of the curriculum of this educational program will satisfy the credit and Graduate Attribute requirements for the Career Development Courses, which are part of the Graduate Major completion requirements for the master's and doctoral degree programs.
About study abroad
To cultivate students' leadership skills, ToTAL has prepared the curriculum shown in the figure below. Students who have earned the required credits, passed the interview, and entered the doctoral program will be eligible to take a three-month "Off-Campus Project" of their own design as a capstone project. The project can take place either in Japan or overseas, and ToTAL will provide financial support for the project such as travel fees and accommodation fees. (*Conditions apply.)