Harassment Policy
We strive to ensure our campuses are free from harassment of all kinds.
Regulations: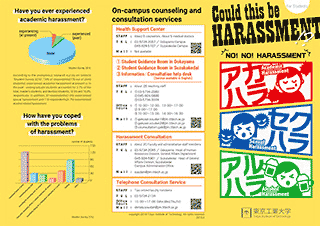 When you need help
Consultation
Our consultants provide confidential services to all members of the Institute community on all campuses.
STAFF:
Harassment Consultation Service Directory
Contact
Email soudan@jim.titech.ac.jp
Tel

+81-3-5734-2288 / Head of Human Resources Division, Ookayama Campus
+81-45-924-5901 / Head of General Affairs Division, Suzukakedai Campus
*

Please note that "soudan (相談)" means "consultation" in Japanese (not to be confused with "Sudan/Soudan", the country).
Others
*

Please let us know if you have a preference for either a male or female consultant when making your appointment.