Partner Universities Summer Program, RWTH Aachen University, August 2017
| | |
| --- | --- |
| Year of Study: | B1 |
| School: | Life Science and Technology |
| Country / Region: | Germany |
| University / Institution: | RWTH Aachen University |
| Program Duration: | August 2017 |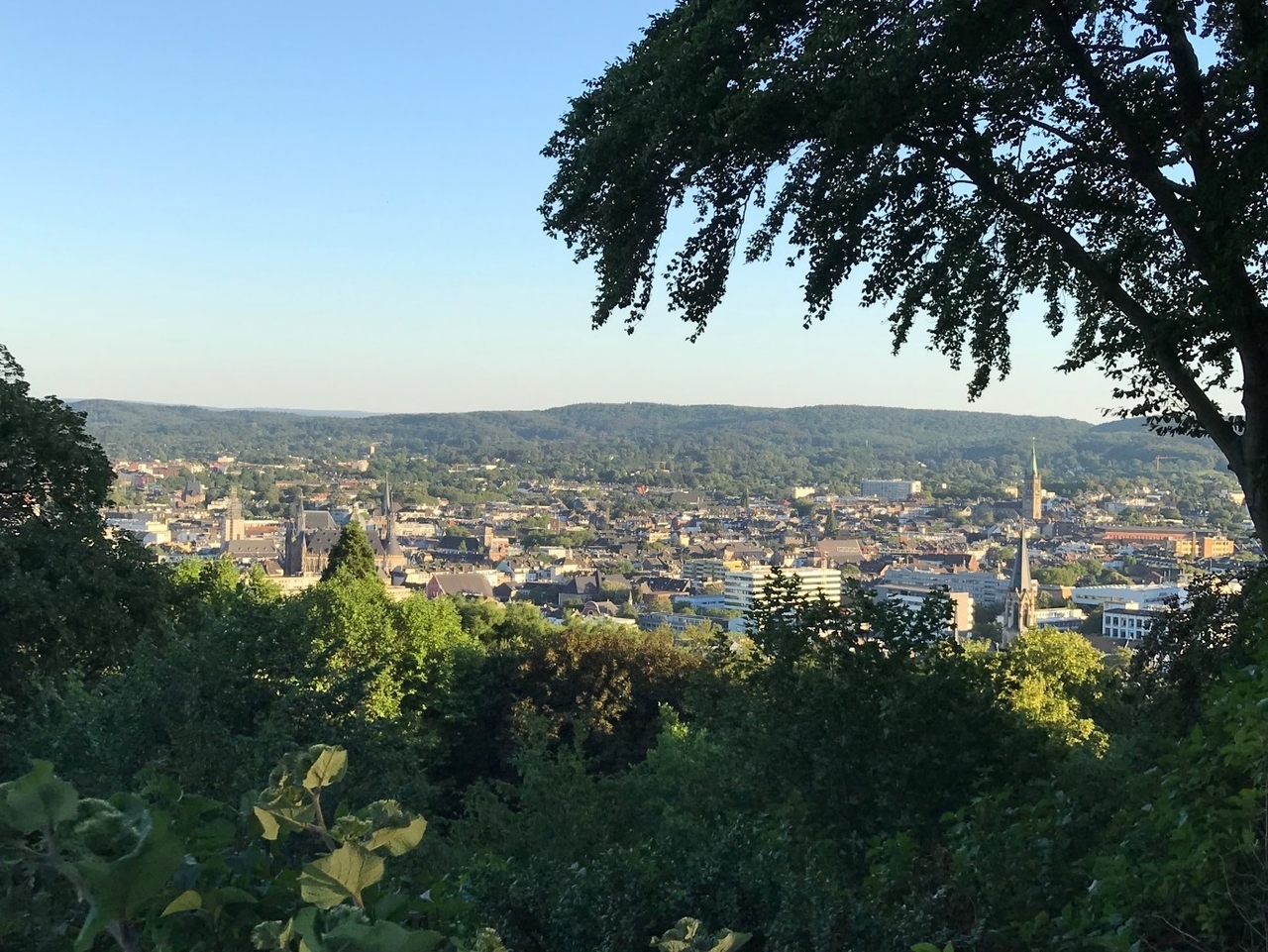 Aimof Smart Electrical Power Systems
The aim of this program is to think about how to use electrical power smartly, and to have awareness of the problems concerning that through lab tour and various lectures about measure of power supply and transmission on modern power system, power output control method, and power economics in liberalized electricity markets.
My Purpose
My main purpose is to get broader knowledge of electrical power system engineering which is my major, and to think about modern power system from a global viewpoint. Another purpose is to broaden my international perspective by experiencing life in a foreign country which culture is totally different from that of Japan.
About RWTH Aachen University
There are approximately 43,700 students currently enrolled at RWTH Aachen University, of whom more than 6,500 are international students from over 120 different countries. The number of full-time professors is 538. The university has a quite large total area, and whose 128 campuses in total are decentralized to city of Aachen and the surrounding area.As above, RWTH Aachen University is a rather large-scale university and it is no exaggeration to say that its engineering research facilities are the most well-equipped among European universities.
Preparation Before Going Abroad
Since I had wanted to join this program for more than a year, I had gathered information with TokyoTech website about study abroad and last year's website of this program at an early stage. Thanks to that, I could apply early and get 10 percent discount for course fees. In addition, I studied English conversation little by little since this early March when I finished my bachelor thesis and get enough time because I had originally had an awareness that I'm not good at English conversation.
Costs
The course fees amount to 1,620 euro with discount. These fees include not only tuition but also fees for accommodation, breakfast and lunch on weekdays, and a local public transport ticket for daily use in Aachen. Besides, I purchased a round-trip ticket of nonstop flights for 230,000 yen.
Accommodation
Program coordinators arranged a boarding house named Prestep. I wonder if the building is relatively new, the interior was very clean. Tap water in the bathroom was drinkable. We needed to share our bedrooms with other 1 to 3 participants (I shared it with a Turkish student). The boarding house has 3 shared kitchens and we could use them freely.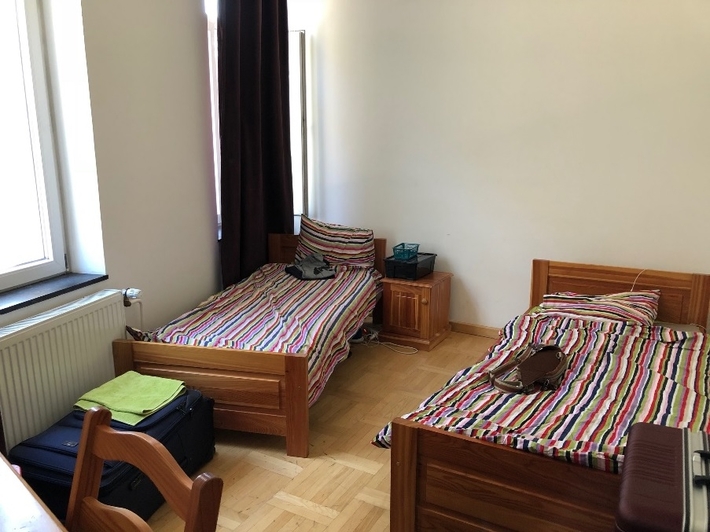 My bedroom(left)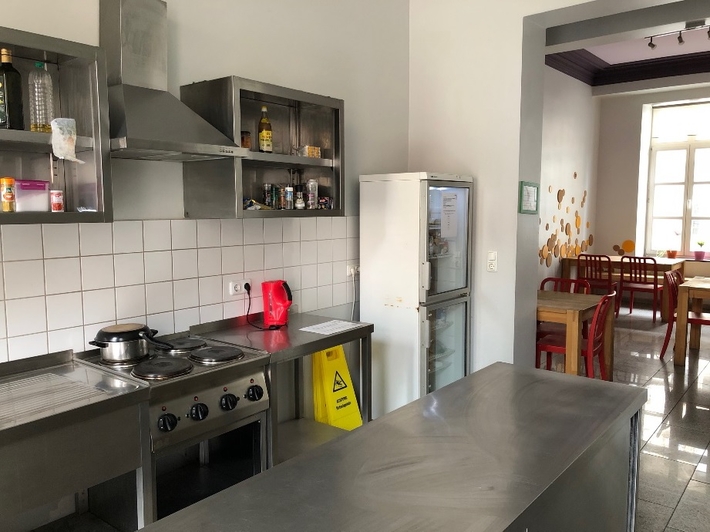 and kitchen(right)  in Prestep boarding house
Participants
About 30 participants joined Smart Electrical Power Systems. Chinese and Malaysian students had the majority and Japanese student was only me. There were a few students from Egypt, Iraq, Colombia and so on and it was a good experience that I could make conversation with students from various countries.
Activities
①Tour
Scavenger Hunt
We were divided into groups consisted of 5 or 6 students and looked around city of Aachen in order to solve quizzes about monuments and building in Aachen. I acted together with a German buddy and other Asian participants. Although it was a little bit hard to look around with heavy luggage in the heat, I was happy to know interesting things about Aachen and get along with other participants.
Campus Tour
A bachelor student at RWTH Aachen University guided the tour. As mentioned above, the campuses are decentralized to city of Aachen, so we visited only main campuses such as Campus Melaten and midtown Campus. There are not only electrical energy labs called Cluster Sustainable Energy but also other 5 research facilities such as Cluster Biomedical Engineering and Cluster heavy duty drives. I felt that the area is wider than that of TokyoTech Ookayama campus. In the tour, I was surprised by a real wind turbine for research which works in Campus Melaten and Auditorium which has the number of rooms and area just like a movie theater.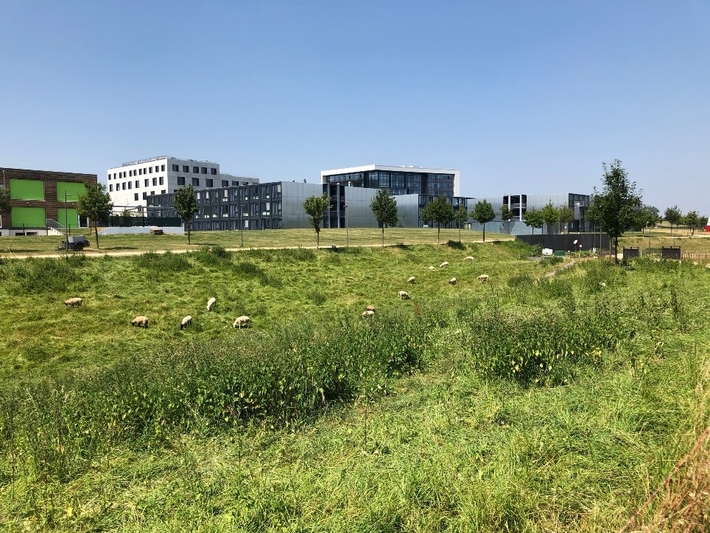 The landscape of Campus Melaten (left)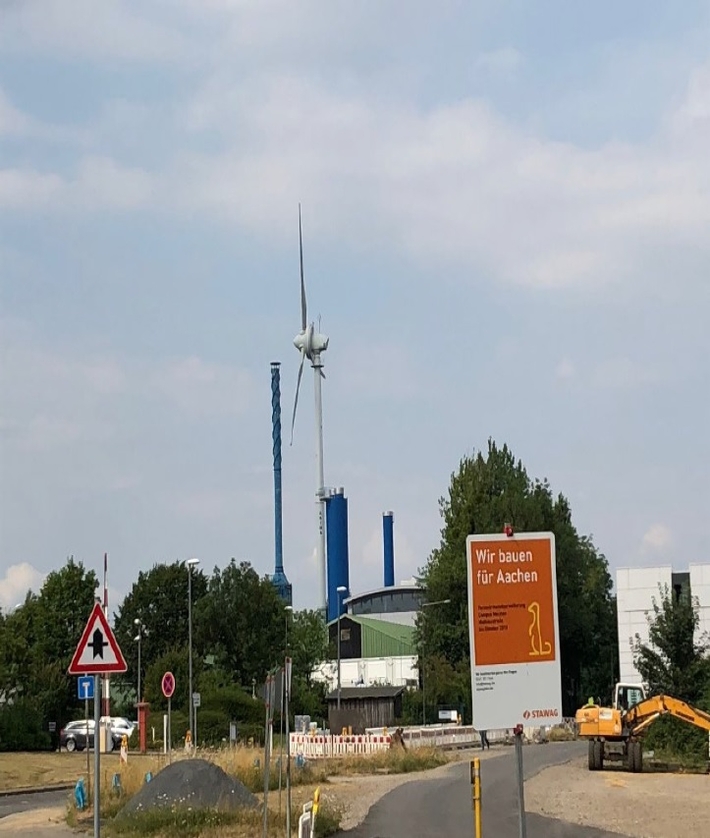 and the wind turbine for research (right)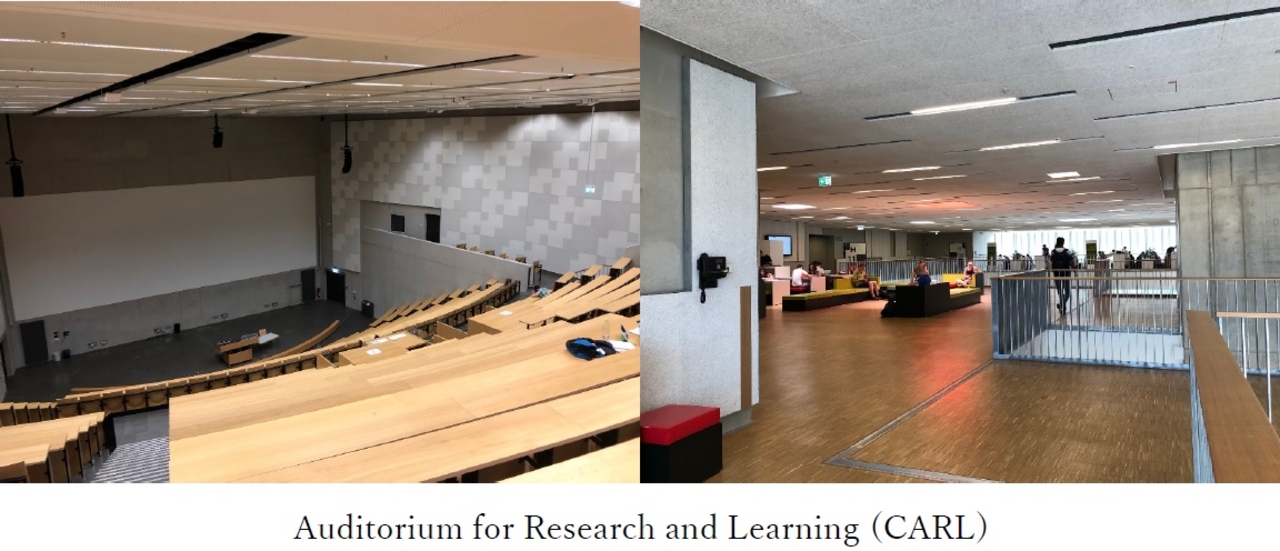 E.ON Energy Research Center
E.ON Energy Research Center consists of the following 4 research institutes.
Automation of Complex Power Systems (ACS)
Energy Efficient Buildings and Indoor Climate (EBC)
Future Energy Consumer Needs and Behavior (FCN)
Power Generation and Storage Systems (PGS)
We visited ACS and PGS, and then looked experimental equipment such as Real-time Digital Simulator (RTDS), DC-DC converters and synchronous generators. RTDS is mainly used for real-time analyses of power systems. In addition, RTDS has several slots for terminals and we can connect other devices like inverters to them. However, if you want to implement power system simulation of entire Germany, the capacity of simulators at ACS is insufficient and you need to increase the capacity by linking them with devices in overseas institutions via the Internet, that's why research and development of such networks is being undertaken as well.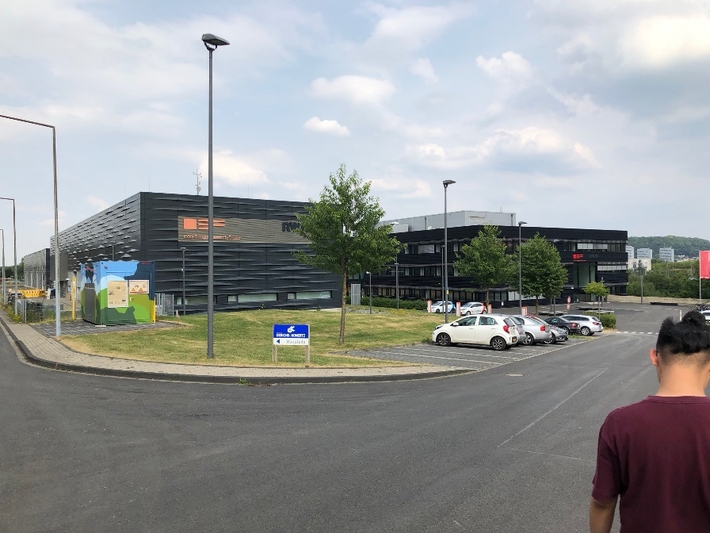 The exterior of E.ON (left)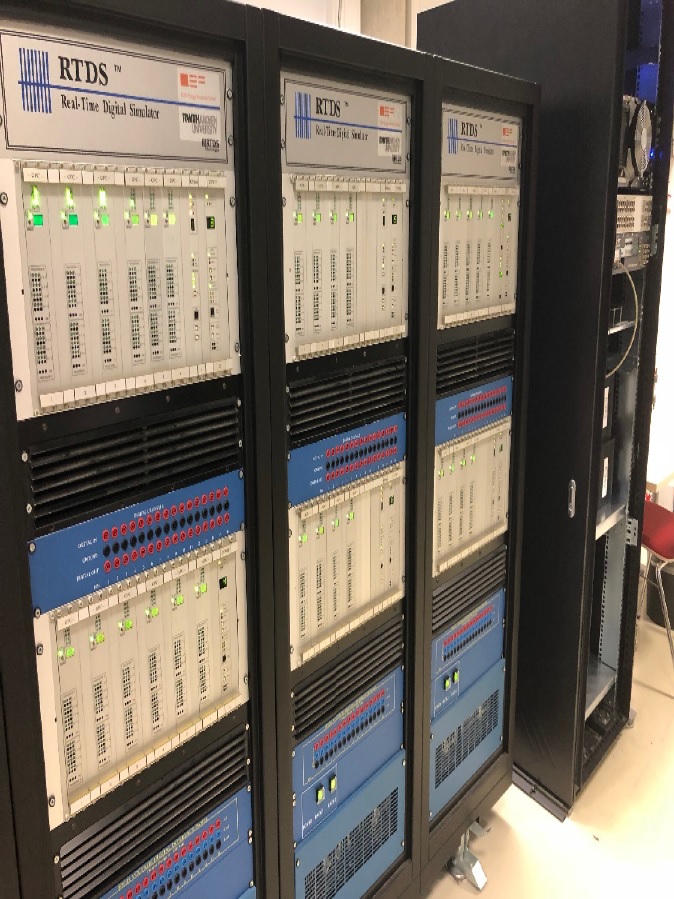 and Real-time Digital Simulator at ACS (right)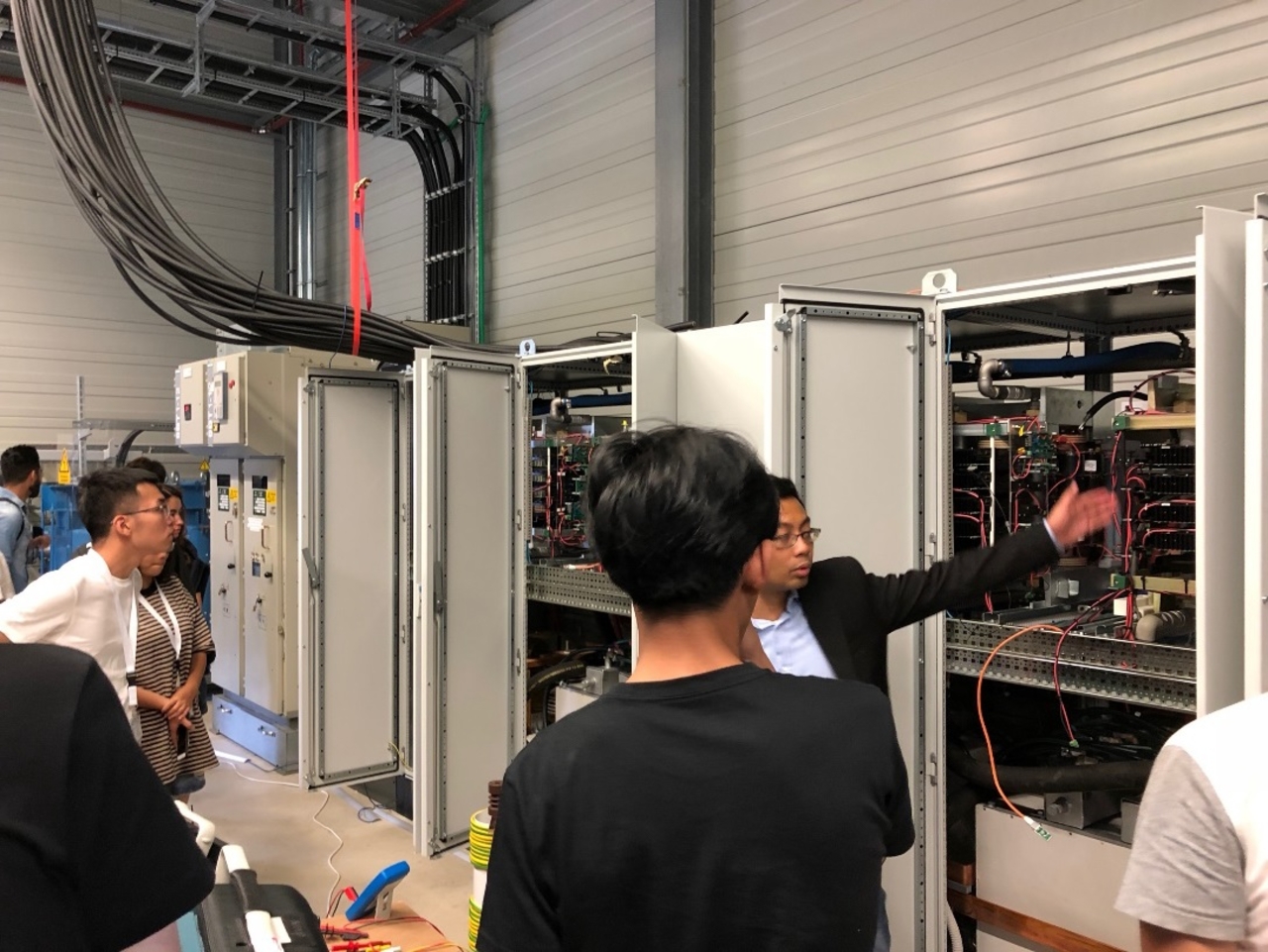 Center fo r Wind Power Drives (CWD)
CWD deal with the research on drive train system of wind turbine. We were shown around the inside of a huge warehouse, in which there was a simulator consists of real wind-turbine's nacelle (a part of wind turbine which converts mechanical power of blades into electrical power). In wind turbine generator system, the generator has to rotates at the appropriate speed for blade's rotating speed, so this simulator tests whether the generator can rotate in accordance with the rotating speed fluctuation of blades. I've heard that the university which has large-sale equipment like this is rare even in Europe and I was jealous of RWTH Aachen University all the more.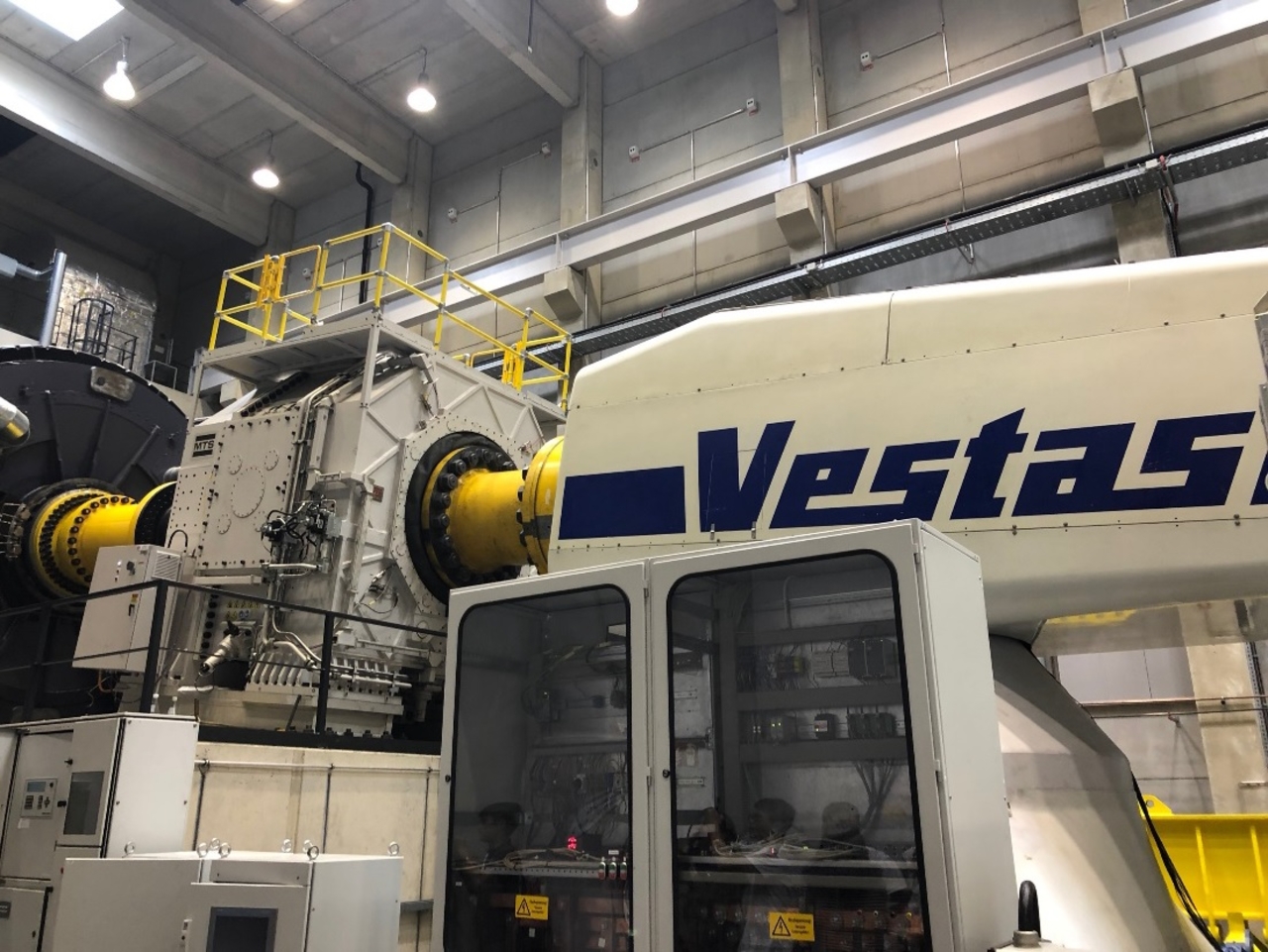 RWE Niederaussem Power Plant
RWE is a thermal power plant in Bergheim located about 20km west from Cologne and it takes approximately 1 hour from Aachen by bus. It has a total output of 3,864MW, which is the second largest among domestic thermal power plants in operation.I wasn't impressed so much with power facilities because I have previously visited Kawasaki thermal power plant in Japan, but a number of huge cooling towers were quite powerful.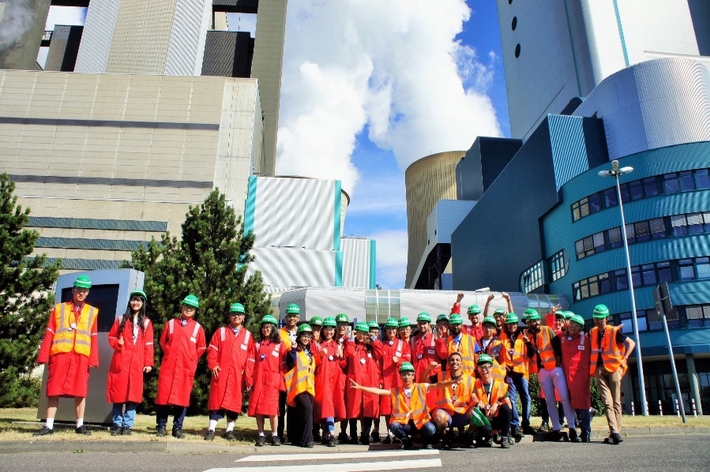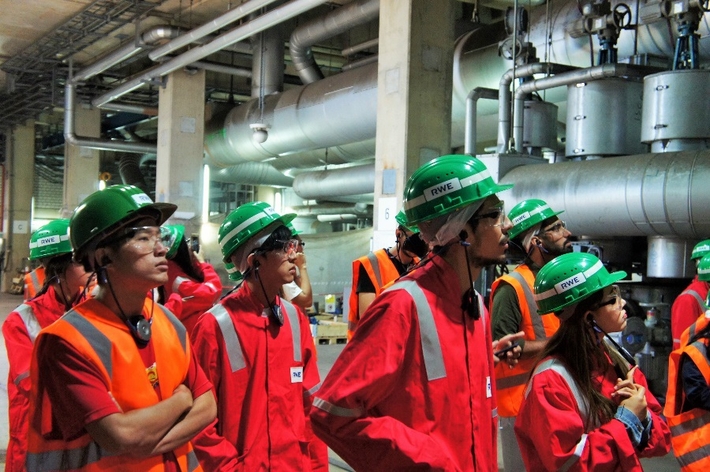 The look of RWE tour
②Lectures
Almost all lectures and events were held in Campus Melaten. The contents of the lectures cover the whole field of electrical power system engineering, for example, battery energy storage systems, high-voltage power electronic converters, power system dynamics and power economics. All courses were opened in English. Basically, teachers explained the contents with Power Point and students suitably ask questions. Although I'm belonging to lab on power system engineering at TokyoTech, these lectures told me a lot of topics and technical terms I didn't know, and teachers spoke at reasonably high speed, so it was hard for me to keep up with teachers talk because of my weakness in listening to Englishspeaking. Besides, we often listened to teachers talk silently, so I often felt sleepy but managed to endure sleepiness.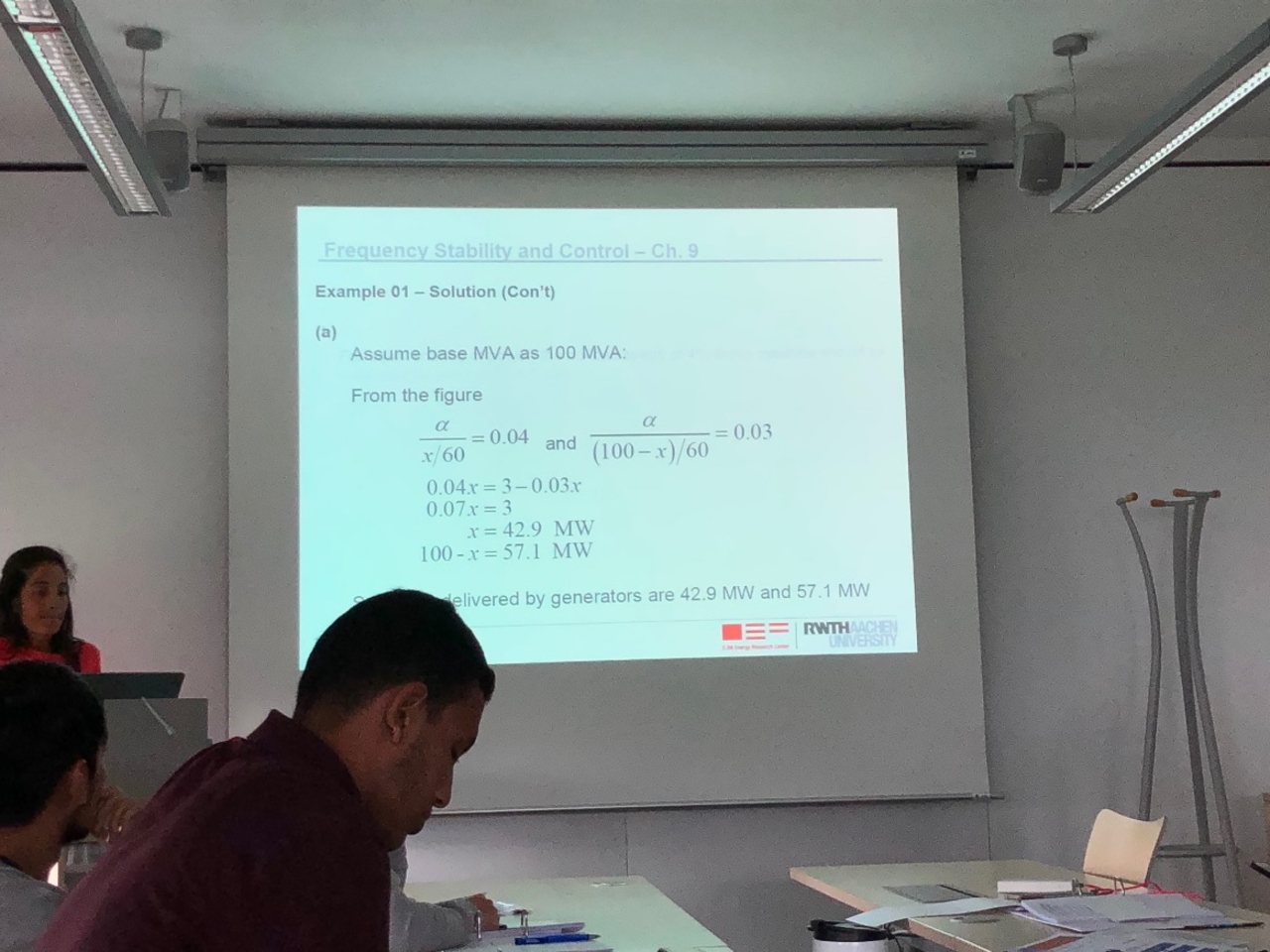 ③Case Studies
Experiences on Battery Energy Storage (BES) Systems
A lecture and a case study on BES systems were held at ISEA where is at a distance from main campus and has research facilities on power electronics and BES systems. We were divided into 5 groups, then went around 5 facilities in turn and solved each question. We measured voltages between electrodes of Lead-acid battery and had a test ride of an electric vehicle.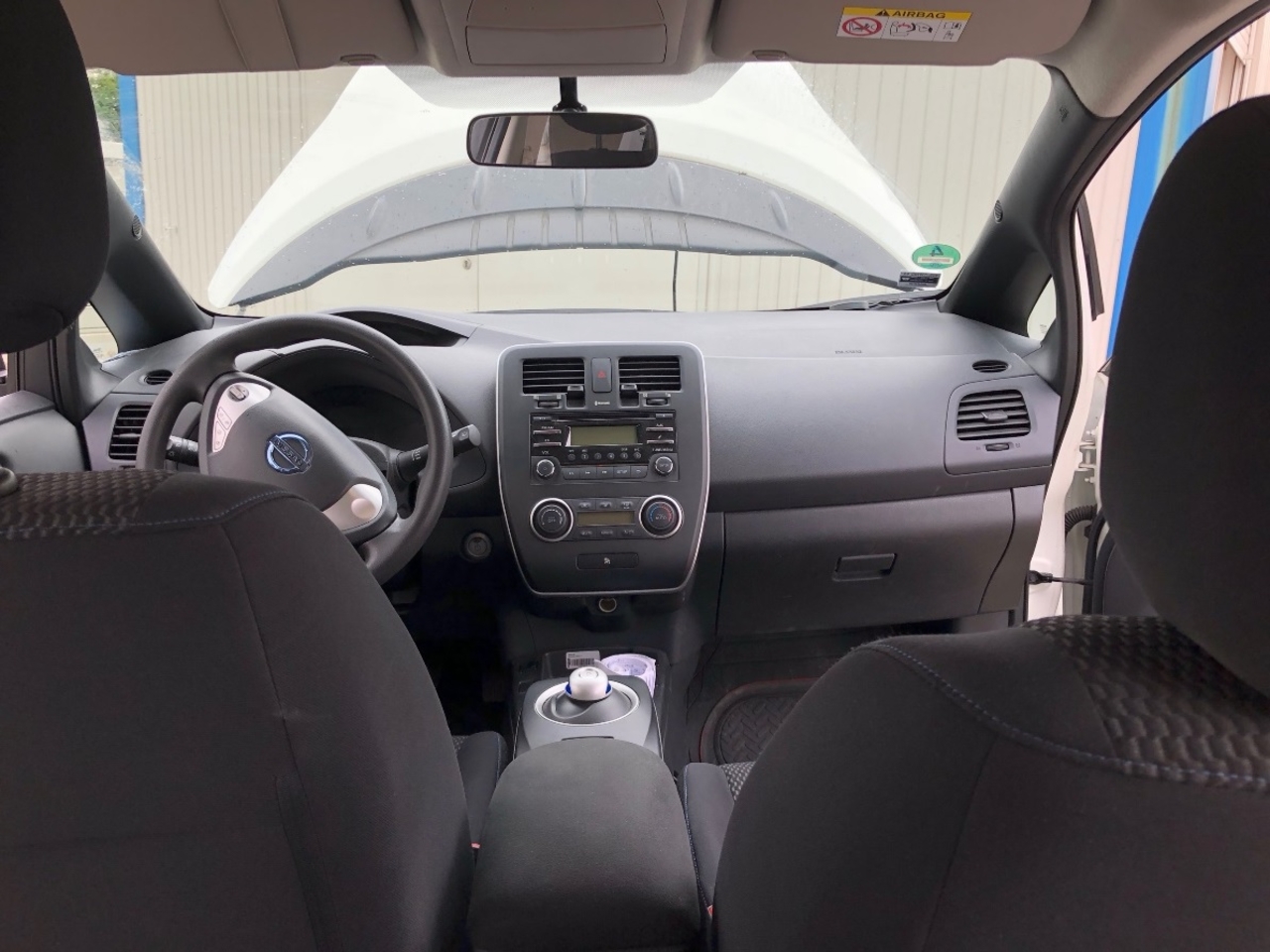 Energy Supplier
In this study, we were divided into groups consisted of 4 students. Each group pretend to become an energy supplier and aimed to improve the corporate profits through construction of power plants and their sales transaction with other supplier using simulation app on PC. We have 4 choices of nuclear power plants, hard coal power plants, natural gas power plants and wind parks, but each of these plants has merits and demerits. For example, natural gas power plants have low costs for construction and maintenances but high fuel costs. On the other hand, wind parks have no fuel costs but higher costs for construction and maintenances than that of natural gas power plants. In addition, whether corporate profits rise or not depends on complex factors such as managementsof assets and liabilities, and marketing for retail customers, so I felt the difficulty of working out economic strategy.However, many participants don't understand well about economics like me and everyone seemed to enjoy the simulation with a sense of playing game.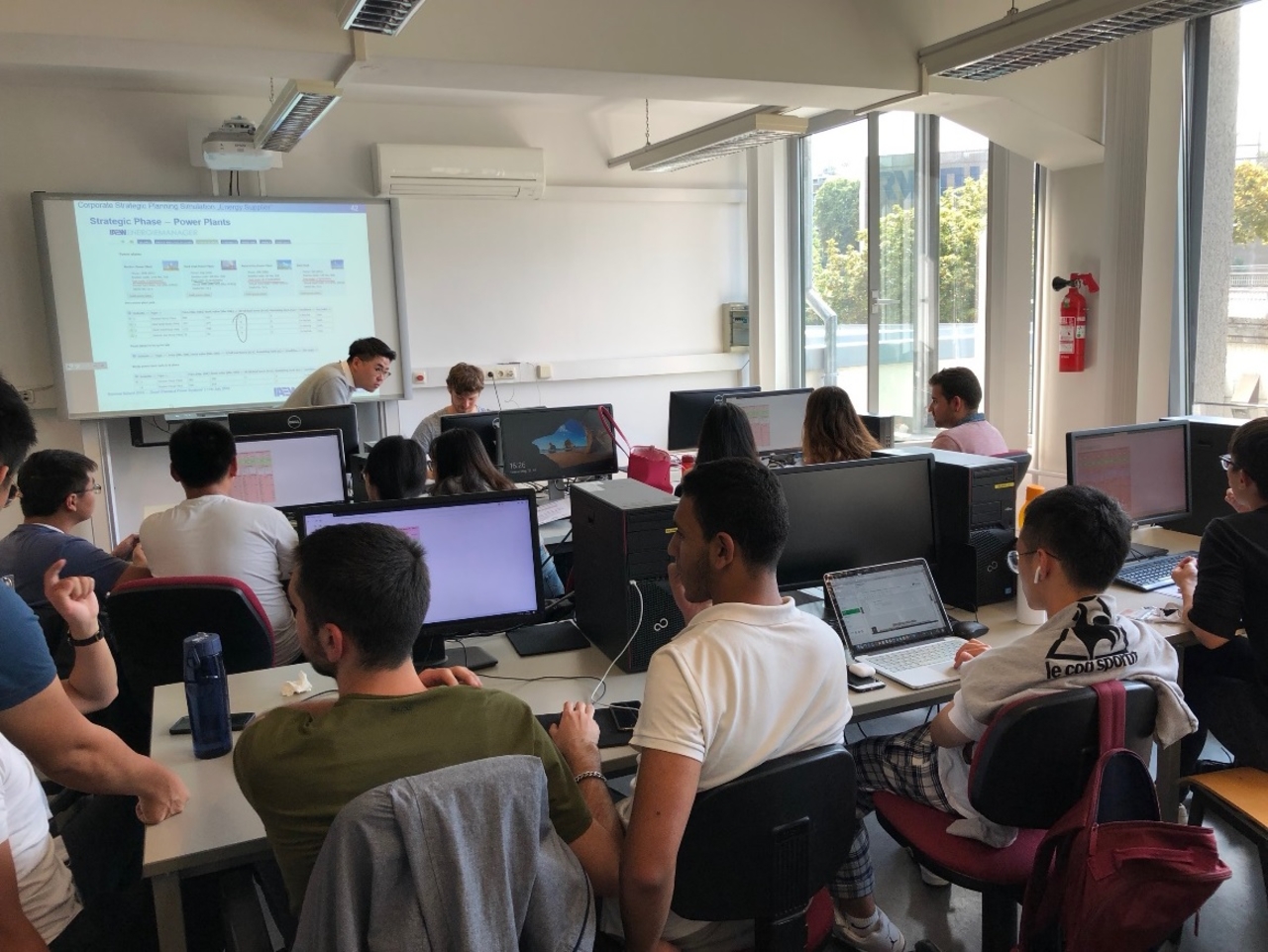 Intercultural Workshop
This workshop aims at thinking together about how is working and living with German like based on the difference of culture between Germany and our mother countries. In the beginning, we introduced ourselves, then we divided into several groups and each group summarized good and bad points about the features of German people and German culture on a poster paper. It goes without saying that this workshop was a good opportunity to think of the difference between Japan and Germany. In addition to this, I could learn the difference between Japan and other Asian countries through discussion with other participants. For instance, I felt that German people are not punctual from the experience that German transportation didn't often follow time, but other Asian participants seemed to feel that German people is punctual. I realized that other countries culture seems in different ways depending on our mother countries.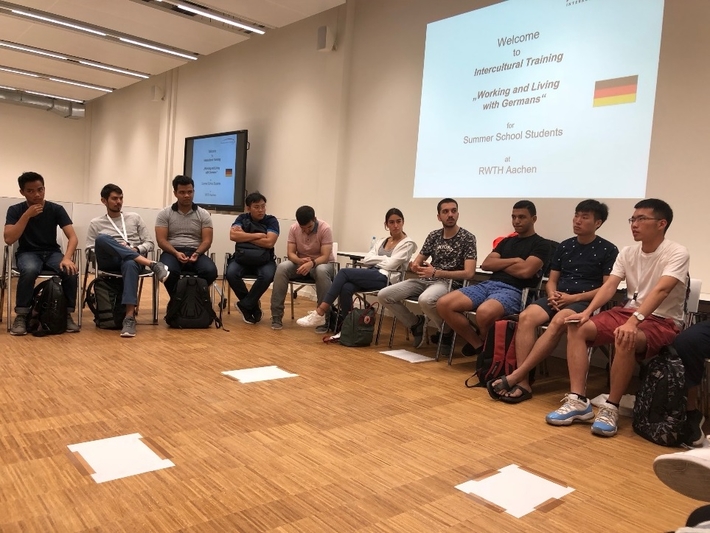 The look of the workshop (left)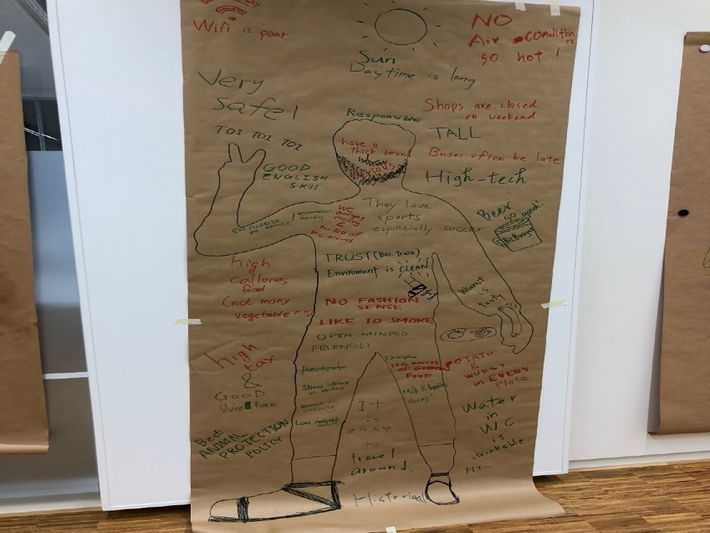 and the poster of our group(right, the green color means good points and red colors means bad points)
Other Time
①Meals
Since we were given Mensa cards with which we can have lunch for free up to 6 euro per day, I always had lunch with my friends at school cafeteria on weekdays. It was crowded but there were enough seats, so we could sit easily. Besides, we could eat hearty meals of meat, fish and pasta at low prices. I often ordered day's special meals and everyone tasted good.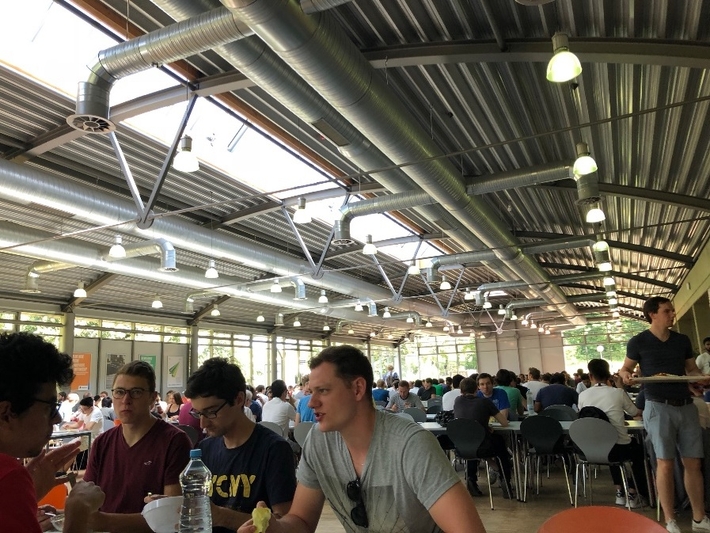 The insideof cafeteria (left)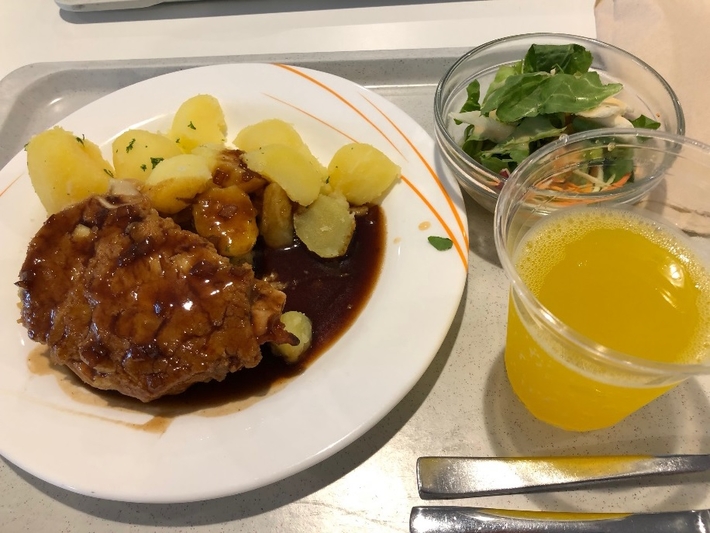 and one day's lunch(right, pork steak, salad and orange juice)
②After School
BBQ was coordinated on the 2nd day evening and I enjoyed the meals and talk with other participants and buddies. After meals, I played with a Frisbee with friends and watched a World cup game between Colombia and England at lecture room.
There was an opportunity to visit the border triangle of Germany, Netherlands and Belgium where is near from Aachen with other participants. It was hard to go up the steep slope from bus stop to the destination, I could refresh myself with rich nature and residential streets of Dutch buildings.
③Weekends
I went on a trip to Paris on the middle weekends of the two weeks. We can get to Paris from Aachen Hbf. by 2 hours and 40 minutes by Thalys. I booked a hotel room in Paris in advance and visited the Louvre museum, St. Chapelle church, neighboring Versailles and so on. I was always nervous in sightseeing because I've heard that Paris is a poor-security city where pickpockets and crimes often happen, but I could enjoy my travel without any troubles. On other weekends, I went on day trips of Cologne and Heidelberg in Germany.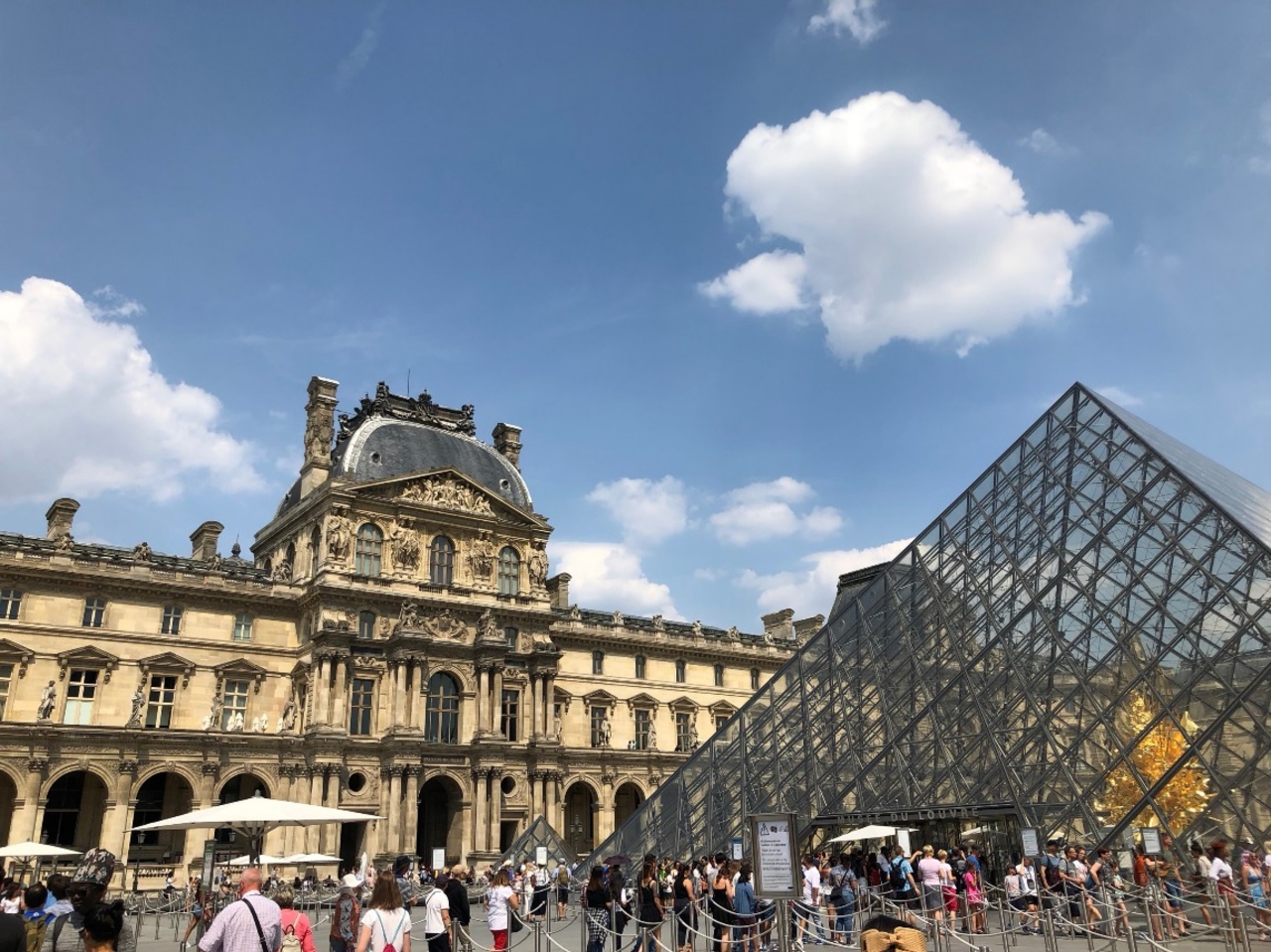 Learned Things from This Summer School
I think that this study abroad told me the importance of acting actively without being afraid of mistakes. The most representative example of that is English conversation. Since I am too bad at English conversation to make a basic conversation in English fluently, I thought I have to improve my oral English skill as possible before going abroad and studied English conversation keeping the balance with my research and lectures. However, my conversation skill didn't improve so much as I expected and my departure day was here. As expected, Japanese was only me in Aachen, so I needed to solve the things around me with my English skill. Therefore, I made up my mind to speak English positively even if my English conversation skill is poor. In reality, Although I often had difficulty in what to say in English and listen again 2 or 3 times in conversation at tourist spots and laundry center, and with other participants, I noticed that I could make myself understood better in English than I expected. Besides, thanks to many people's consideration for my poor English, I became able to speak my poor English without less shame and anxiety. Of course, only English life was demanding for me, but I could feel fun and fulfillment of studying abroad when we got excited in English talk and I finally solved problems through English conversation.
With respect to examples except for English conversation, I had an impression that many foreign people not limited to German was open hearted because I often saw them do what they really like during recess and speak positively during classes without modesty and caring about what other people think in a good sense. They looked cool for me who is shy, modest and typical Japanese, so I thought I will learn from them little by little.
Impression
Overall, this program was very satisfying and I think we can get not only knowledge and international perspective on each theme but also other important things. The duration of two weeks is very short, but it just suited for me who was beginner in studying abroad. Of course, it is better to have high English skills before going, I also want to recommend this program for who is not confident of his or her English skills like me.