A Cappella Club Ajiwai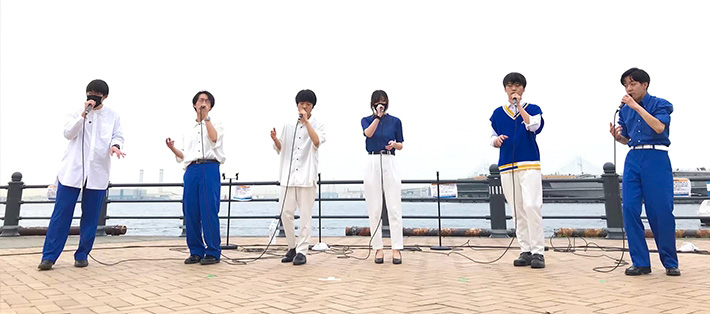 Experience the rich taste of music through a cappella
A Cappella Club Ajiwai is a club for people who like songs and music to enjoy singing and harmonizing with all their might. Activities are mainly divided into two types: all-member activities and band activities. Practicing ensemble pieces, concerts inside the club, and events such as BBQs and sports festivals are all-member activities. Practicing songs with about six members are band activities. And each member can join more than one bands. With each band, you can choose J-Pop, anime songs, game soundtracks, or whatever genre you like to rehearse.
Every March, the club hold a big event of the year, the Circle Live concert at the 70th Anniversary Auditorium, performing in front of the guests including the families and alumni.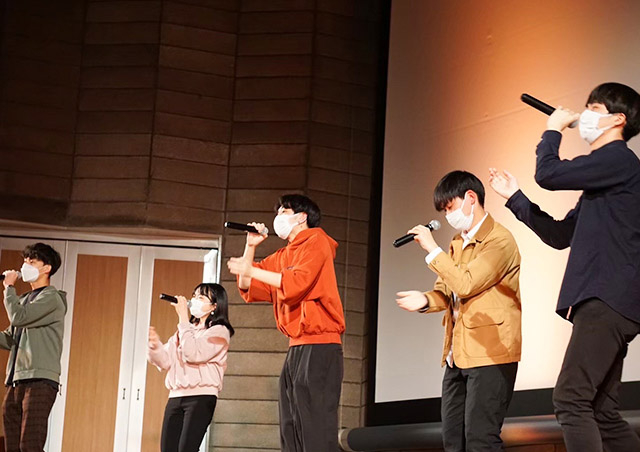 "Doyou-Douyo?" Band playing at the Circle Live Concert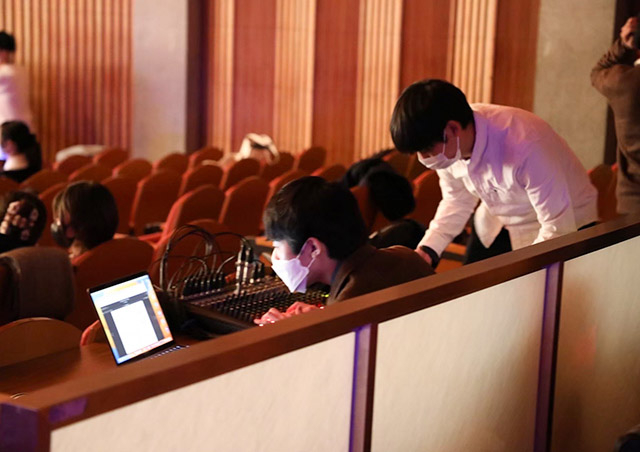 PA (sound) section working at the Circle Live Concert
Even beginners are welcome to join the band to experience the joy of harmonizing
The club activities start after Golden Week, with the formation of the starting band made up of about six people, including new students. The various parts for the starting band, like the lead, chorus, bass, and voice percussion, are decided, and members learn the basics of a cappella from the senior members, using the scores made for new students Many members are new to a cappella, and practice under the guidance of older members for the New Members Live Concert held about two months later.
The appeal of a cappella is that you can get the thrill of creating music through matching your voice with that of others. Creating harmony through voices alone is delicate and tricky, and it takes a lot of steady practice before the sounds blend seamlessly. When a perfect harmony happens, it feels so incredible that it gives you goosebumps and draws you deeper and deeper into the exquisite harmony experience.
The appeal is the emotion and excitement of singing in front of others
With events like the New Members Live Concert, the Wakaba Festival, the Tokyo Tech Festival, the Circle Live Concert, and more, there are many opportunities to perform both in the university and from the broader community. Even new students, who initially felt nervous, will discover that performing becomes more enjoyable with each experience, and develop to the point where that initial tension becomes actually part of the enjoyment.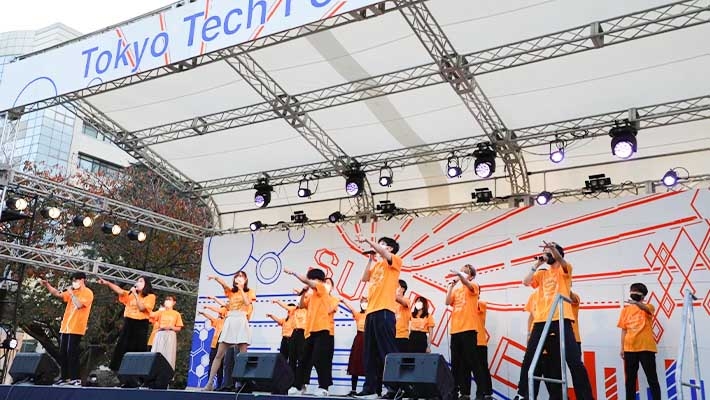 In addition, many bands participate in street events such as the 50fes and the SHIBUYA A CAPPELLA STREET (ShibuAka), as well as events in live houses. Participating in off-campus music events, with specialized stage setups and lighting, and performing in front of a large audience, is a unique experience. The cherished memories and exhilaration from such experiences are unforgettable so thtat the number of bands participating in events and contests is increasing each year.
The joy of singing a song arranged by oneself
Song selection in Ajiwai usually involves arranging well-known songs in a cappella format. Therefore, an arrangement class is held once a year for new members. The great joy of singing songs created by oneself, using computer software, to suit one and the applause from the audience make feel a sense of achievement.
Also, the ensemble pieces where everyone sings have more richness and depth than the band songs, making them into music that is gorgeous and powerful. The dynamic singing voices created by all these people create a sense of unity that seems to shake the whole venue.
Extensive interaction with shared hobbies
In addition to events like the sports day, BBQs, and Christmas Live Concert, the club also puts a lot of effort into the Spring Camp and the Summer Camp. Special a cappella bands are formed for these camps, so everyone can enjoy a cappella singing to the fullest. Friendships between members are fostered through events and camps.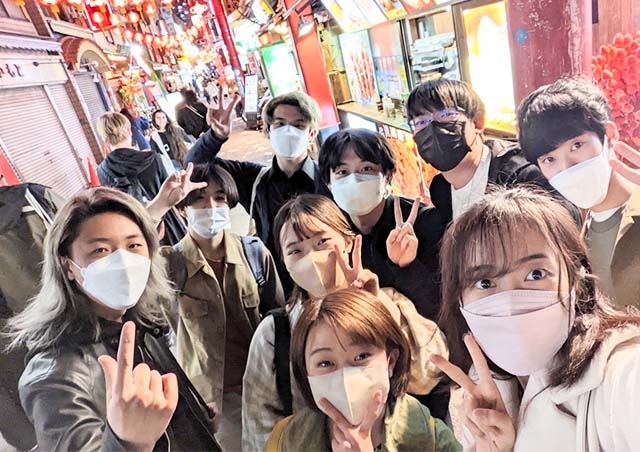 Members having fun together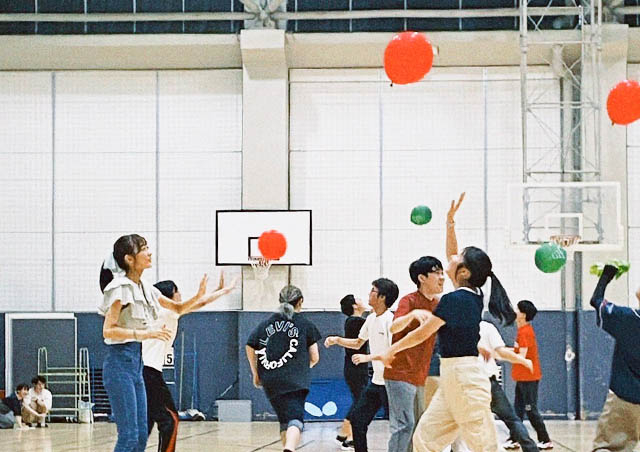 The "borrow someone race" and the balloon rally at the sports day
The male to female ratio is around 2:1, meaning there are more males, and the ages range from first-year undergraduates to master's degree students. One of the attractions of the club is that you can make friends with people you might not have an opportunity to get to know.
To new students
A cappella involves creating music using only human voice, so you don't need any audio equipment, and can enjoy music right away with the people around you. At Ajiwai, you can freely choose the bands you want to join and how many, and you can participate in activities as often or infrequently as you like, allowing you to join other clubs as well.
If you're not sure and thinking, "I might be interested, but…" or "A cappella seems a bit challenging though…" the club holds sample sessions from late March to April, where you can come and try it for yourself.
You don't have to be a skilled singer. Maybe you love songs and music, want to boost your confidence, try something new, or make lots of new friends. Whatever your reason for starting a cappella, it's no big deal. Come and enjoy some a cappella!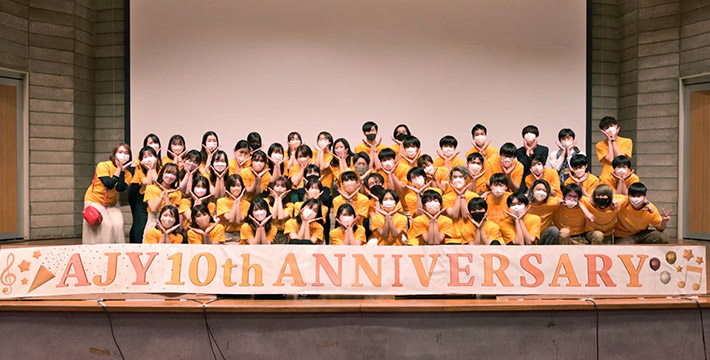 Club Overview
Club name

: A Cappella Club Ajiwai

Established

: 2013 (Officially recognized in 2019)

No. of members

: 83 (as of October 2023)

Activity days

: Band practice once or twice a week (about two hours each time). General meetings are held once a month.

Practice locations

: Clubroom, classrooms, wood deck on campus. Local music studios.
*

To form the Starting Band with new members at the start of the academic year, new members are usually only accepted until the beginning of May.
Published: September 2023