Astronomy Club
A club that looks to the stars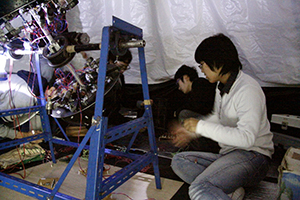 Astronomy Club members work on the electronic circuitry to control the planetarium that will feature in Tokyo Institute of Technology's annual student festival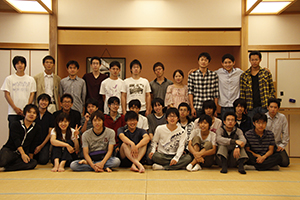 A group of members on a field trip to Aizu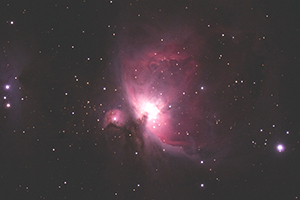 Orion Nebula: photographed from Shirabiso Plateau, Nagano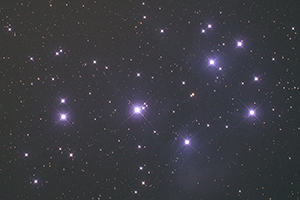 Pleiades: photographed from Shirabiso Plateau, Nagano
Astronomy is one of the oldest and most widely practiced sciences. No surprise then that Tokyo Institute of Technology's Astronomy Club happens to be one of the most popular student circles. The club presents its 60 members with the opportunity to observe in detail the universe in which we live.
Kota Teraoka, a second-year student studying chemistry, is the club's co-leader. "In high school I became interested in science and astronomy and wanted to continue this when I started at Tokyo Institute of Technology," says Teraoka. "But for most members joining the club, astronomy is a new experience."
Members attend two meetings a week: a general meeting for all and a second meeting where members of four different groups within the club gather to focus on a specific task. The club as a whole has the overall aim of creating a planetarium for the annual Tokyo Institute of Technology student festival. The four group projects focus on different aspects towards this goal. One of the group projects focuses on creating a particular scenario or story to explain to the viewing audience some aspect of the heavens; another investigates ways of building a domed ceiling that will display virtual night skies as described in the scenario; the focus of another is building the electronic circuitry to depict and control the changing scenes; and for another the aim is learning how to manage the machinery, projector and equipment used to create the virtual night skies being described to the audience.
"I joined the group building the electronic circuitry," says Teraoka. "Though I knew nothing about how to do this, the older members helped me, and now I'm helping teach the new members. It's been a learning experience."
The other main activities of the club are field trips during university holiday breaks to various locations, including Mount Fuji, where there is a better opportunity to observe and photograph the heavens. The club owns five telescopes and a number of professional cameras for use during these trips, so there is no shortage of equipment available for everyone. However, members pay an annual subscription of 5,000 Japanese yen to cover the cost of building the planetarium.
"Last summer I joined a group that went to the mountains in Nagano," says Teraoka. "To see the Milky Way so bright in the clear night sky was breath-taking. A really great experience I won't forget."
Tokyo Institute of Technology Bulletin No. 23 (August, 2011)