Automobile Club
A formula for racing ahead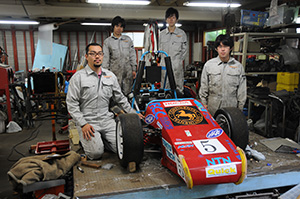 Tokyo Tech Automobile Club members in their workshop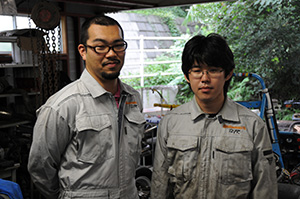 Formula SAE Project leader Akimitsu Hozumi (right) and circle Old Boy Takuya Saito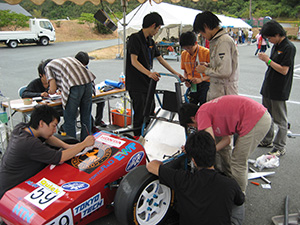 Working on Tokyo Tech's racing car at the 2009 Japan Student Formula SAE competition
Even experienced engineers at the world's most renowned automakers like Toyota and Ford don't get to design, build and test the cars they help create; rather, they busy themselves with just one of these three areas. Yet the mechanical engineering students who are members of the Formula SAE Project, part of the Society of Automotive Engineers circle at Tokyo Tech, get to do all these activities and more. They even create their own virtual auto company.
In 2007 six circle members decided to enter the Japan Student Formula SAE competition to design a formula car for competitive racing. "We had zero experience, but felt it important that Tokyo Tech be represented in the national competition," says Takuya Saito, who was project leader at the time and is now a first-year grad school student and circle Old Boy. "So to begin our preparation we visited local university groups who had already competed in the competition to get first-hand information."
Over the next two years the students designed and built their own racing car entirely by themselves, though they did receive some material help from sponsors like Honda and Continental Automotive, who supplied key parts such as the engine and tyres. "It turned out to be a lot of work," says Akimitsu Hozumi, the current project leader and fourth-year student, "especially during the summer vacation last year when we worked almost every day to get ready for the 2009 competition."
To participate in the event, each group forms a virtual company and must give presentations to the judges on the car's design, fuel economy, acceleration and other factors. They then take part in various road tests and races.
"We learnt so much from the experience," says Saito. "In university you study theory and how to do things. But when you enter a company, you must actually build a product that can compete in the marketplace and make a profit. The experience we got from entering this competition prepared us for that." In fact, Saito says several Formula SAE Project members who have since graduated were hired by Japan's top automobile companies.
With a year's experience behind them the members are enthusiastically looking forward to this year's competition, which takes place in Shizuoka in September. "We know what to expect now and I'm sure we will do well in all the segments of the competition," says Hozumi.
Tokyo Institute of Technology Bulletin No. 17 (July, 2010)