Tennis Team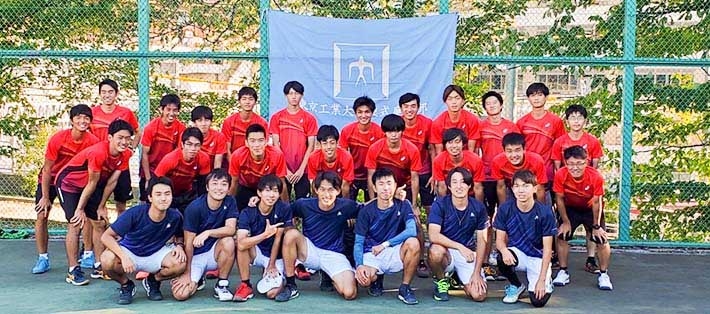 An environment for practicing tennis to the full
The Tennis Team was established in 1905.
Regular practice sessions are held 3 times a week, on Wednesday, Saturday and Sunday, for 4 hours at a time. Training camps are held twice a year. The club prioritizes study, and members come to the courts to practice when they can.
There are 4 courts at the Ookayama Campus, and many members practice by themselves outside of club training hours.
For training during free time between classes, members post their free time online. Members whose schedules match find issues in their play to work on and practice rallies.
There is an omni court at the Suzukakedai Campus, and members can practice as much as they like when it is available.
Professional instruction
During practice, students focus on what they need to improve. This may involve using a ball launcher, practicing rallies, or playing tournament-style matches. Members choose a theme for the month and create a schedule. To develop an effective plan, it is important to observe each other's play on a regular basis, and for each member to share their concerns. All members are committed to everyone's improvement, and exchanges of opinion are frank.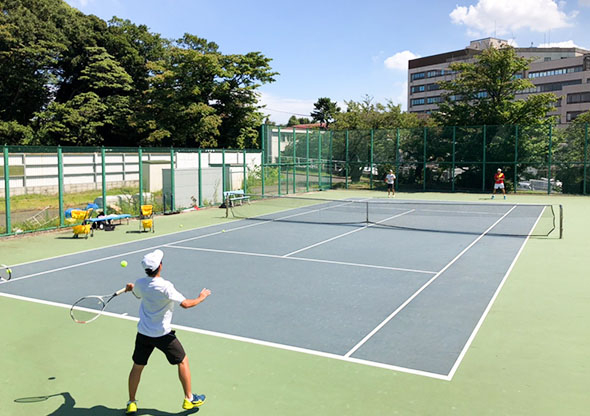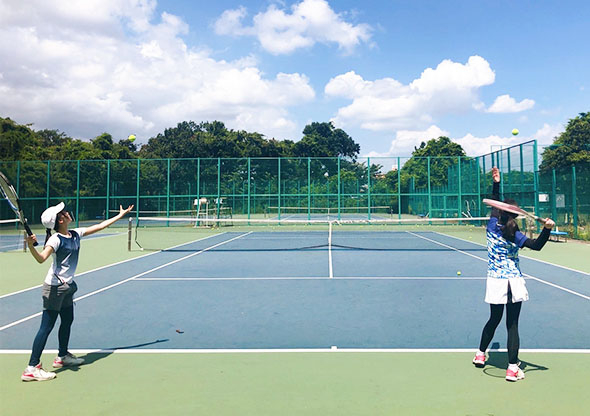 A coach from outside the campus provides instruction 2 or 3 times a month. By listening to an expert, members can learn about the latest techniques, avoid falling into their own self-taught patterns, and practice effectively. The club also invites professional tennis players for hitting practice. There is a lot to gain from watching someone who makes a living from tennis close up. As well as learning about match strategies, getting to know about training and warm-up methods is also helpful.
The club holds practice matches with other colleges. These are held a few times a month, and members can try out the techniques they have honed during training in a real-time setting.
The drive to improve
Many members are experienced tennis players, so finding a practice partner is never a problem. The club holds matches periodically, and currently around top 6 members can be tournament-level players. The Tennis Team also holds frequent promotion and relegation matches, where members aim to become regulars, and players who are relegated aim to return to the top.
Of course, there are beginners. In practice, members are divided according to level, and experienced players teach the beginners technique, starting with the basics. A support system is in place for them to aim for a high level. After a few months, beginners can enjoy playing tennis matches. There are cases where members who were beginners at the start became regulars by their fourth year.
Teaching has great advantages for the person teaching. Helping beginners provides the instructor with the opportunity to develop a theory of tennis and verbalize what, to date, were instinctive movements. Members are therefore proactive in offering to share their skills with others in training during free time between classes.
Aiming for the top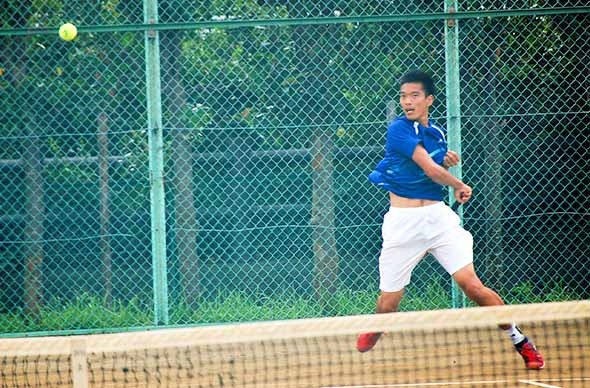 Kanto League singles match
The main target for the Tennis Team is top place in the Kanto Inter-Collegiate Tennis League. In 2019, it was second in Group 6 and participated in promotion to Group 5. All the members came out in force with gave their full support, and the players gave it their all, but unfortunately, they lost. They missed out on promotion, but played memorable matches.
The club also participates in official matches in the Kanto Polytechnic University Hardball Tennis Federation league, and interleague matches with two other Institutes of technology : the Kyoto Institute of Technology and Nagoya Institute of Technology
The club practices hard daily and continues to aim ever higher.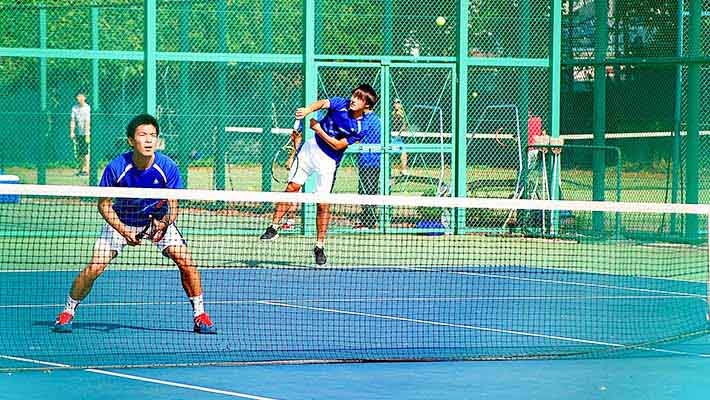 Enriching relationships
Many Tennis Team members are serious about improving their tennis, and practice can be tough. However, enjoying tennis is, at base, what the Team is all about. Members regularly reach out to each other and provide encouragement while practicing.
The club is a friendly place, and encourages good manners. Through tennis, members deepen friendships amid friendly rivalry. It is a club that makes student life all the fuller and richer.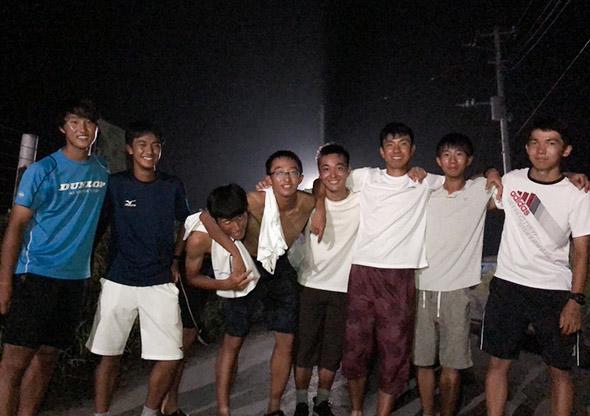 Training camp at Chiba prefecture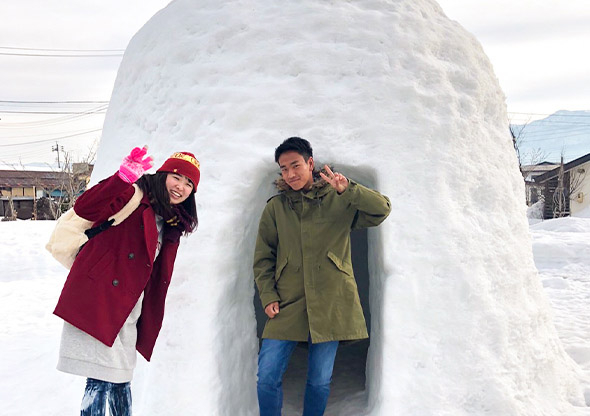 Igloo built on a skiing and snowboarding trip
A resource for the future
The Tennis Team has a long history, and many alumni, with whom it maintains strong connections. Every spring and fall, the club holds matches that former members are invited to play at, and where those former members can connect with current members. For current students, talking to former members who now have working lives is very helpful indeed when considering their own future. Members therefore have the chance to consult with them on various topics. Former members also provide support by making financial contributions to the running of the club. Members feel privileged to be part of a group with such a long history and strong, significant ties.
To new students
The club warmly welcomes students who love tennis and want to improve. It is the ideal environment for those who not only want to improve technically, but also aim to grow in mind and body.
Hitting the ball on a court surrounded by greenery is refreshing mentally and physically, and can only enhance the effort of study and research.
Students can observe what goes on at the club and participate on a trial basis at any time. If you are interested in tennis, want to improve, or want to make lifelong memories and friends with others through tennis, please come and give us a try.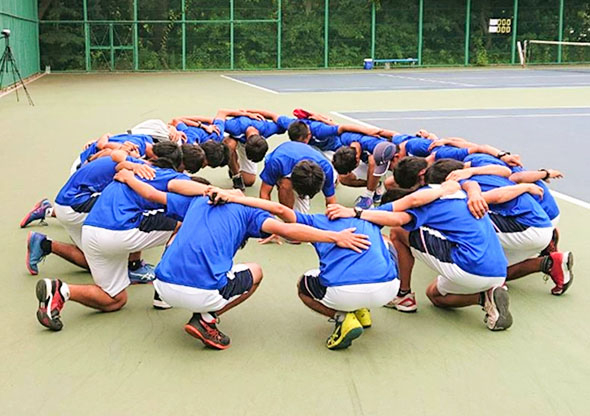 Customary pre-match circle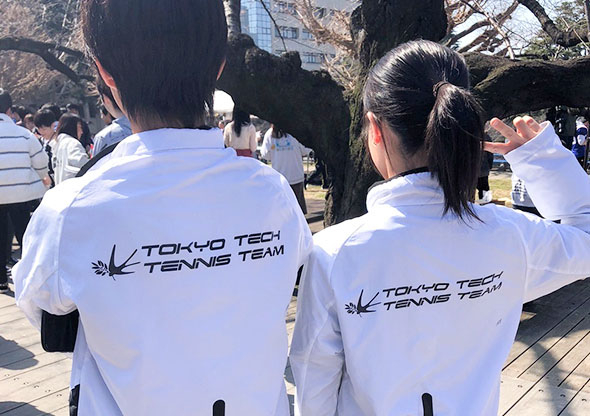 Tokyo Tech logo shirt for event welcoming new students
Club overview
Club name

: Tennis Team

Established

: 1905

No. of members

: 27 (as of February 2022)

Practice days

: Wednesday, Saturday and Sunday (4 hours each day) Individual practice possible if courts are free.