Track and Field Club
High motivation leads to success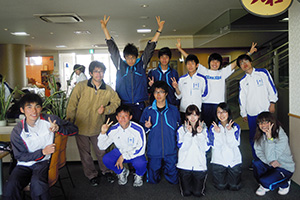 Members of the Track and Field club at the spring training camp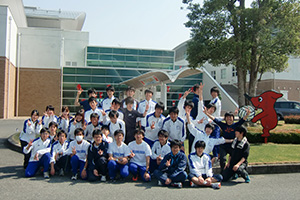 Members of the Track and Field club at the spring training camp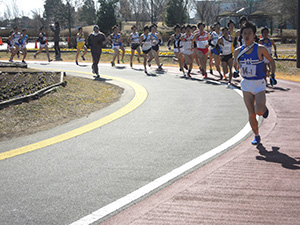 Tokyo Tech Team, taking a lead in an Ekiden race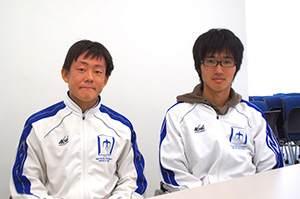 Yamaguchi (left) and Maruyama (right) at the Interview
Not content to exercise only their minds during their time at Tokyo Tech, the students in the Track and Field Club are keen to work their bodies to maximum capacity too. This means training hard to take part in competitions through the year.
The club is comprised of about forty students mainly from Tokyo Tech with a few from other universities, each with their own specialty. Presently this includes short-distance sprinting, middle and long-distance running, hurdles, speed walking, the long jump and high jump. More than half of the members are long-distance runners.
Training is tough, but the personal and club rewards are worth it. Members practice together three times a week at Ookayama Campus or on a free track at Yoyogi Park for 2 to 3 hours at a time. In addition to this and students' individual training, the club holds a training camp during the spring and summer holidays.
Each student sets their own individual target, such as beating personal records and improving rankings at competitions held throughout the year. Some of these competitions are extremely large and have a minimum standard to qualify for participation, but there are also smaller competitions such as Nokodaisen, in which Tokyo Tech and Tokyo University of Agriculture and Technology compete. Nokodaisen has a history of more than 40 years. Another competition, Sankodaisen, which includes Tokyo Tech, Nagoya Institute of Technology, and Osaka Institute of Technology, is held annually. Through these competitions, the members of the Track and Field club reaffirm their targets and prepare for large competitions. They can also deepen exchanges with other university members.
The character of the club is supportive and is thought to be one reason for recent successes. Last year the Tokyo Tech team won prizes in several Ekiden races, one of the best results in the club's recent history. An addition to the club, the enrollment of a first year student at the university who is also great runner, has helped boost the atmosphere further. Other team members have subsequently improved their records in this atmosphere of improvement by learning from others.
The club welcome new members anytime whether Japanese or International students, experienced or beginners.
Members of the club interviewed for this piece were:
Maruyama, a club leader specializing in long-distance running and hurdle races. He joined a Track and Field Club at high school but this is his first time to be a club leader. Although it is hard to coordinate all the club's practices and to lead the members he enjoys the challenge.
Yamaguchi, specializing in long-distance running. He started running after he joined Tokyo Tech and joined the club because he wanted to do some sports at university and thought running might be an easy sport for beginners. His school life is totally built around studying and running but by joining this club he feels his life is very fulfilling.
Tokyo Institute of Technology Bulletin No. 30 (May, 2013)