Tokyo Tech LEGO Club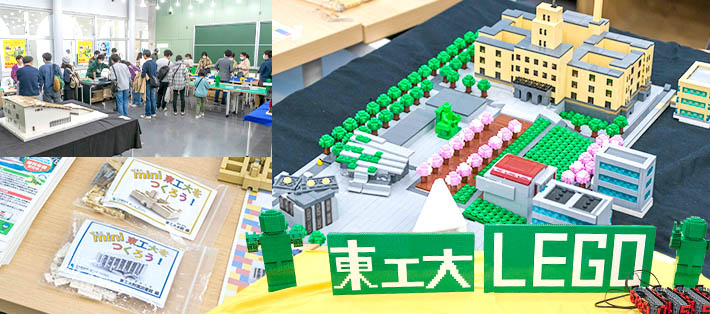 Share the appeal of LEGO with displays and workshops
Tokyo Tech LEGO Club enjoys creating new LEGO designs, displays artworks at the Tokyo Tech Festival and other events, and holds workshops for local elementary school students and preschool-age children to share of exciting LEGO works.
Each year, the club displays new large-scale and individual pieces at "Tokyo Tech Lego World" exhibition for the Tokyo Tech Festival. Large-scale models such as Tokyo Tech's Main Building, the Tokyo Institute of Technology Library, Taki Plaza and even the famous Kaminarimon Gate from Asakusa, among others have been displayed.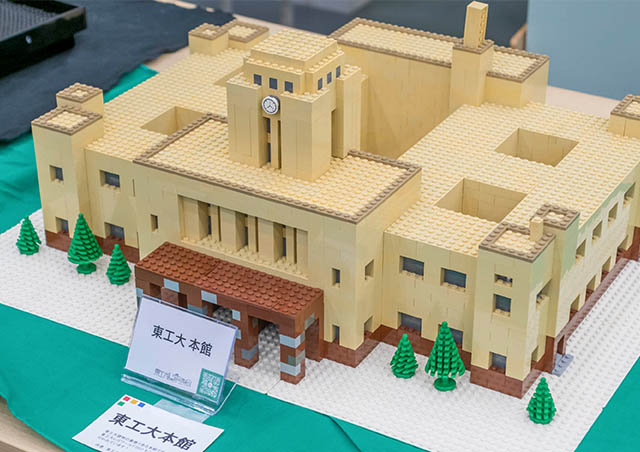 Main building exhibited at "Tokyo Tech LEGO World"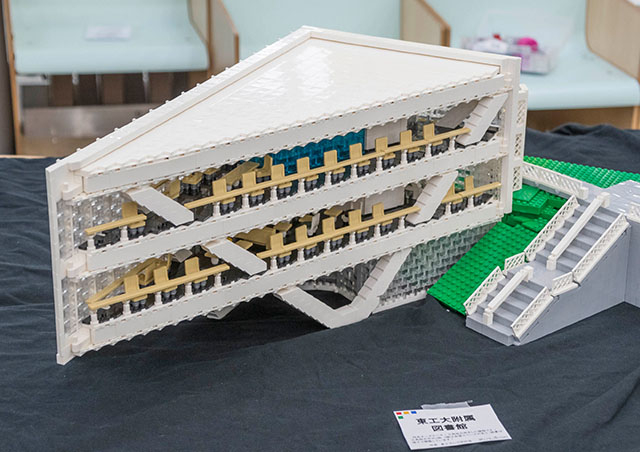 Tokyo Tech Library exhibited at "Tokyo Tech LEGO World"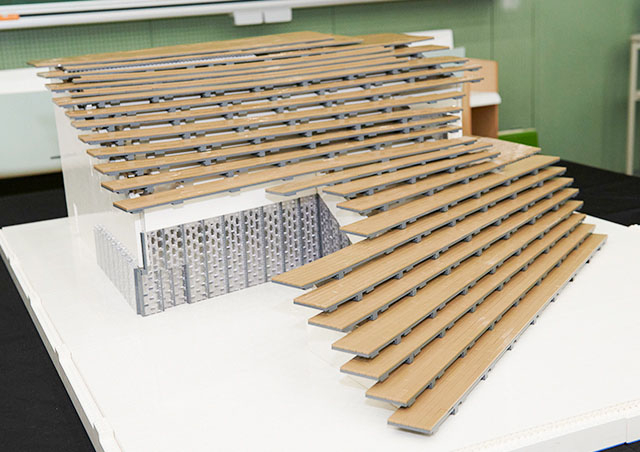 Taki Plaza exhibited at "Tokyo Tech LEGO World"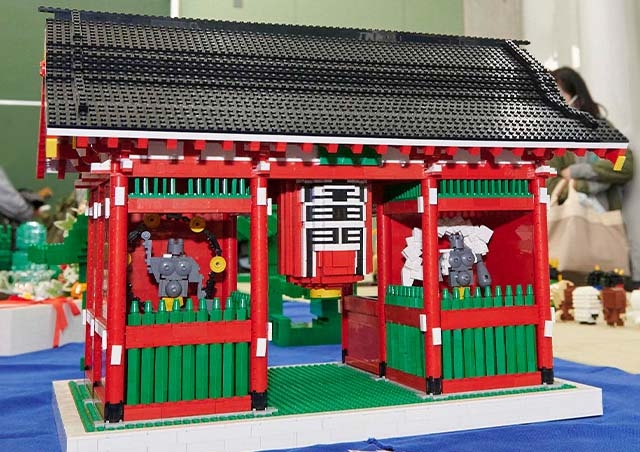 Kaminarimon Gate exhibited at "Tokyo Tech LEGO World"
About twice per year workshops for elementary school students and preschool-age children are held at local elementary schools and facilities in Ota Ward, Tokyo.
The workshop at Shimizukubo Elementary School in Ota Ward is one of the most important activities that have been going for many years. At this workshop, club members give educational lectures to about 20 students based on topics like improving craftsmanship in manufacturing, creativity, and spatial awareness. At each workshop, members show animal photos taken from various angles and ask questions such as, "How can you make this?" or show only part of a LEGO work and ask them to think about the whole picture and make it to develop their interests in creating. It is refreshing to see the children's curiosity and direct reactions. The club members always look forward to each workshop with great enthusiasm.
The club uses mini kits for workshops at Denenchofu Seseragi Hall in Ota Ward. The theme of the workshop is chosen to suit the season and the participants, and the kits and instructions are prepared for the participants to try their hands at assembling the kits. At Christmas time, the club plans works based on the motif of Christmas wreaths and giftboxes. These workshops are so popular that reservations fill up quickly every time.
The club also produces displays by request from outside Tokyo Tech.
From planning to creation, do it all
For displays and workshops, all planning, design, ordering, and production are done in cooperation with the members. Choosing themes and preparing lectures are also important. Once a theme is decided, LEGO design is done using computer software called "Studio". Club members examine and discuss whether it is possible to actually build it according to the blueprints and whether there is a more beautiful and stronger way to build it, and then brush up and determine the production direction. Once a direction is decided, the necessary parts are calculated from the blueprints, and in addition to familiar items such as blocks and plates, special parts are ordered from overseas.
Holding workshops to share the fun of LEGO—not only with children who are familiar with LEGO, but with children who are completely new to LEGO—requires patience, but in the end provides a remarkable sense of achievement.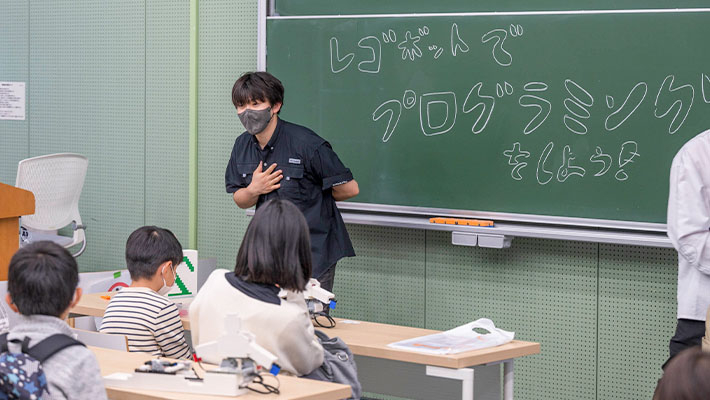 Working together expands possibilities
LEGO is an enjoyable activity by a single person, but a member can appreciate experiences even more strongly working with friends. With the perspectives and feedbacks of other members, a member can try building more advanced works, and a larger group of people can create enormous LEGO works together.
An enormous piece of LEGO art requires thousands of parts, and the club has many parts available. Club members can take on impressive challenges by combining their knowledge.
To expand ideas and hone skills
The club also engages in activities to improve skills. One example is the "Reassembly Contest," which is held on an occasional basis. In this contest, participants assemble their favorite works of art from commercially available kits not relying on the instructions but using their own imaginations. This allows them to discover new ways of using LEGO and enhances their creativity.
It is also possible to register "Japan Brickfest", an official LEGO® Hub Event. Although it is an individual registration, registrants can challenge themselves with other members' advice that lead to a higher level.
Through these activities, members can acquire their expressive and planning abilities, and even develop their skills at giving easy-to-understand explanations in front of audiences at workshops.
Atmosphere of cooperation not competition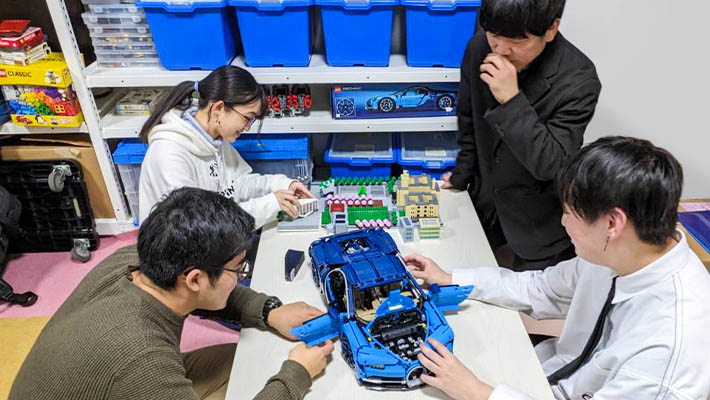 LEGO creation is not a competition, and there are no strict rules or formal etiquette between members. Members freely combines LEGOs in the clubroom to create works as they wish and shows the works they have designed each other in a friendly atmosphere.
When an event is held, members are all busy working together toward a successful event and cooperate to help participants have an enjoyable experience. Students from other universities also participate in the club activities, and through events such as the Tokyo Tech Festival, participants are able to deepen exchanges through cooperation.
To new students
Why don't you try LEGO again, which you were fascinated in your childhood? For those who are new to LEGO and for those who want to try it again, this is the place for you.
The huge number of LEGO bricks which the club owns offers broaden your range of creative activities. You can improve your communication skills through workshops. Join LEGO and embark on your student life to discover something new. Please come and visit us, even just to watch!
Club Overview
Club name

: Tokyo Tech LEGO Club

Established

: 2013 (officially recognized in 2018)

No. of members

: 22 (as of January 2023)

Activity days

: Wednesday
Tokyo Tech LEGO Club Official Twitter (Japanese)