Art Club
Encountering great friends to share the joy of painting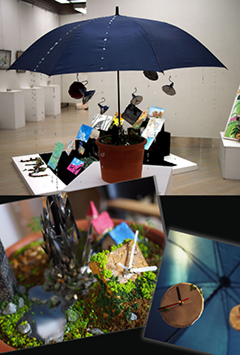 Collaboration artwork at the "Kokkoritsuten"
In Tokyo Tech's Ookayama Campus, a few buildings designated for the use of student clubs are located near the first cafeteria.
You can find the club room of the Tokyo Tech Art Club on the 3rd floor of Club Building 3, where members gather between and after classes.
"Around 30 members belong to this club. Not all members attend every week, but we gather every Wednesday afternoon and do croquis drawing, plaster figure drawing, sketching at a nearby park and so on", says Takeru Suto the leader of the Art Club.
The members can also do other creative activities individually. For example, there are members who make dolls, do silkscreen printing and make pottery.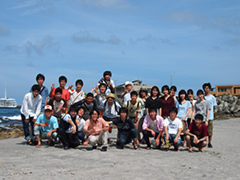 Last year's summer camp at Kozushima Island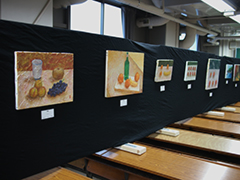 Exhibition at Tokyo Tech Festival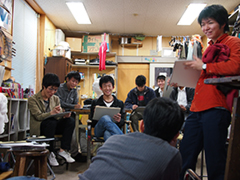 Members sketching in their club room
In addition to these activities, the club members create art pieces for joint exhibitions held with other universities. The "Kokkoritsuten" is one of these exhibitions. It is held every year at the end of February by art clubs of 11 national universities. Both individual and collaborative works from each club are exhibited there.
This year the theme of the collaborative work was "circulation", and the work of the Tokyo Tech Art Club won the most votes from visitors.
These activities are funded by the membership fees collected twice a year (about 6,000 yen per year) and painting tools and supplies for common use are purchased with the rest of it.
Surprisingly, many members of the club are students who had no experience of joining an art club in the past. Despite, or perhaps because of this, it has become a comfortable place for the members to share the pleasure of making and appreciating art.
Tokyo Institute of Technology Bulletin No.31 (August, 2013)