Los Guaracheros
Guaracheros has everyone swinging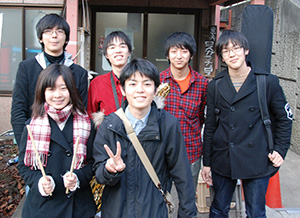 Yuichiro Someya, back row extreme left, and other members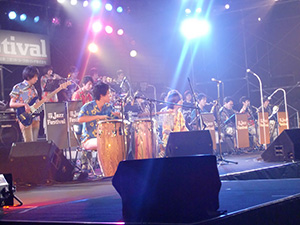 Playing at the Ota City University Jazz Festival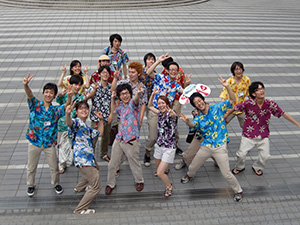 Members of the Regular Band
The Los Guaracheros — Tokyo Tech's Latin jazz band — is one of the most popular student circles on the Ookayama Campus. In December 2010 the band celebrated its 44th anniversary, having changed its focus several times over the years and only settled on Latin Jazz about a decade ago.
"We have two bands, regular and junior, each with 19 players," says band manager Yuichiro Someya, a second-year student in computer science. "Another 40 or so members come regularly to practice sessions, hoping to perform in the regular band."
Each band is composed of a brass and percussion section. Brass instruments include saxophone, trombone and trumpet, while percussion is made up of conga, bongo, and timbales drums. In addition, a bass, piano and regular drums are also used. Both bands are all instrumental, without singers.
As band manager, Someya oversees concert scheduling, the bands' home page (Japanese)
and transport to concerts, with the member being responsible for carrying their own instruments. Someya also plays the piano in the regular band.
Students of all levels of musical experience are welcome to join the circle. "During the practice sessions, which are held twice weekly, experienced players help those learning to play," says Someya. "Also, new members, if they have a lot of experience, may get the chance to play for one of the bands right away. Band members also decide among themselves what numbers to play."
The bands play ten or more concerts a year. They get invited to play at other university festivals, perform occasionally at paid concerts, and take part in competitions. In the summer of 2010, the band was placed 10th out of about 50 bands from all over Japan that competed in the Yamano Big Band Jazz Contest in Tokyo.
Perhaps no better complement has been paid to the Los Guaracheros than that by Evelyn Giraldo, from Columbia in South America and who is studying for a Master's degree at Tokyo Tech. When she entered the campus on her first day at the university, she heard the band practicing and was taken aback at how well they played. "It was just like being back home," she said. "They were so good."
Tokyo Institute of Technology Bulletin No. 20 (January, 2011)