Meister
Meister flying high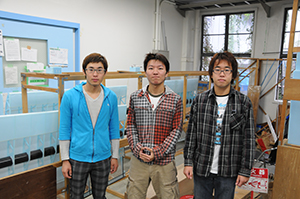 From left: Sho Miyamoto, Shogo Kadonishi, Tomohiro Oya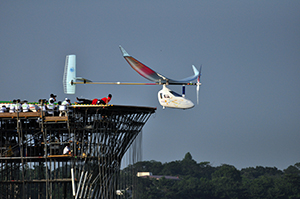 Taking off from the10-meter tower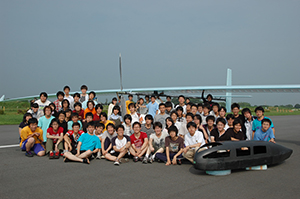 Members of Meister
What does it take to win the annual Japan International Birdman Rally for human-powered aircraft? The answer is hard work, muscle power, endurance, dedication, project management skills and a year of preparation. With all these in abundance, Tokyo Institute of Technology's Meister student circle came first among 13 teams in the propeller aircraft category by flying its home-made Tsubame2010 aeroplane 18,556 meters in 50 minutes over Lake Biwa near Kyoto this July.
Pilot Sho Miyamoto, a third-year student studying metallurgical engineering, trained for a year before the competition took place. "I put in 15 hours a week strengthening my lung and pedaling power with the help of a fitness bike," says Miyamoto. "I also needed to maintain a constant weight because bodyweight impacts the plane's design."
Team leader Shogo Kadonishi, a third-year student in the Department of Mechanical Engineering and Science, adds, "Besides physical power and endurance it is equally important that the pilot can fully commit to a year of hard training and agree to attend all the trial runs."
Another attribute necessary to be a pilot is bravery, for the plane is literally pushed off a 10-meter tower by team members and can crash straight into the lake if met by a strong headwind. Rescue swimmers who track the plane's flight in motorboats are also necessary to help the exhausted pilot when the plane eventually loses altitude and pitches into the lake.
For those involved in designing and building the plane, and making incremental adjustments after each trial, Kadonishi says the hours put in, particularly as competition day approaches, can climb to 30 or 40 a week. Fortunately, Meister is well attended and counts some 75 members who help share the workload throughout the year.
The plane is built from carbon fiber reinforced plastic, and some 20 kg of the material were used to build the Tsubame2010 at a cost of around one million yen — most of it paid for by the members themselves.
This year's win is the fourth for Meister since the competition began in 1977. Kadonishi now passes the leader's baton on to Tomohiro Oya, a second-year mechano-aerospace engineering student.
"Being team leader is a big responsibility," says Oya. "After winning the competition this year, I already feel under pressure to make sure Meister succeeds again next year."
Tokyo Institute of Technology Bulletin No. 19 (November, 2010)