Street Dance Club H2O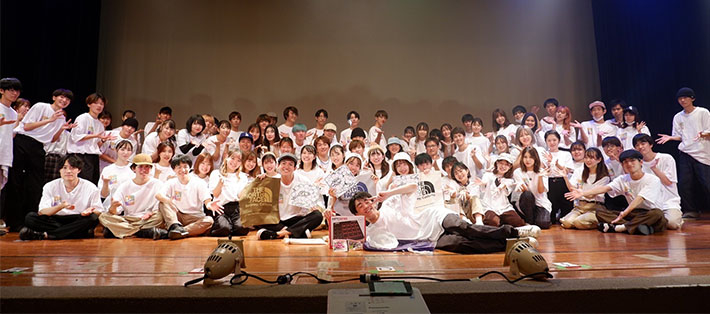 Choose your favorite genre and dance with us
-HipHop, Pop, Break, House, Waack, Lock-
Street Dance Club H2O offers activities divided into six genres of dance, including hip-hop, pop, break, house, waack and lock. Each genre has roughly equal numbers of men and women, though exact ratios vary slightly, and 90% of new club members join as beginners. New students first try out the different dance genres and then select one to participate in for the year. Students develop their skills by practicing in classes held by older students, mainly the club leaders for each genre. Members may join a second genre from their second year. Some club members even participate in three genres.
Club members practice in spaces with mirrors or reflective glass on the Ookayama Campus, including in front of the 70th Anniversary Auditorium, the club room, and more. Club members also practice in various different places before upcoming performances.
Diverse practice styles
Within the club, different genres practice in different ways. For example, with hip-hop, after covering the basics like stretches and isolations, members practice rhythms such as "down," work on techniques, and add choreography. While in pop, students move to an improvised dance battle called a cypher right after the basics. Students even join other dance groups outside our club and incorporate the knowledge and skills they learn there into H2O to create new dance style trends.
Numerous performance and showcase opportunities
In addition to performing at events for the Tokyo Tech community, such as the garden party, Wakaba Festival, Taki Fes, and the Tokyo Tech Festival, the club also participates in events held by the Kanto University Students Association "Sigma," and more. H2O holds club performances around three to six times per year, including a spectacular farewell performance each October from graduating members displaying all they have learned over the years.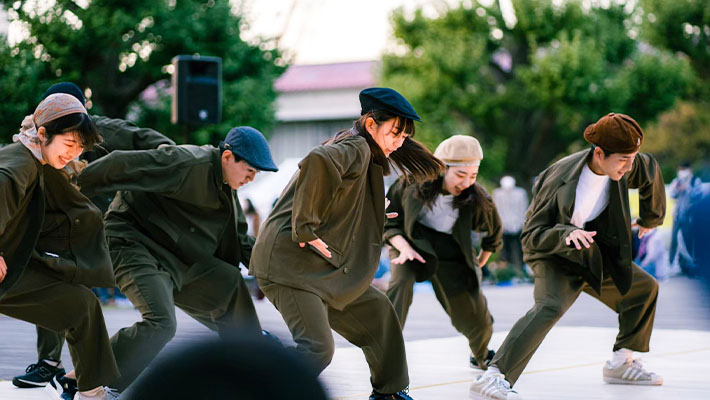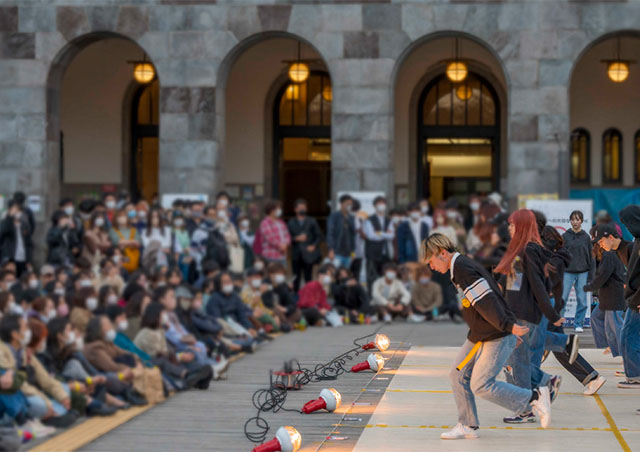 Performance on the wood decking at Tokyo Tech Festival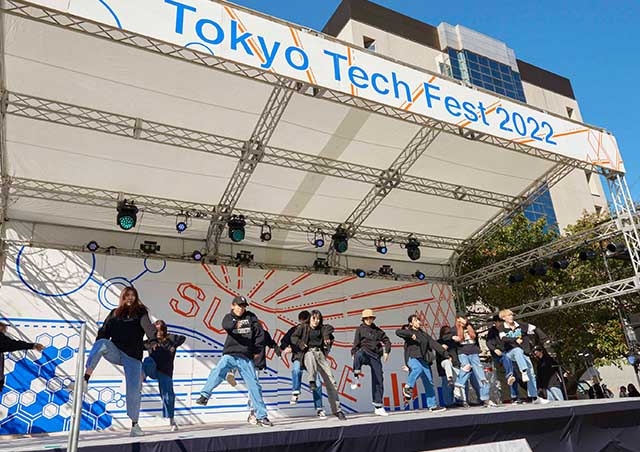 Stage performance at Tokyo Tech Festival
Along with showcases (dance pieces) demonstrating each genre, performances also feature dances created and performed by special teams of volunteers. H2O club events include both showcases and battles. In a battle, dancers improvise dance moves on the spot along with music played by a DJ in a competition of dancing skill. Held in a tournament style with alumni judging the competition and the winner receiving a prize, this event is always exciting.
And before large events such as the farewell performance, the Tokyo Tech Festival, and welcoming events for new students, H2O members even join an intensive training camp. They spend four days and three nights at accommodations equipped with dance studios, and not only practice dance but also grow closer through recreational activities and BBQ.
After practicing and spending time together figuring out what kind of dancing works best for an event or goal, students enjoy an exceptional feeling of really achieving something. Students experience amazing moments of joy at dance performances unlike anywhere else, hearing their own names called out by cheering audiences.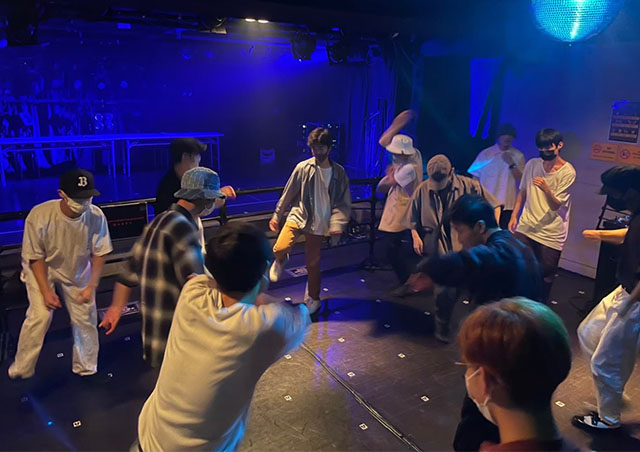 Enjoying improvised dance between dance battles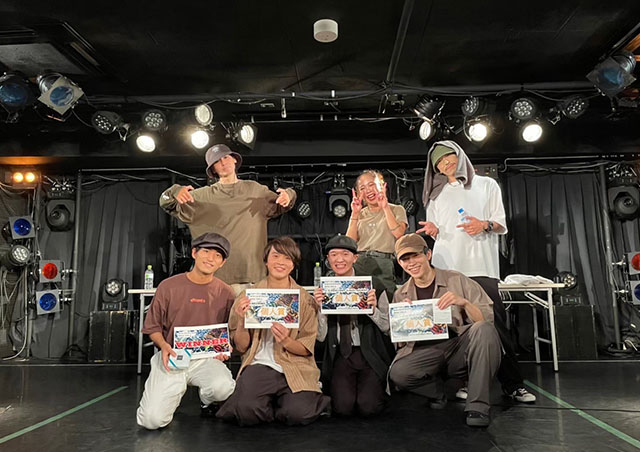 Winners of on-campus events
Everyone has a chance to act as "choreo"
The choreographer called the "choreo," is the team representative who determines a team's showcase music and choreography. Genre leaders and deputy leaders often take on this role, but even first-year students sometimes serve as the "choreo" for volunteer team activities.
The process for choosing songs and choreography depends on the "choreo". The "choreo" may hold extensive discussions before deciding or quickly decide everything all at once. Some new members join the club as beginners, gain experience and then become the "choreo", mainly for showcases.
Interact with foreign exchange students and students from other schools
Not only Tokyo Tech students but also students from other universities can join the club. Even short-term foreign exchange students—who can join in easily because enjoying dance does not require words—sometimes participate. Dancing and interacting with not just students from other Japanese universities, but even foreign exchange students from many countries and regions including Europe and Asia, etc., offers exciting opportunities to learn new languages and meet people from all walks of life.
Aside from regular practice divided by dance genre, members can also socialize across genres for events or when taking on roles within the club. Although dancing encourages awareness of others and fosters a competitive spirit, the club always feels bright and friendly.
To new students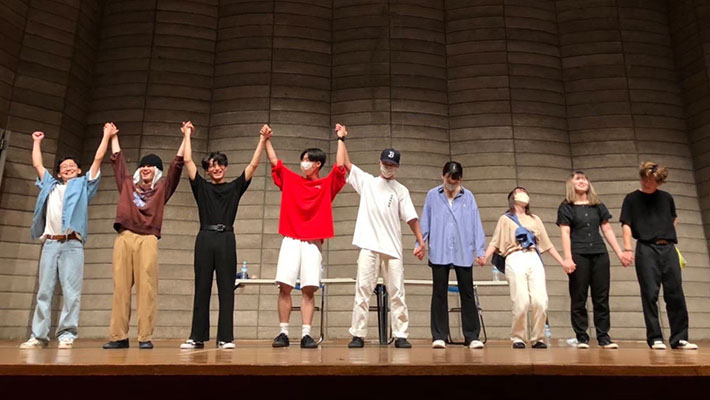 By working together with the other members to create and perform dances, you can experience the joy of working together toward a single goal. We have many club members, so joining will also expand your social circle. And a great thing about dance—a physically active hobby that you're sure to fall in love with—is that it adds balance to your days full of study and research. Unless you take proactive steps during your college years, you'll miss out on a lot of excitement. H2O can offer you such exciting possibilities.
Members join the club for all kinds of different reasons, including wanting to make new friends, wanting to dance seriously, wanting to share the appeal of dance, and more. The process of everyone making a single showcase together feels very rewarding, and performances offer a sense of achievement like nothing found anywhere else. People with many different motivations dance together in our club, so please come and have fun with us if you're even the slightest bit interested.
Club Overview
Club name

: Street Dance Club H2O

Established

: 2008

No. of members

: 59 (as of January 2023)

Activity days

: Monday & Thursday 6 p.m. - 8 p.m.