American Football Club
No pain, no gain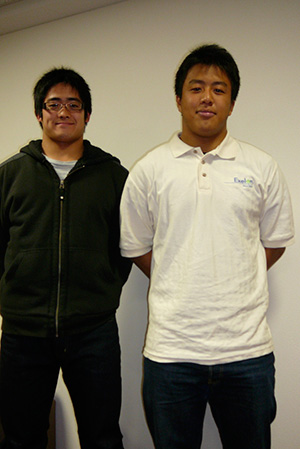 Captain Kenta Konishi (right) with vice-captain Satoshi Honda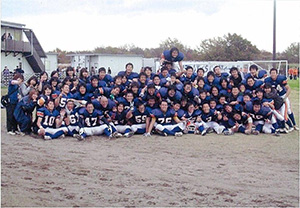 All Members
When Kenta Konishi joined the American football student circle, which goes by the name of the Buffaloes, in his first year at Tokyo Tech, he didn't know what he was taking on. Now, three years later, he has just assumed the team captaincy — despite a busy fourth year of exams approaching. His motivation is to use his experience to lead the Buffaloes out of Group 2 into the prestigious Group 1 of the Kanto American Football League, something previous Buffaloes teams have never accomplished since the circle's establishment 20 years ago.
"We played well last season and came close to promotion," says Konishi. "We have some good players now and are practicing and training hard. So we believe we have a good chance to enter Group 1 this season."
Tokyo Tech is focused on academic achievement, of course, not success in sports. Nevertheless, the Buffaloes have acquitted themselves well in what is a hard physical sport in a tough Group 2. Compared to some of the opposition university teams, the Buffaloes players tend to be smaller and not as strong.
"This is a disadvantage," says Konishi. "So we have to train harder and choose the right strategy for each game if we're to win against bigger, stronger opponents."
Consequently, the group, which comprises around 50 players, coaches and support staff, meet for practice and training five times a week, as well as devoting several additional hours to discussing strategy and tactics. While the actual playing season is only three months long, training and practicing is virtually an all-year-round affair, including a summer camp session held annually in places like Nagano.
And the rewards for such dedication and hard work? As well as developing an impressively strong physique, Konishi really enjoys playing the game. "Its rules are complicated, which makes it so interesting and different from other games like rugby and soccer. And when you are tackling, blocking and making runs, you take hits, but don't feel the pain until later because the game is so exciting."
Tokyo Institute of Technology Bulletin No. 14 (January, 2010)