Triathlon Club
The triathlon - tough but fun
Summer training camp 2011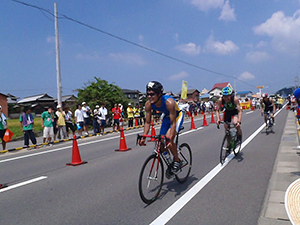 Japan Inter Collegiate Triathlon Championship 2011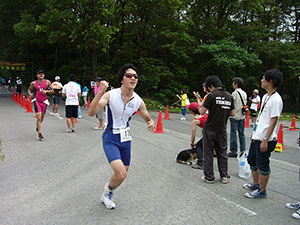 Kanto Inter Collegiate Triathlon Championship 2009
A triathlon may not sound like an agreeable pastime. In fact, swimming 1,500 meters in the ocean, racing a bicycle 40 km, and then running 10 km all in quick succession may sound more like physical punishment. Nonetheless completing these distances is the goal for members of Tokyo Institute of Technology's Triathlon Club when they participate in annual intercollegiate competitions.
The club was established in 1993 and has about 20 members. "It depends on the individual member's interest what sports he practices regularly," says Shota Ito, the club's leader, a third-year student studying chemistry. "But the core members generally practice once or twice a week, and before a major event, as many as six days a week."
Members make use of the nearby Komazawa Olympic Park track for running practice, and swimming sessions take place in the university's pool. Groups also get together during the summer to practice ocean swimming in Sagami Bay near Kamakura. It's much tougher swimming in the ocean not only because of the waves, but also because during contests competitors swim close together and so often bump into each other in their efforts to take the lead.
"Practicing in a group makes it fun, even though it's hard work," says club member Kentaro Nakamura, a second year student and chemistry major. "And because you can choose from three different sports, it never gets boring."
Pleasure is not the only reward for the hard training. Ito notes that while his weight remains unchanged, he has grown leaner than before. Nakamura had run marathons since his high-school days, so he was already fit. However, he says that with the added swimming and cycling, his upper-body strength has really improved.
Ito adds that he has grown stronger mentally. "I've definitely become more positive, and taking part in serious competitions has helped me use my time more efficiently," says Ito. Nakamura also believes he now has more mental endurance. "When I'm faced with tough problems, I'm now more likely to continue working to overcome them; whereas before, I might have quit earlier."
These positive outcomes from the training are all good reasons why the club continues to attract dedicated members, despite the triathlon's grueling image.
Tokyo Institute of Technology Bulletin No. 25 (February, 2012)