Orchestra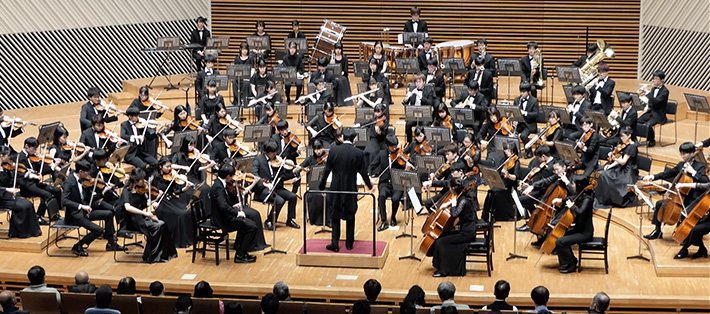 About the Orchestra
The Tokyo Institute of Technology Orchestra is one of the oldest orchestras in Japan, having been founded in 1925. Many of our members, mainly in their first to third year of university, are experienced musicians, but we also have some beginners as well as established members who take up what is a new instrument for them. Even if you've never played an instrument, you can improve through practice with other students in the same year as you and older.
We want everyone to come together and play, so the orchestra has many members who are students at other universities, and we have regular concerts twice a year.
What is the appeal of a university orchestra?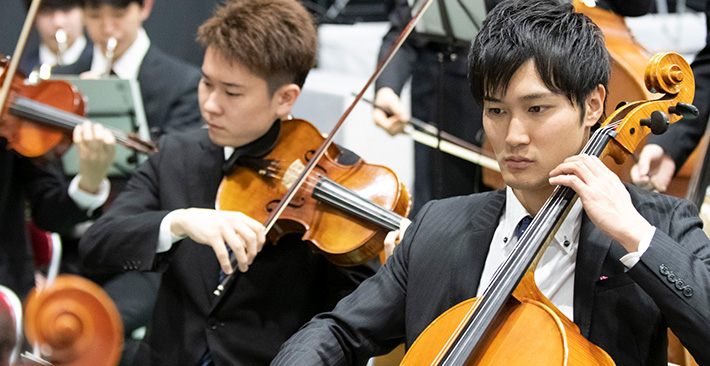 Our university orchestra is student-led, and we also create our own music. It is not easy to perform music that moves people, and we are conscious, but proud of, our long history. But we want to offer our audiences true quality music. The selection of pieces for each concert takes into account the balance and order of each instrument, creating programs that end with a solid finish.
Our principal conductor and training teachers help us improve the quality of our performances through theory-based instruction and their long years of experience. Members strengthen their bonds with each other through talking about their feelings and views of the music we play, working together to create a piece. The sounds we play with our fellow members, whom we have spent many hours with, is truly precious. These bonds among our members are the biggest appeal of the university orchestra. There is no doubt that they will be a lifelong treasure.
Practice and Our Three Sections
Practice is divided into practicing as a full orchestra, practicing in sections, and individual practice. Full practices, attended by every member, are held in the 70th Anniversary Auditorium after classes every Tuesday and Thursday. Partial practices, where the strings section, woodwind section, and brass and percussion section rehearse on their own, are held once or twice a week in lecture halls or music rooms. Individual practice can be done in the club room at any time, and after classes are over for the day, you can hear all sorts of sounds.
String section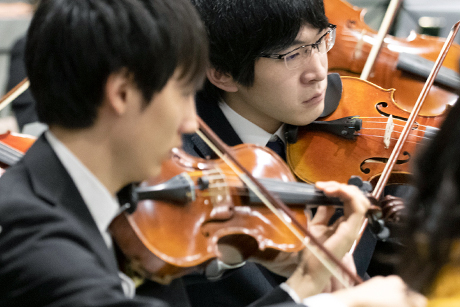 String section members
String instruments like the violin, viola, cello, and double bass, are in this sections, which practices for about three and a half hours on Wednesday afternoons.
Woodwind section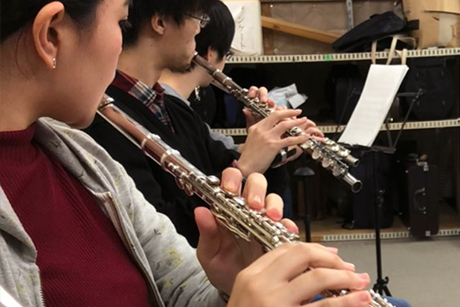 Players in the club room
Woodwinds like the flute, oboe, clarinet, and bassoon belong to this section, which practices for about six hours on Sundays.
Brass and percussion section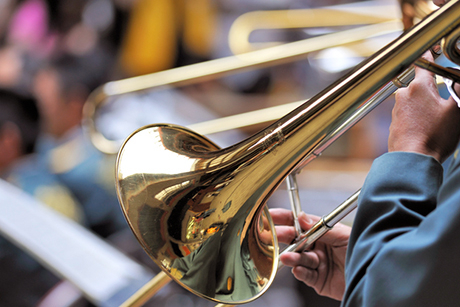 Practicing in sections
Brass instruments like the trumpet, trombone, French horn, and tuba, and percussion instruments, belong to this section, which practices for about three hours of Wednesdays and Saturdays.
Annual Schedule of Events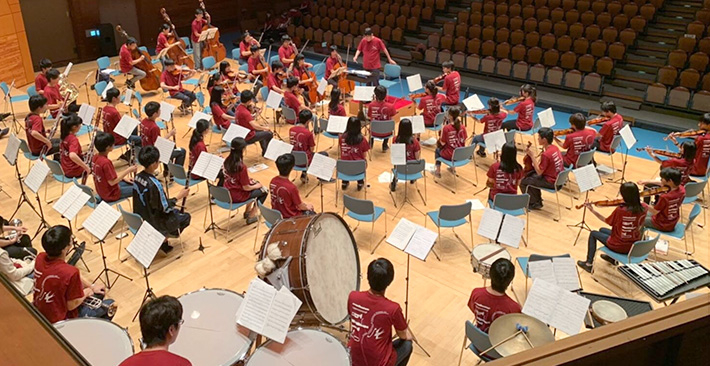 The orchestra's main events are the regular concerts, our training camps, and the university festival.
Our training camps are held at Shiga Highland twice a year, during Golden Week in spring and our summer break. Our spring training camp focuses on welcoming new members and concentrated rehearsals for the upcoming regular concert at the end of May. At our summer training camp, we put on a performance at the Shiga Highland College Concert, which we have taken part in ever since the first one, and where new members perform in public for the first time.
Between the performances at the university festival, our planned events, and the ensemble concert at Suzukake Science Day, as well as concerts at local elementary schools, each section of the orchestra gets its chance to shine.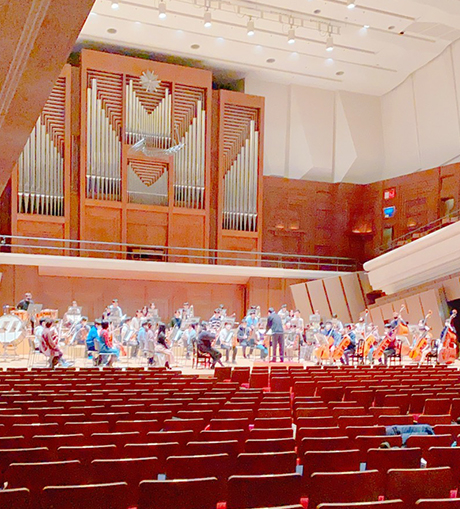 Run through a rehearsal
April

Ceremonial Performance (Entrance Ceremony)

May

Spring training camp,
Suzukake Science Day,
Regular concert

August

Summer training camp,
Summer Concert
(Shiga Highland College Concert)

September

Brass and Percussion Section Concert

October

Tokyo Tech Festival

December

Regular concert

March

Woodwind Section Concert
String Ensemble Concert
Ceremonial Performance (Graduation Ceremony)
What Our Regular Concerts Mean to Us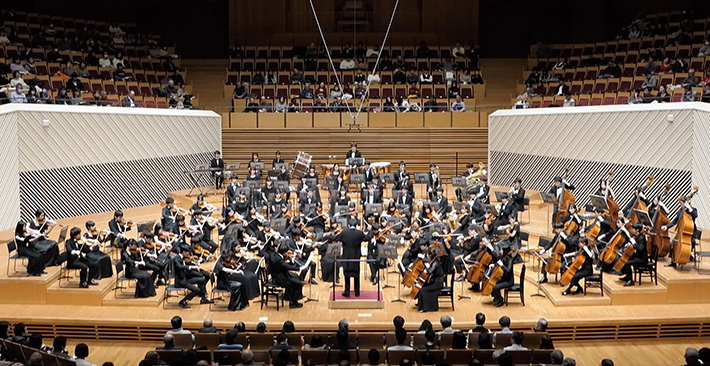 Our regular concerts are held at an external concert hall, and run for about an hour and a half. These are attended by large numbers of people each year, with most years having about 1,000 people coming. There are no words to express how it feels to perform here after all the hours spent in rehearsals with your fellow musicians.
Our goal is to give a performance that will show even people who spend a lot of time with orchestras the allure of music and the appeal of the orchestra. Some of you may feel that an orchestral concert is a rather high bar to clear, but we want to show as many people as possible how wonderful orchestras are through things like the accessible concerts we put on at the Tokyo Tech Festival.
Message for New Students
A university orchestra is a little bit different to other amateur orchestras made up of adults. Here, the orchestra is led by the students, and we all create music together over many hours. We normally accept new members during the start of the academic year in April. Lately, with the rise of social media, a lot of members have developed an interest in us from that. And you might be surprised how many members are beginners. We can offer anyone who wants to join the fun life of being in an orchestra.
Club Details
Club name

: Orchestra

Founded

: 1925

No. of members

: about 70 (as of December 2020)

Activities

: Concert performances, such as the twice-annual regular concerts

Club venue

: Clubroom (Room 201, Extracurricular Bldg. 2), 70th Anniversary Auditorium