Photo Club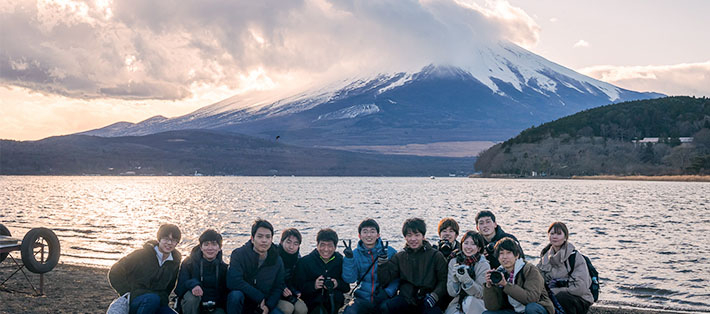 Photo sessions and exhibitions: the axis of our activities
The Photo Club has weekly gatherings, and with a photo session once a month. Photo exhibitions are held five to six times a year. Field trips are held about twice a year, where members go on photography trips around the country to hone their skills. Ongoing participation in these events while studying and working part-time isn't always easy, but participation is voluntary, and members take part when they can.
The club holds photo exhibitions on campus at Taki Plaza, in the library and in the 70th Anniversary Auditorium. It also holds off-campus exhibitions at venues such as The Citizens Gallery, Meguro Museum of Art, Tokyo. In particular, the welcome event exhibition and the July exhibition are large-scale events. There is always a lot to do pre-launch in terms of production and preparation, but members can experience the enjoyment of producing an exhibition themselves. The Photo Club has a free and easy atmosphere, and members take part at their own pace.
Photography your way, to suit your purposes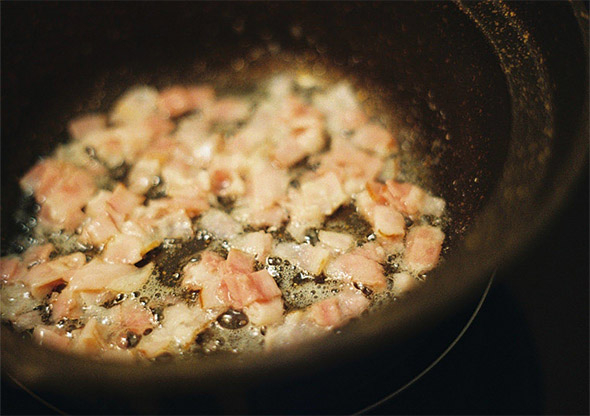 Daily life captured on film
Photography appeals to different people for different reasons. Some join the club in pursuit of the "perfect photo," while others strive to capture a sudden memorable moment in daily life. Photography is composed of many elements, such as composition and light intensity, so taking the ideal photo is no easy thing. Yet, this makes photography a worthwhile pursuit, and a lifelong hobby for many. Having a hobby that provides ongoing enjoyment enriches not only your student life, but also your future.
For many members, starting photography has given the passing scenery they encounter on trips or in daily life a different value than before. Another of photography's charms is that it is an expressive activity that anyone can engage in. Taking a photograph requires you to consider how, with just one shot, you can convey the appeal of the scenery or people in front of you to the fullest extent possible.
Substantial equipment, and a beginner-friendly environment
Over half of the members are beginners in photography. Many buy a camera when they join the club. However, the club has cameras it can lend, so members can use those at first. Members who are considering buying a new camera can get advice from senior members and consult with classmates when making their choice.
The cameras which the club lends out are film cameras, so members can experience the appeal of analog photography. There is also a darkroom, for enjoyment of the development process. With film photography, you don't know what kind of photograph you've taken until it is developed, so there's also the thrill of reliving, some time later, what you felt when you first took the photo. Some members get to use film cameras for the first time and become enthralled with the feel of analog photography.
Thoroughly enjoying photography with photo sessions
In the photo session held once a month, members split into small groups. The planner comes up with the shooting place and theme each month and creates a schedule. The locations are usually in Tokyo, such as Kasai Rinkai Park or Shinjuku Gyoen National Garden; but sometimes the club goes a little farther, to Mt. Takao, for example, where photography can be enjoyed along with some light mountain climbing.
In the photo sessions, members talk about each other's photos in terms of perspective, composition, lighting, and more, sharing opinions and skills. The sessions are inclusive and welcoming, with the aim being to enjoy photography.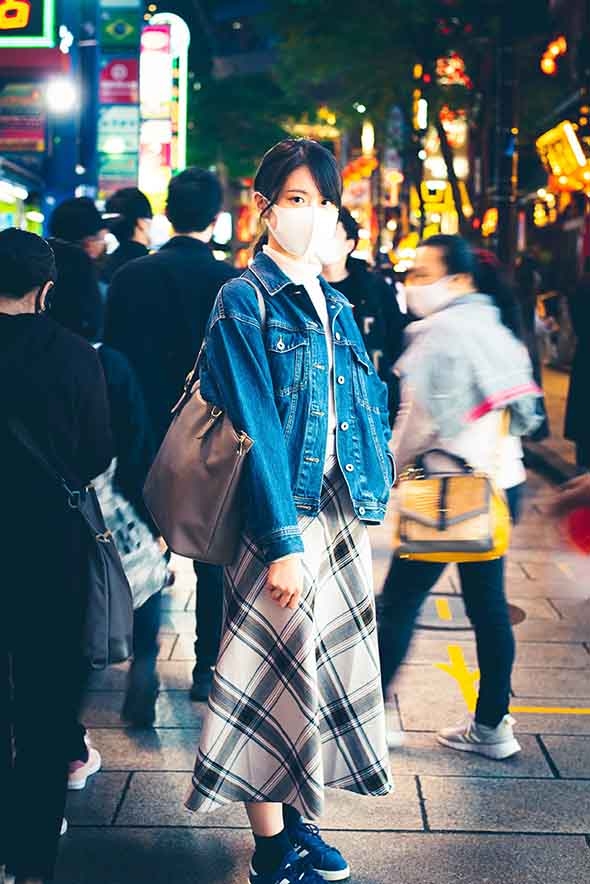 Taking pictures with other members in a photo session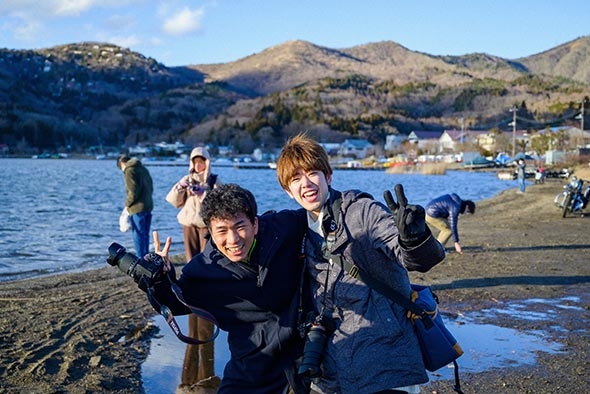 Members enjoying a field trip
The club holds field trips twice a year. In 2021, because of the COVID-19 pandemic, members split into smaller groups than before and went to less crowded places, such as Tohoku and Kusatsu. Taking photographs outside while wearing masks and maintaining sufficient distance is a low-risk activity, so the club has been able to continue its activities even during the pandemic.
The club places importance first of all on enjoying photography while aiming to improve. To that end, photo sessions and field trips are run in a way that ensures enjoyment for all: from enthusiasts who put great amounts of energy into taking photographs, to those with limited opportunities to do so.
The thrill of showing your works
The club reserves a gallery outside of the Institute once a year for a photography exhibition, where people not connected with the Institute can view the works on display. Taking photographs is a hobby you can do alone, but one great advantage of joining the club is having the chance to show your photographs to others. Exhibitors receive various opinions and words of encouragement through questionnaires. The exhibitions are always well received, and the club applies itself to coming up with ways to keep them enjoyable.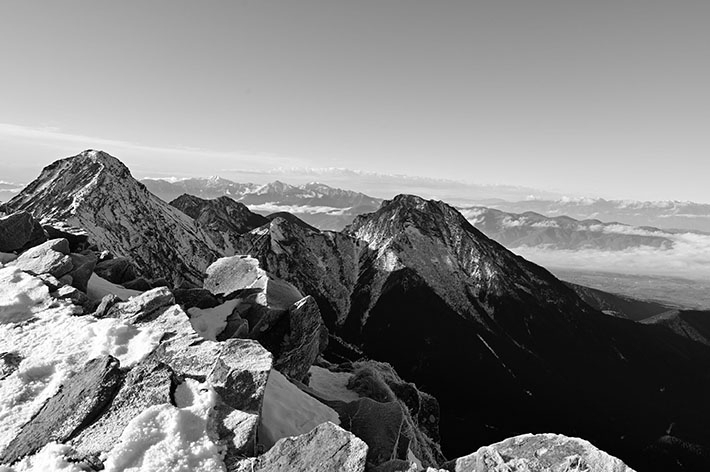 Acquiring life skills through exhibitions
The Photo Club's activities improve more than just members' photography, but also their planning and negotiating abilities. Planning field trips and photo sessions that everyone can enjoy requires inventiveness and imagination; and, when holding exhibitions, keeping the project moving forward and negotiating with outside facilities are essential skills. Members are free to participate in events whenever they can; however, by taking a more central role in club activities, they can also develop a wide range of life skills.
To new students
The Photo Club is Tokyo Tech's only official club for people interested in photography and cameras to gather at. The club thrives on variety, with some members taking pictures that look like abstract paintings, and others taking more orthodox pictures, such as portraits and landscapes. Members never tire of looking at each other's photographs.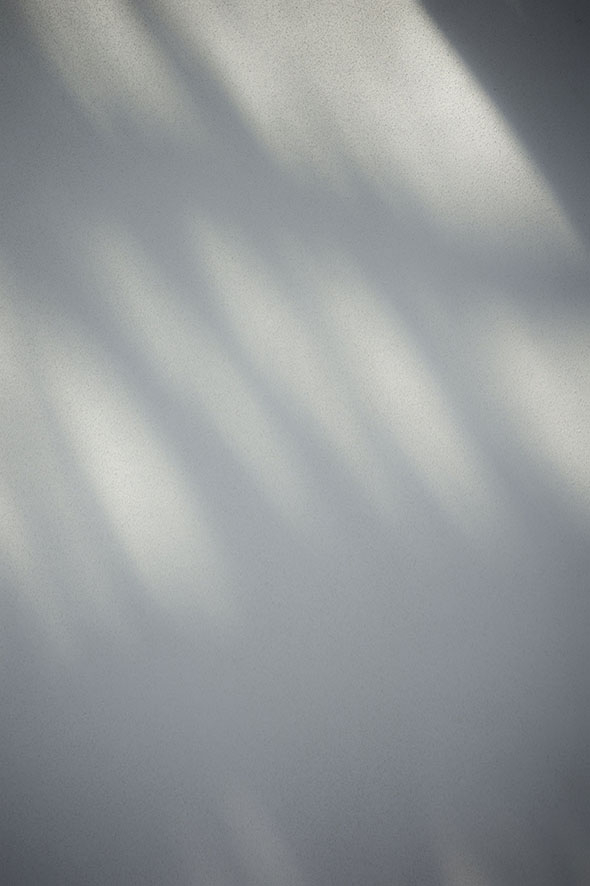 Member's work: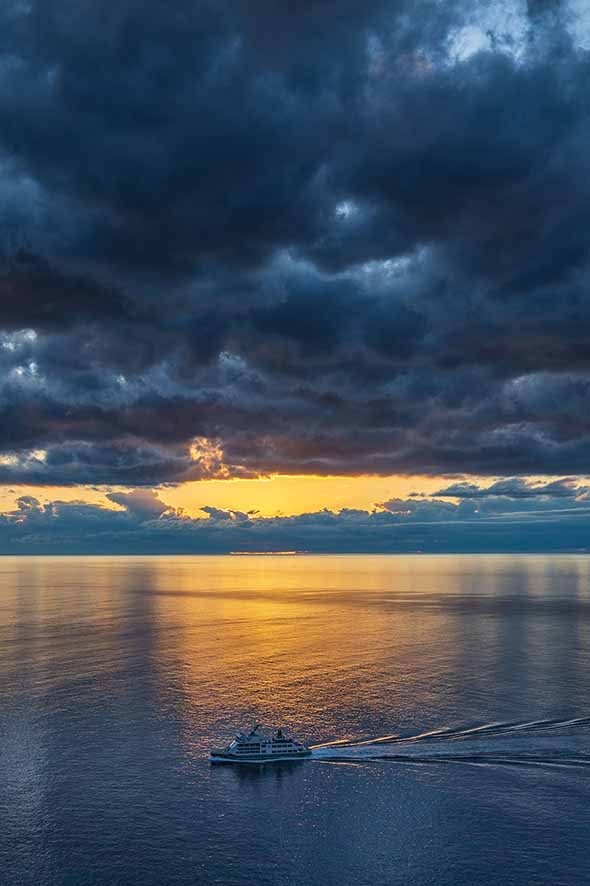 Member's work:
So, whatever your aim in taking photographs, and whatever your level of interest, please come along. Those new to photography can expect attentive support from other members. You are very welcome to give photography a try and view the works of others.
Club overview
Club name

: Photo Club

Established

: 1950

No. of members

: 61 (as of February 2022)

Activity days

: Meets once a week. Photo session once a month.

Exhibitions

: Held on and off campus around 5–6 times a year.