Student Association for Global Exchange (SAGE)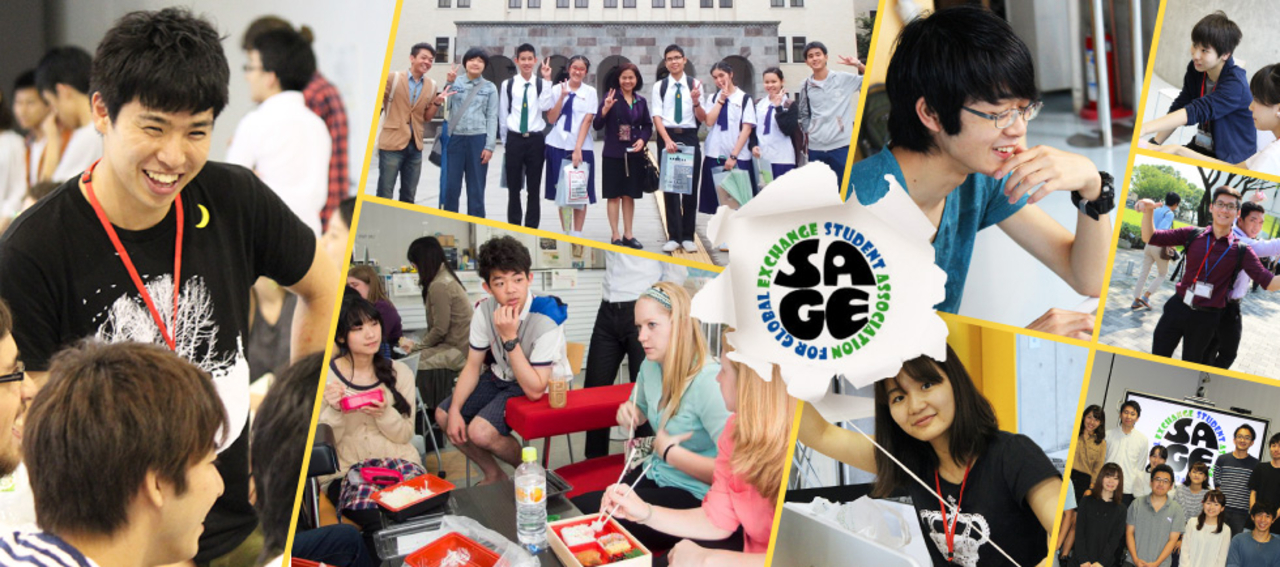 Many of the nearly 100 official student clubs and associations at Tokyo Tech are the direct result of students' own initiatives. One of these, the Student Association for Global Exchange (SAGE), actively promotes academic and cultural exchange between students of Tokyo Tech and other universities through a variety of events and activities.
Inquiry from South East Asia
The seeds of SAGE were sown in 2008 in South East Asia. When Tokyo Tech students were visiting Thailand as part of the Japan-Asia Young Scientist and Engineer Study Visit (JAYSES*), a local student inquired whether a similar program allowing Asian students to visit Japan existed. At the time one did not, but a group of Tokyo Tech students decided that such an opportunity should be created. SAGE was established one year later, and in 2010, students from Chulalongkorn University in Thailand were invited to Tokyo Tech for the 1st Asian Students Collaboration Encouragement Program in Technology (ASCENT). Since then, SAGE members have been working to build and strengthen ties between the Institute and the rest of the world with two main objectives:
- Increased language and cultural exchange opportunities for Tokyo Tech students
- Heightened awareness of Tokyo Tech among students overseas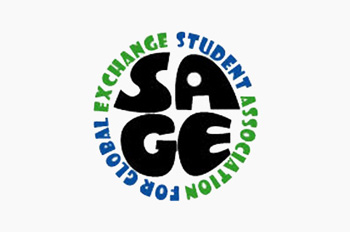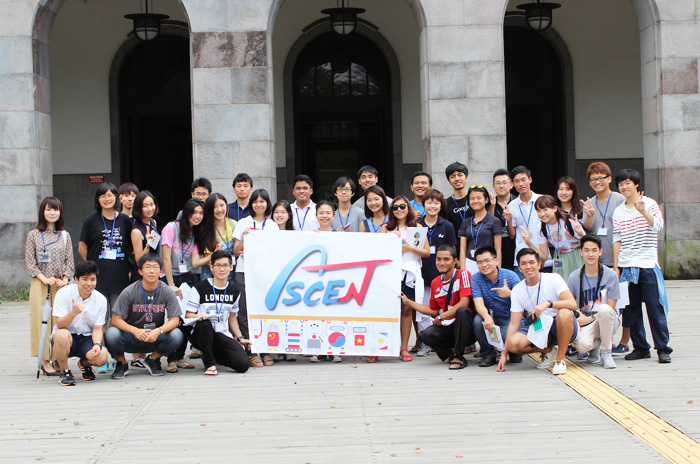 By students for students
SAGE events are planned and designed from scratch by students for students. All ASCENT programs following the inaugural one in 2010 have included approximately 20 science and technology students from all over Asia, including Tsinghua University in China, Institut Teknologi Bandung in Indonesia, and Chulalongkorn University in Thailand. Today, the ten-day program includes keynote lectures, company visits, and group discussions that help participants better understand and communicate the topic set for each year. Cross-cultural study and exchange parties further strengthen the student networks being created. Members of SAGE look to improve and diversify the content of the program every year.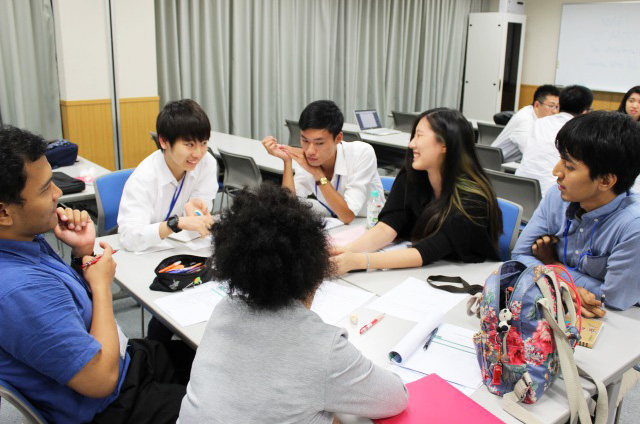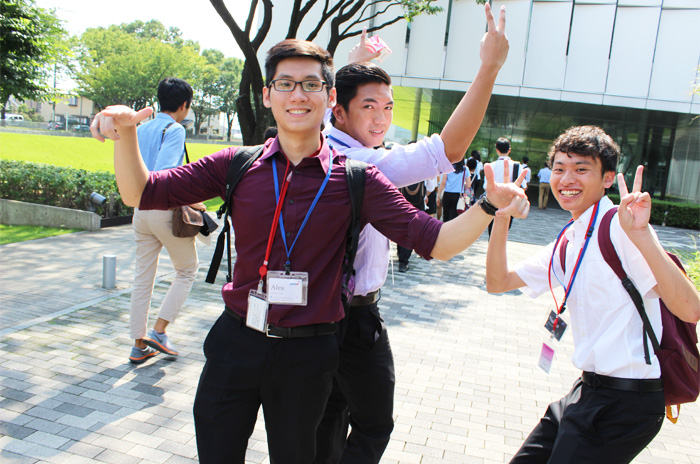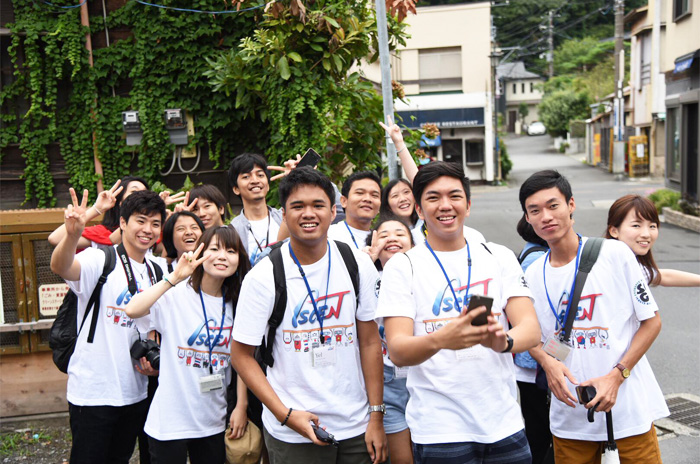 Moments from the 7th ASCENT program
One SAGE event of particular interest to new students at the Institute is Tokyo Orienteering. This one-day outing, organized by the association since 2010, brings together local and overseas students who attempt to complete a series of challenges while navigating around Japan's capital. As the event often coincides with the spring enrollment period, it provides new students with a fun, safe way to experience the sprawling metropolis and get accustomed to their surroundings. It is also a great opportunity for Japanese students to engage in linguistic and cultural exchange. Some example of challenges from the spring of 2016 included:
- Eating ningyo-yaki on Nakamise Street in Asakusa
- Taking a photo with the Toranomon Hills mascot
- Naming the river flowing past the Tokyo Sky Tree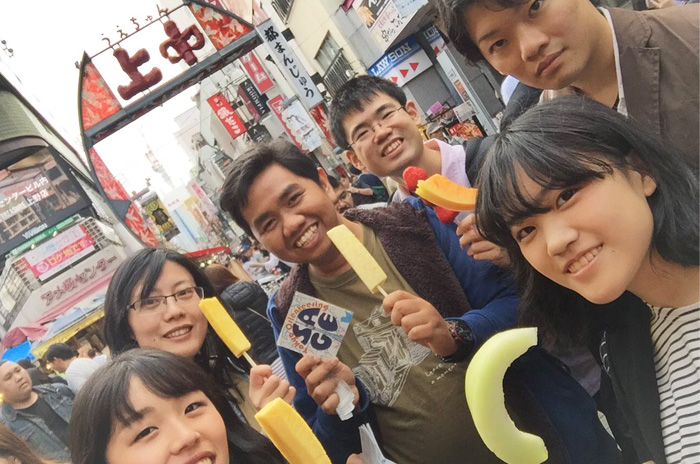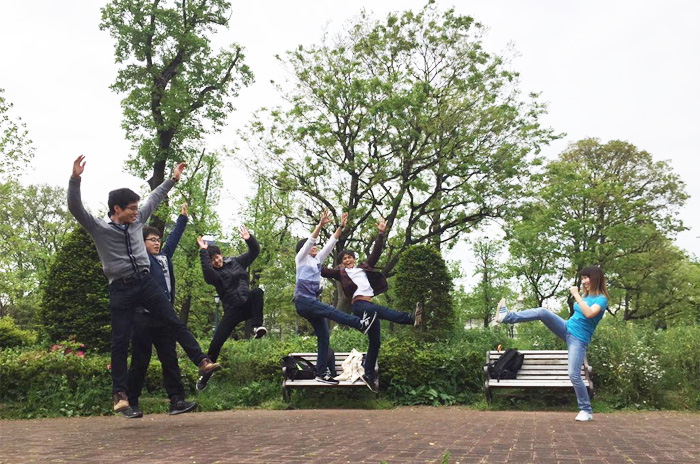 Enjoying Tokyo Orienteering
Throughout the academic year, SAGE also collaborates with various student support groups and universities to organize graduate-level study abroad information sessions mainly for Tokyo Tech students. The majority of Japanese science and technology students today continue with their studies even after acquiring a bachelor's degree. SAGE aims to ensure that these students are fully informed of their options. When they are not occupied with these activities, association members organize and host campus tours, TSUBAME supercomputer visits, and lab tours for overseas students visiting the Institute.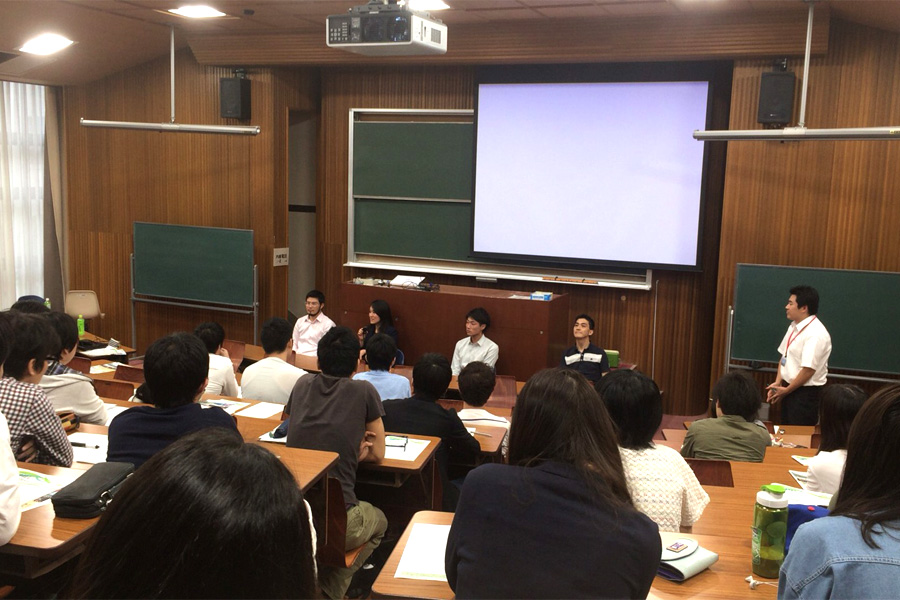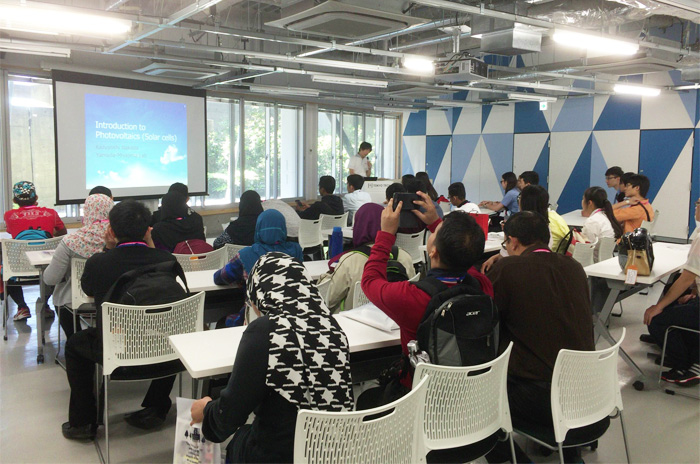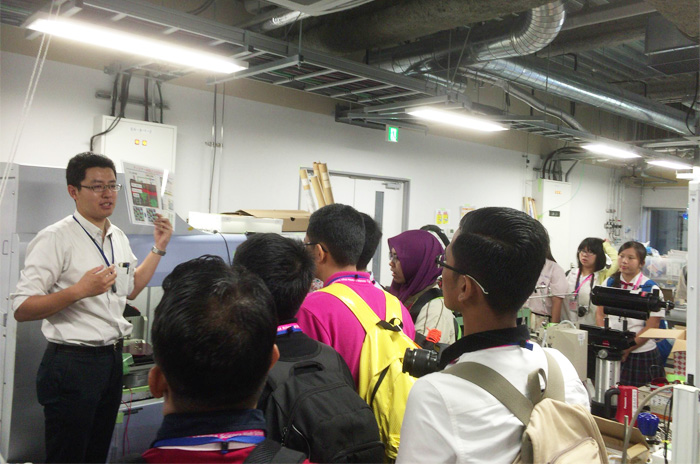 Campus tour for inbound exchange students
Personal growth through SAGE activities
SAGE has grown from a small group of proactive Tokyo Tech students to a strong team with roughly 30 members every year. In addition to improving student networks across borders, their activities serve as effective forms of self-development. When preparation for any event begins, a project leader is selected to ensure that both planning and execution proceed smoothly. This leader is in charge of examining the best ways to maximize exchanges during the event, identifying any factors that are expected to make the event a success, and taking necessary action to ensure these factors are emphasized.
New members initially join SAGE to get a taste of student exchange and event coordination, but soon realize that their perspectives on the world broaden significantly, and that they both enjoy and excel in organizing international activities. Through both the planning and implementation stages, they are forced to view problems from a variety of angles, and take on unknown challenges. Many SAGE members go on to utilize the leadership skills they have acquired in more large-scale activities.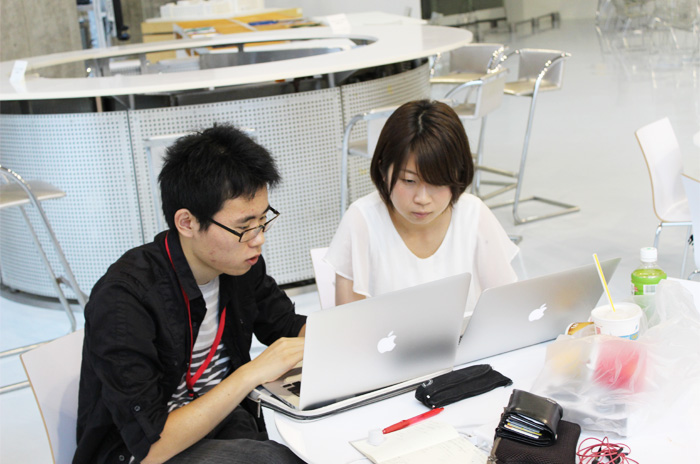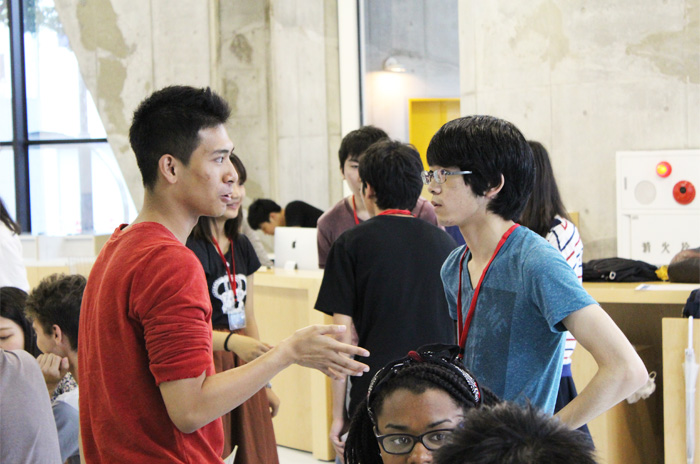 Members at work at events
Watching one's efforts materialize
Rio Hirakawa, a project leader in several projects welcoming new students to SAGE, spoke about her experiences.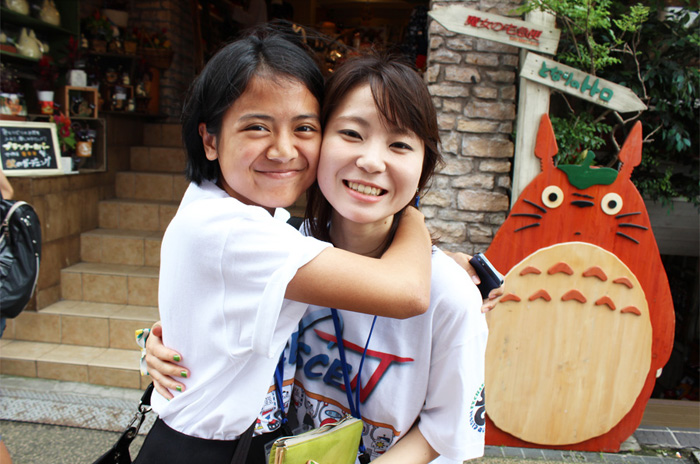 Rio Hirakawa (right) with an ASCENT participant
Rio Hirakawa
Mechano-Aerospace Engineering
Taking on the role of a project leader was originally suggested to me by one of the senior SAGE members to curb my shyness! When consulting senior members during tough stages of a project, they never provided me with a single correct answer. Instead, they provided hints that pointed me in the right direction, encouraging me to think independently. At first I struggled, as I considered this a task, but with time I began to enjoy the process. I discovered new ways of solving problems, and as I received feedback from others, I realized this was a great opportunity to see myself from a different perspective. Ultimately seeing my plan come together as one complete entity is always an exhilarating experience. In the past, I was afraid of taking on new challenges. Now, I very much look forward to facing even bigger obstacles.
Expanding ideas and continued progress
SAGE members work hard to prepare for each event, but when the actual day arrives, they are mere shadows in the background. All members share several characteristics. They enjoy the process of bouncing ideas off each other, developing and expanding them, and then working towards a shared goal — a well-organized event that the intended participants can fully enjoy. The association aims not only at the promotion of cultural awareness and academic exchanges for the benefit of others, but also at the continuous personal development of its own members. This win-win mentality is the driving force behind SAGE.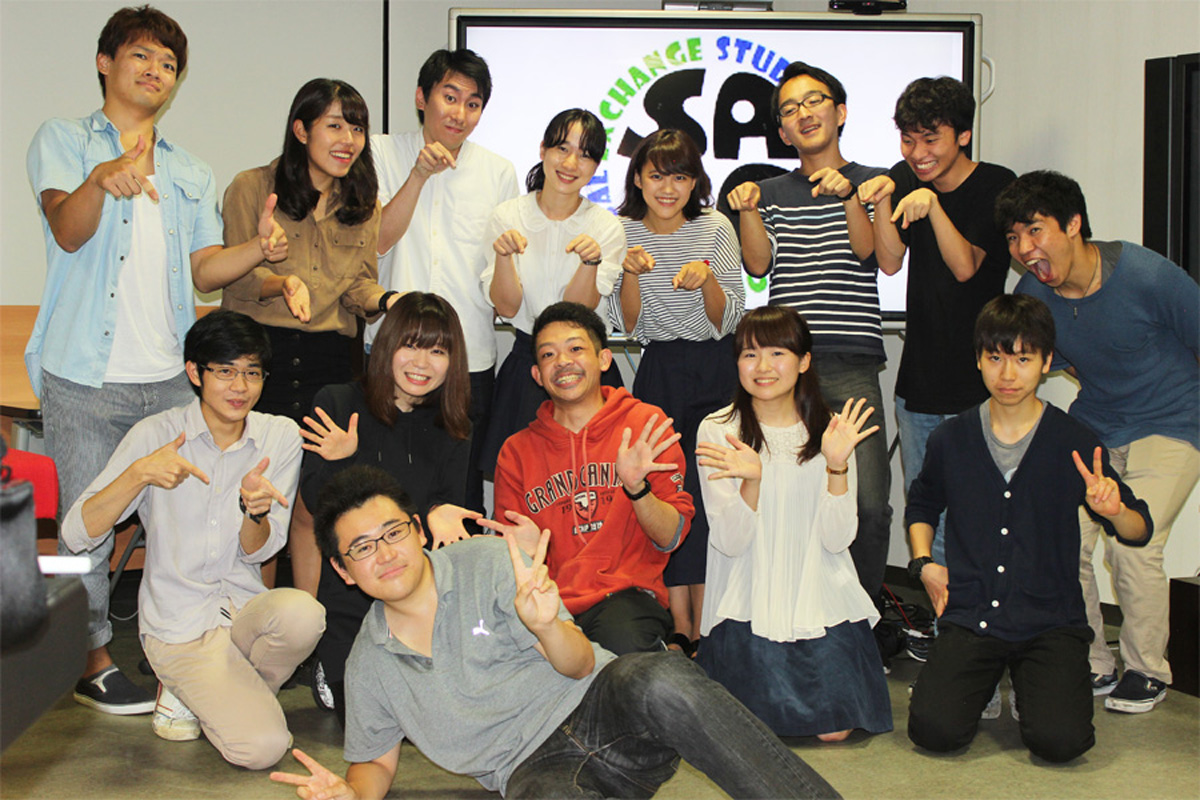 Terms
[1] JAYSES : Short-term exchange program which ran from 2007 to 2012, predecessor of Tokyo Tech-Asia Young Scientist and Engineer Advanced Study Program.

The Special Topics component of the Tokyo Tech Website shines a spotlight on recent developments in research and education, achievements of its community members, and special events and news from the Institute.
Past features can be viewed in the Special Topics Gallery.
Published: October 2016