Robot Technology Society
Enthusiasm instead of rules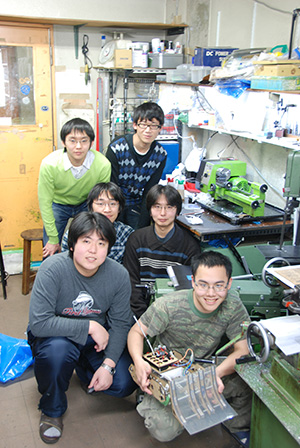 A group of Robot Technology Society members: Circle leader Ryosuke Kojima top right, team leader Takumi Hosokawa bottom right.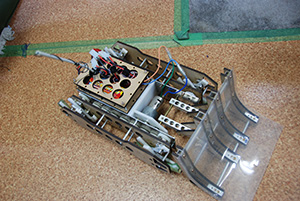 Example of a radio-controlled power-fighter robot
Even as a young child, Ryosuke Kojima, a second-year student in the Department of Computer Science, was interested in making things and finding out how things worked. So when he entered Tokyo Tech, it was no surprise that he narrowed down his choice of student circles to Meister (a club formed to construct human-powered aircraft and electric vehicles) and the Robot Technology Society. He chose the latter because of the freedom the circle provided to make different kinds of robots.
"Making a robot is challenging," says Kojima, who is now leader of the circle. "You need a team with members from different fields: mechanical, electronics, engineering. You can't do it on your own."
In the beginning, he joined a group that entered a robot-building contest for first-year university students. The aim was to see which robot could place balls into a box the fastest. His team came second in a tournament of eight, and he was hooked.
There are close to 100 members of the circle, though only 20-30 are particularly active. No rules exist concerning weekly attendance, as the members' own enthusiasm dictates how much effort they put into the circle. "But as a competition deadline approaches, we work all out and sleep here in the circle's lab to make sure we finish in time," says Kojima. He points to a shelf of sleeping bags made ready for such occasions.
At present, some of the members are working hard to prepare for the NHK (Japan's national broadcaster) Robot Contest for Technical Colleges, which is set for June. The task is to see which robot is the speediest and most precise at stacking together large segments of foam packing to form a pyramid.
The leader of this team, second-year Takumi Hosokawa, studying mechanical engineering and science, underscores the circle's enthusiasm when he says, "We buy all the components and equipment to make robots ourselves. So sometimes we have to take on part-time jobs to pay for it all."
Several females have joined the group and Kojima hopes that once they spread the word on the circle's activities and enthusiasm, more will join in the future.
Tokyo Institute of Technology Bulletin No. 15 (March, 2010)