Animation Society
It's analog. It's digital. It's anime!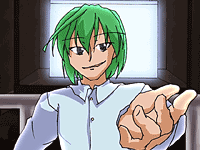 Japanese animated features have captured
the imagination of filmgoers worldwide,
and the characteristic appeal of animé is
fully evident in the Tokyo Tech productions.
A dozen or so Tokyo Tech students exercise their creative instincts in the university's animé club. The club members screen their animated creations for fellow students annually at the autumn campus festival, and they display the best of their work twice a year at interuniversity film festivals.
"Our work is a combination of analog input and digital processing," explains the club president, Ryo Iyoda. "We start with a story concept and render it in a series of pencil drawings. Then, we add in-between drawings to show how the motion will work in each scene. Flipping the pages is enough to get a general idea of how things will flow."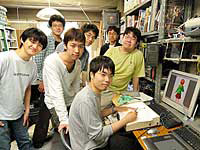 Members of Tokyo Tech's animé club gather
each Wednesday afternoon to work on their
projects. Standing at the right is the club
president, Ryo Iyoda.
"When the artwork begins to take shape, we pull it into a computer with a web camera. That's simpler and faster than scanning, and it lets us view the art on screen in an animation program. We use a flatbed scanner to input the final drawings, and we add color and shading in Adobe PhotoShop and other software programs. The club members recruit friends to provide voices as necessary, and they turn to various sources for original soundtracks."
Tokyo Tech's animé artists gather to work on their projects on Wednesday afternoons, which the university sets aside for club activities. All of them retire from the club after their third year to concentrate on their graduation research papers, but some former members stop by occasionally to offer advice.
Iyoda, a third-year student, is majoring in mechanical and aerospace engineering. He and most of the club members will proceed to graduate school and will ultimately seek employment in the fields of their academic specialties. A couple of former members, however, have found employment in the animé industry after leaving Tokyo Tech.
Tokyo Institute of Technology Bulletin No. 10 (May, 2009)