Chor Kleines
Chorus group with the golden touch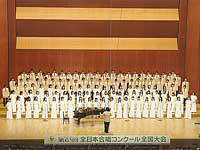 Chor Kleines
at National Choral Competition 2009
How do you attract 150 members to a university club and win top honors at a national competition year after year? Members of Tokyo Tech's Chor Kleines mixed chorus group know the secret: dedication, practice and enthusiasm, combined with help from passionate senior members and outstanding music teachers such as principal conductor Kenji Otani. The award-winning group is made up of male members from Tokyo Tech and female members from various universities.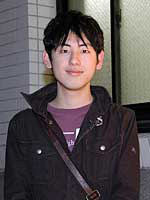 Ryo Yoshihara,
a dedicated member
of the Chor Kleines.
One such dedicated member and group leader is Ryo Yoshihara, a third-year Tokyo Tech student studying electronics. As a freshman, he first looked for a tennis club to join, but that didn't work out. "However, I'd heard about the popularity of Chor Kleines and discovered it had won a gold medal competing in the National Choral Competition for many years," says Yoshihara. "I'd been interested in music since high school and after I met some of the enthusiastic group members, I decided to join."
Chor Kleines' reputation isn't gained without hard work. Members practice two periods a week for a total of five and a half hours. Physical exercise plays an important part in these sessions, especially learning how to control breathing through use of the abdomen. The group also holds special events such as a week spent together this August in Nagano practicing and rehearsing for this year's National Choral Competition, which begins in autumn. "About 100 members gathered in Nagano, which shows how eager everyone is," says Yoshihara. Chor Kleines will compete against other university chorus groups in the Tokyo region, and if successful they will go on to participate in the finals, which will be held in Hokkaido in November.
"Having won a gold medal for the past 11 years there is a lot of pressure on us to succeed again," says Yoshihara. "All I can say is that with so many members practicing so hard, we will be doing our best again."
Tokyo Institute of Technology Bulletin No. 12 (September, 2009)