English Speaking Society (ESS)
Debating the need for speaking English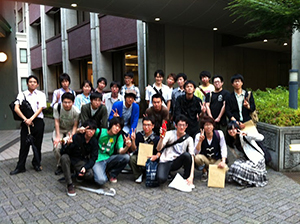 Members of Tokyo Institute of Technology English Speaking Society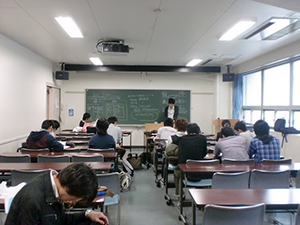 A scene of a lecture held before debating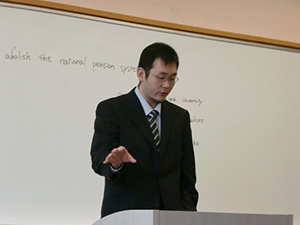 Participating in a Debating Competition
Members of Tokyo Institute of Technology English Speaking Society are so keen on improving their English speaking skills that they meet for six-hour sessions, two times a week. But as each session is taken up holding debates in English, time passes quickly.
The society has around 25 members who come for various reasons. "I joined because I was poor at speaking English and wanted to get better," says Kengo Tejima, the club's leader and a third-year student studying bio-science. "I also wanted to improve my debating skills." When he joined two years ago, he hesitated to speak any English. "Now I'm much more willing to speak," he says.
Other members joined because they enjoy speaking in English; others because they want to test themselves in debate. Debating is quite a challenge, notes Tejima. It requires logical thinking, self-confidence to speak before a group and an ability to make your points with clear examples. While some of the club's senior members are fine debaters and have won awards in competitions, Tejima admits he still has a lot to learn.
During the six-hour meetings, members give detailed feedback on each other's debating skills, because they are all keen to do well in the ten or so debating contests they compete in each year with other universities. Some members also take part in overseas contests and have visited Botswana, the Philippines and South Korea in recent years. In spring and summer, members also attend three-day events held by professional communications organizations, where they get to really hone their skills.
Given the popularity of English, the club doesn't have much trouble attracting members and welcomes new faces, no matter what their English speaking level. The club also point out that the benefits of joining will continue long after students graduate from Tokyo Tech.
"The debating skills we're learning and practicing now will help us when we start work," says Tejima. He notes that the globalization of business is common today and English is the global language. "So we must be more willing to speak in English. And because Japanese are poor at debating, at logical thinking, we also need to improve those skills."
Tokyo Institute of Technology Bulletin No. 27 (August, 2012)